Goal.com's Cyrus C. Malek assesses two of Real Madrid's most terrific transfer blunders in recent memory...
In recent history, Real Madrid have made a number of regrettable transfer errors, both incoming and outgoing. While there is always a measure of risk involved in trying to anticipate how a player will perform when coming into a club with a name that holds as much weight and notoriety around the world as Los Blancos, which inevitably leads to a number of flops, there is always a certain bitterness when the club hierarchy makes the mistake of parting ways with a sublimely talented player who was considered surplus to requirements, only to watch that player experience fantastic successes once exiting the doors of the Bernabeu.
The list of such cases is extensive and by no means exhaustive: Esteban Cambiasso, Claude Makelele, Walter Samuel, Samuel Eto'o, Juan Mata, etc. But the two most recent cases have perhaps become two of the most jagged pills to swallow: Dutch duo Wesley Sneijder and Arjen Robben.
One of three Dutchman to be signed by Real Madrid during the summer of 2007 (along with Arjen Robben) and the second most expensive Dutch signing in history at €27 million, Wesley Sneijder came to the Spanish capital as a relatively untested youngster out of the wildly successful and very well reputed Ajax youth system. An ambidextrous attacking midfielder, Sneijder was billed as Zinedine Zidane's successor at Madrid, to serve as the team's creator in attack.
Sneijder's form to begin his Blancos career was such that he made many Madrid fans put the irreplaceable French legend into the back of their minds, as he began the Liga season scoring three goals in his first two matches. He ended his first season having scored nine goals from the attacking midfield position and was considered one of the revelations of the campaign as Madrid finished the season having defended their Liga crown.
But in the 2008 preseason, disaster struck the Dutch playmaker, as he was stretchered off the pitch during a friendly match against Arsenal, having suffered a serious knee injury. While only out of action for three months, Sneijder never looked to be playing at 100%, only scoring twice during the course of the season and finding playing time difficult to come by.
With Florentino Perez's election as Real Madrid president to begin the 2009 season, the club hierarchy began to look to part ways with its large Dutch contingent of players, feeling the squad was too Oranje-heavy for a Spanish club. In a rather bitter parting of ways, Sneijder was sold off to Inter for €15 million, little more than half of his value coming into the club.
Arjen Robben's stint with Los Blancos was equally tumultuous. Coming to the Spanish capital in the same year as Sneijder, Robben enjoyed fantastic spells of form, but also, in accordance with his nickname, The Glassman, spent much of his time recovering from injury in the infirmary.
During the 2008 season, after the departure of Robinho, Robben enjoyed great success with Los Blancos, assuming the starting role on the flanks and making a habit of his darting runs down the wing, keeping the ball close to his boots with almost Messi-like control, only to cut inside on his potent left foot and unleash a blistering shot, many of which ended in goals. Such a cut across the face of goal has now become a trademark of Robben's play and even though opponents know it is coming, the Dutchman's quick changes of direction and pace make stopping it extraordinarily difficult.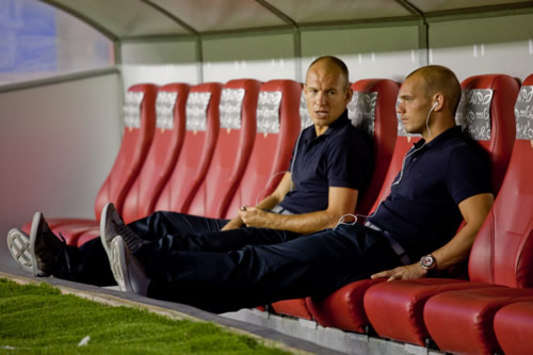 Despite being an integral part of his team, a fan favourite, and having won the favour of coach Manuel Pellegrini, Robben was surprisingly sold off to Bayern Munich to begin the 2009/10 season. The Madrid hierarchy justified the move by declaring that even a club of Los Blancos' prestige could not sustain a roster of such expense and, besides, Madrid had signed Cristiano Ronaldo, making Robben's presence in the squad superfluous.
And yet, in terribly ironic fashion, both Sneijder and Robben enjoyed their most successful seasons upon leaving the Spanish capital. Sneijder became then-Inter coach Jose Mourinho's midfield talisman, while Robben put the bulk of his injury problems behind him, becoming Bayern's most dangerous player, even ahead of the established and favoured Franck Ribery.
In the end of the 09/10 season, both Dutchman became integral members of their respective teams, putting in match-altering performances and leading their sides to the Champions League final - ironically being held this past season in Madrid - a goal Blanco fans have been clamouring to achieve for the past six years.
Now, both Sneijder and Robben are necessary members of the Dutch national team, the former tied with Spain striker David Villa with a World Cup-leading five goals and the latter contributing two crucial goals to the Oranje hopes in South Africa, further firing the ire in the Madrid head office for so easily parting ways with such talented (and successful) players.
As far as proving Madrid wrong on the big stage in Sunday's World Cup final against Spain, in many ways, Sneijder and Robben already have. With both players having led their respective teams to the Champions League final and Sneijder having won it with Inter, there is no questioning that Madrid regret their decision to sell the two players, at the very least for the relatively low prices of the sales.
On Sunday, Sneijder has the chance to become the first player in history to lift both a Champions League trophy and a World Cup in the same season, while Robben will, at the very least, finish as the runner-up in two wildly difficult competitions.
If Jorge Valdano and the rest of the Madrid hierarchy did not realise their mistake in selling off the Dutch duo, World Cup glory or not, they certainly do now; yet another instance in which Los Blancos have been forced to cut their losses and search for alternatives. In this vein, one gets the feeling that if Robben had not been sold off, Angel Di Maria would never have found himself in the famous white shirt.