In our World Cup Comment series, individual writers at Goal.com offer their views on the hot World Cup topics of the day with local expertise and a global outlook...

When you think about the Portugal football team nowadays, only one name will pop into your mind: Cristiano Ronaldo. But it seems that their fiercely stingy defence has become the focal point of the team at the 2010 World Cup.
For all their flair and their seven-goal mauling of North Korea, the Portuguese, have quickly built a reputation in South Africa for being a tough, disciplined, stubborn defensive unit. And they appear to have unearthed a previously unheralded star goalkeeper in Eduardo.
The Braga custodian, who made his international debut just a year and a half ago, is only one of two goalkeepers, along with Uruguay's Nestor Muslera, to have kept a clean sheet throughout the group stages, while Portugal have conceded just three times in their last 19 games.
Granted, Mozambique, Cape Verde, China, Malta and Liechtenstein – just to name a few of their last 19 opponents – do not particularly leave defenders quaking in their boots, but Carlos Queiroz's men showed against Brazil that they are not afraid to get dirty and use a little aggressive defending to suffocate and frustrate their opponents.
And that was precisely what Switzerland did to Spain in Round One of the group stage.
La Furia Roja have yet to truly convince after three games and they look a pale, weary shadow of the fearsome side that scored 37 goals in the 11 matches between the end of the 2009 Confederations Cup and the start of the 2010 World Cup.
After overcoming their Swiss shock, they bounced back to beat Honduras 2-0, but that morale-boosting win was largely overshadowed by how wasteful they were infront of goal. Even in the final group game when they were coasting to a 2-0 half-time lead against ten man Chile, they were pegged a goal back early in the second half and looked nervous for the remainder of the game.
Spain's Euro 2008-winning coach Luis Aragones is one who has been especially critical of the current Spanish side and their lack of effervescence in South Africa. But it's not just Aragones who has been disappointed. Everyone in the Spain camp is aware that they have yet to produce their best and they need to step up a gear or two now that the tournament has entered the knockout phase. And they need to find a solution immediately for Tuesday night's showdown with their Iberian neighbours.
Spain coach Vicente del Bosque will have two major concerns in trying to breach the Portuguese defence. A big question mark still hangs over the form and fitness of Fernando Torres.
'El Nino' has been performing well below par in this tournamnet and his poor finishing infront of goal is a clear indication that he is nowhere near the competitive level that is required at a World Cup finals. He looked off the pace against Chile and now that he has failed to take the two chances he was given to shine, his starting place in the team could be in jeopardy.
One alternative for La Roja would be to slot Cesc Fabregas into the 'hole' position behind lone striker David Villa. The Arsenal captain has shown a penchant for creating and scoring goals when playing in an advance position and this could be his opportunity to once and for all cement his place in the first XI.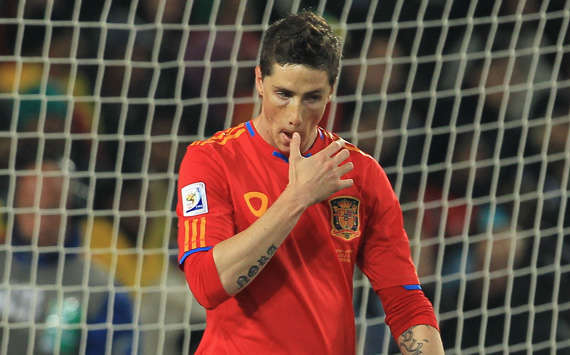 A second option is to pair David Silva and Andres Iniesta either side of Villa upfront to set-up a 4-3-3 system, with Xavi, Sergio Busquets and Xabi Alonso providing the firepower from midfield.
But that's where Spain will have a second worry. Xabi Alonso has just shrugged off an ankle sprain and may not be 100% fit for such a high-octane clash. Although he is deployed as part of a holding midfield axis, the Real Madrid man contributes greatly to the Spanish attack as he and Xavi are the two key players who can stretch, twist and bend Portugal's backline out of shape. If Xabi fails to reproduce his normal game because of his fitness or worst still, has to rule himself out, either Fabregas or young Javi Martinez is expected to fill in.
While Cesc is clearly a more attack-minded playmaker, Martinez does give the team an extra cushion defensively. And that's when del Bosque will have to decide whether to set out his team to be more adventurous against a persistent Portuguese backline, or retain the balance in the team by having two slightly more conservative midfielders to cope with the Seleccao's counter-attacks.
And speaking of counter-attacks, the threat of Cristiano Ronaldo should be ignored. He may not have fully taken flight yet at the 2010 World Cup, but he still remains a dangerous player, as North Korea, Sergio Ramos, Iker Casillas and Xabi Alonso will happily tell you. And along with the likes of Fabio Coentrao, Tiago and Raul Meireles, they will be extremely lethal on the break.
The good news for Spain, though, is that Barcelona trio Busquets, Gerard Pique and Carles Puyol have all done well against Cristiano at club level. But it's at the other end where La Furia Roja have to worry about.

Become a fan of Goal.com International on Facebook! Just click onto Facebook.com/Goal to join the beautiful game's leading fan community...