As the top two teams from the CONMEBOL qualifying group, Brazil and Chile have faced each other already in recent times. However, Monday's clash between the two South American sides yields a much bigger prize than before: progression to the quarter-finals of the 2010 World Cup.
Differing hugely in playing style, the Chileans have been hailed for their attractive attacking football while Dunga has been publicly slaughtered by the media in his home country for using a largely conservative approach thus far.
Using the wings to a great extent and often having four players at the head of their attack, always on the move, La Roja create huge problems for defenders with their astute triangles and fast-paced play. Their unorthodox set-up may see them run in to problems when they come up against a well drilled Brazil side who are clearly more interested in results than the slick, attractive football that they became famous for.
Goal.com takes an in-depth look at the teams, analysing the key battles that may emerge when the teams meet on Monday in Johannesburg...
Alexis Sanchez - Michel Bastos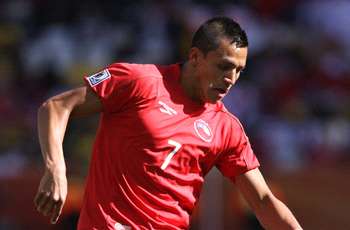 vs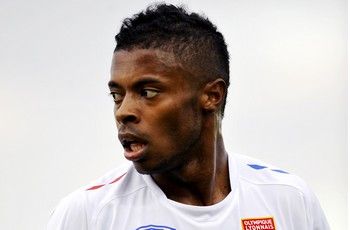 Inconsistent at club level, getting a chance to show what he's really made of in Chile's ultra-attacking formation seems to be just what the Alexis Sanchez needed to show his true form. Marcelo Bielsa's set-up has allowed the little wide-man to drift in and out as he pleases, causing all kinds of problems for defenders as he links up expertly with his fellow attackers.
Bastos, on the other hand, plays out of position when Dunga starts him. Spending all his club time on the wing, Brazil's number six is deployed as a left-back when he pulls on his national team shirt. He has been performing well in the role so far, drifting up the pitch and unleashing a few of his signature shots, but he has not had a real defensive challenge thus far.
Verdict
It's a tough one to call due to Sanchez only being 21 and Bastos largely unproven as a defender so far, but I believe Sanchez will come out on top here. Bastos will hope to move forward and help out with the attack, but Chile's high-tempo attacking football will see Sanchez catch the Lyon winger out more than a few times.
Luis Fabiano - Claudio Bravo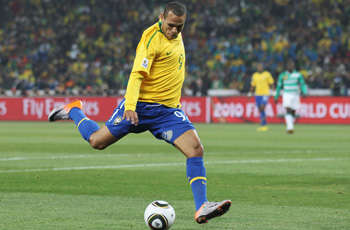 vs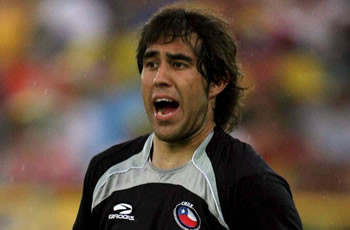 Luis Fabiano needs no introduction. Rated as one of the best in the world, the goal-hungry striker will be creeping up all over the frontline, giving defenders a hard time. You can bet that he'll put away any half-chances that come his way.
Conversely, Chile captain Claudio Bravo will be without two of his normal defenders with Gary Medel and Waldo Ponce both ruled out through suspension. Bravo is hailed in Chile as being a great motivator who leads from the back and, coming up against Fabiano with a makeshift backline, that's exactly what he'll have to do if Chile are to get anything from the encounter.
Verdict
La Roja might look great running at other teams, but at the back they show a great weakness. There is absolutely no doubt that Fabiano will take full advantage of a sometimes three-man backline that could do without having to play Brazil to see if their second-string defenders are up to scratch.
Robinho - Mauricio Isla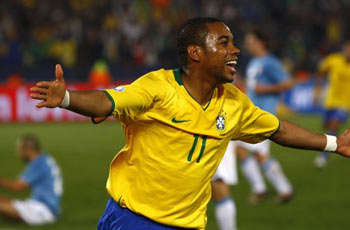 vs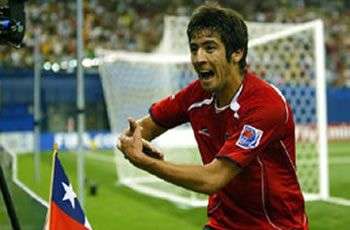 Another one of the big names in the Selecao, Robinho is always able to shift a football match up to the next gear. We seen Brazil play Portugal without Robinho on the left, and it wasn't pretty. Putting the Manchester City-owned winger back in the side is sure to reignite the creativity in Brazil's game and cause Chile problems.
Isla has been hailed as one of the best performers of the World Cup so far due to his ability to offer his national side an option up and down the right flank all match long. Another player flourishing under Bielsa's tutelage, the Udinese man will hope to recreate his recent form against Brazil.
Verdict
Unfortunately for Chile, this one has Robinho's stamp all over it. The winger has proven time and time again that he is a force to be reckoned with and, at the young age of 22, the contrastingly inexperienced Isla will be chasing the speedy Brazilian's dust all night.
Kaka - Carlos Carmona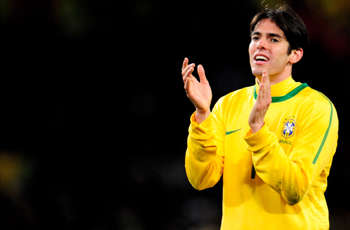 vs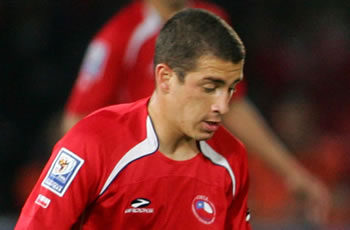 Back in the side after a two yellows in two games saw him suspended against Spain, Carmona keeps things ticking over for Chile. He'll be weary of Dunga's preference in using two holding midfielders such as Felipe Melo and Gilberto Silva, so the Chilean metronome will probably lie a little deeper, spreading the ball out to the wings where La Roja do so much of their work from.
In avoiding the Brazilian anchormen, Carmona will run into trouble with Kaka on the prowl behind Fabiano. Still only 23, and hence not particularly well versed in the art of ball winning, the Chilean number six will find it difficult to operate with such a big name star in his face for 90 minutes.
Verdict
Sorry Chile fans, but this is another battle that is sure to swing Brazil's way. Kaka is one of the best players in the world, arguably the best when he's fully fit, and there will just be no room to move for Carmona with the Real Madrid maestro plying his trade near him.
Humberto Suazo - Lucio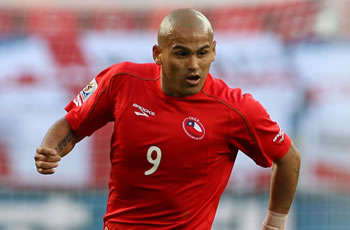 vs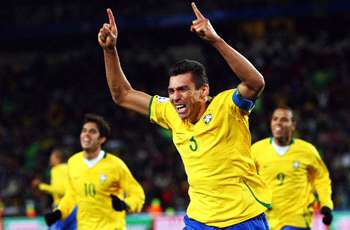 A lot of Chile's qualifying success was borne of Humberto Suazo's very capable goal-scoring feet. However, having picked up a hamstring injury going into the World Cup, many thought that it was curtains for La Roja. However, Bielsa's boys have done well to stand up on their own, allowing Suazo time to recover. He's only played 45 minutes or so since returning, but the Zaragoza striker will know that his creativity will matter against Brazil now more than ever.
It's true that Lucio is criticised at times for puffing his chest out and going on ambitious runs, but that's just what makes the Brazil captain so good: his confidence. He won the Champions League in Europe with Inter before heading to South Africa, meaning his confidence at the World Cup will be at an all time high. He's played expertly well so far, and there's no evidence to suggest that will change against Chile.
Verdict
It's beginning to look bad for the Chileans at this point – Brazil wins again. In the stagnant face-off with Portugal, Lucio was charged with the task of looking after the second best player in the world, Cristiano Ronaldo, and he did so with relative ease. Still impressing at 32, there will be little ground offered up to Suazo by the Selecao skipper.
Do you agree with the choices made by the author? Have your say in the comments box below...
Become a fan of Goal.com International on Facebook! Just click onto Facebook.com/Goal to join the beautiful game's leading fan community...