With 16 sides bowing out of the cup, we looked at the players who shone
By
Andy Brassell
You know the drill at the
World Cup
: even if the incredible choice of global football on our screens means there are fewer surprise packages than before, this is still the tournament for augmenting transfer values, proving that the player we've seen perform week in, week out can hack it at the very pinnacle of international competition.
This is perhaps more vital than ever before for the transfer market in 2010, as football's economy (or agents, at least) look for something to give business a boost.
Goal.com UK
picks out the players from the group stages in South Africa who have given a hearty hike to their profiles - and some who have done likewise to their prospective transfer fees too. Are they set to be the Franck Riberys of tomorrow - or the next El-Hadji Diouf?
Andre Ayew
(Ghana & Marseille)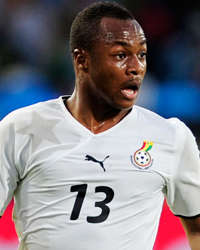 Age: 20


The son of Ghanaian legend and former African Footballer of the Year Abedi Pele, Ayew spent last season in the French second tier, on loan to Arles-Avignon. He helped the club with the lowest budget in Ligue 2 to a shock promotion but will return to parent club Marseille next season, where his father made his name and his younger brother Jordan is also on the books.
A tidy left-winger with good delivery, the middle Ayew could do with adding a few goals to his game but was a major threat against Germany in the final group match, and is thriving on being an important player for Milovan Rajevac's side. His ability to rise to the occasion means Didier Deschamps could face a choice between exploiting Ayew's potential or cashing in while the going's good.
Is he worth it?
Maybe. He has yet to prove himself a consistent performer in the top flight, whatever his considerable raw talent. He would be a gamble.
Valter Birsa
(Slovenia & Auxerre)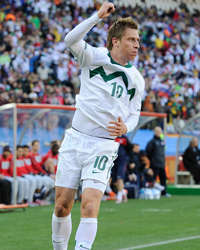 Age: 24


A key figure in Auxerre's shock Champions League qualification, Birsa has brought the confidence gleaned into the World Cup, where Matjaz Kek's side came agonisingly close to qualification for the second round. Their playmaker has been a key figure in this, as authoritative from open play as he is from set-pieces.
With a left-foot that you could use to open a tin of baked beans, Birsa could be said to be among the first to truly master the Jabulani, scoring a majestic long-ranger against the USA in Johannesburg. His range of passing is notable, and his performances against physical opponents in South Africa - not to mention in France during the day job - shows this elegant midfielder can put up with the rough stuff. Modest Auxerre will struggle to hang on in the face of substantial offers.
Is he worth it?
Yes. Birsa has proved his quality with in less than exalted company for club and country. Imagine what he could do in a top-class team. A bargain waits for one lucky club.
Fabio Coentrao
(Portugal & Benfica)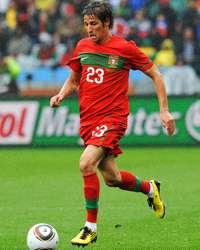 Age: 23


A surprise choice by Carlos Queiroz to fill Portugal's problem left-back spot ahead of the more experienced Duda. Coentrao was a left-winger before this season, but Benfica's incredible array of attacking options persuaded coach Jorge Jesus to play him further back, with excellent results. The 22-year-old, who made his national debut in the pressure cooker of the qualification play-offs against Bosnia, has arguably been the team's stand-out performer to date.
Since the World Cup began, Coentrao has been linked with every big name in European football - these have included Real Madrid, Juventus and Bayern Munich to name just three - with his dynamism, crossing ability and versatility all appealing. The new contract he signed at the Estadio da Luz in October set his release clause at a whopping £25m, though a substantial offer could make Benfica think twice.
Is he worth it?
Without a shadow of a doubt. Whoever buys Coentrao is getting a gifted winger, someone who can create, and who has already developed the defensive side of his game to a remarkably high level. The world is his oyster.
Giovani Dos Santos
(Mexico & Tottenham)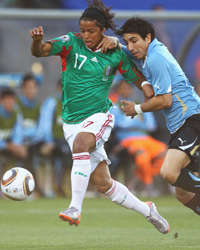 Age: 21


It's remarkable to think that Mexico's star man is still only 21. He has already scored a hat-trick for Barcelona, failed comprehensively at Tottenham and Galatasaray and even played in loan in the English second tier. With this sorry recent history at club level, many thought he was washed up already.
Giovani reminded us of his talent in the opening game of the oturnament against South Africa. A goal threat, he can also run the channels, prompt play and draw rash challenges. He has always been better for his country than his club, but a performance against tournament big-shots Argentina - with a fallible central defence to encourage him - would make people sit up and take notice again.
Is he worth it?
Maybe. Giovani has disappointed so frequently in recent times, but Javier Aguirre has perhaps shown that he just needs a coach to invest emotionally in him and believe. The quality is clearly there.
Eljero Elia
(Netherlands & Hamburg)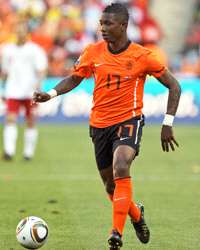 Age: 23


Last summer's move to Hamburg was seen as a surprise by some, who expected Elia to follow the well-trodden route from the Eredivisie to the Premier League. Nevertheless he flourished early on, before the northern side's floundered amid internal chaos.
A classic, quick, touchline-hugging left-winger, Elia might have expected more chances in this World Cup with Arjen Robben's convalescence, especially after his impressive cameo in the group opener against Denmark. He proved in that game to be a useful pinch-hitter, a role he could reprise deeper into the competition. His style - and Hamburg's lack of European football next season - suggests that he will make that move to England sooner rather than later.
Is he worth it?
Perhaps. He ticks all the right boxes, but is unlikely to get enough playing time before the end of the tournament to confirm his top-level pedigree. Further stylish vignettes before the end of the tournament could yet provoke a move.
Gervinho
(Ivory Coast & Lille)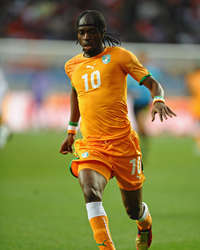 Age: 23


The tricky right-sider has long been linked with a move to England, so it was surprising to some when he plumped for a move inside France last summer, joining Lille for £6.5m. He has been a smash hit, scoring 18 goals from the wing in his debut campaign with Les Dogues.
Gervinho sparkled in his country's World Cup opener with Portugal, switching wings to great effect and drawing a couple of good saves from Eduardo. His relegation to the bench for the following game with Brazil was more a comment on Sven-Goran Eriksson's inherent conservatism than Gervinho's performance. He has proved his mettle at the top level and outshone his better-known team-mates.
Is he worth it?
Yes. Gervinho has shown his ability to cope with close attention from defenders, and his working over of Portugal's miserly defence was a joy to behold. A great combination of pace and ingenuity.
Marek Hamsik

(Slovakia & Napoli)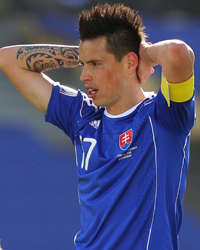 Age: 22


The captain of first-time qualifiers Slovakia, Hamsik's gripping performances for Napoli in Serie A are pretty much the sole reason that some had Vladimir Weiss' men down as dark horses. The 22-year-old has built a formidable reputation in southern Italy on the back of his energy, awareness and goalscoring.
Slovakia - and by implication, Hamsik himself - were a serious disappointment in teh opening two matches, before clicking improbably into life in the match of the World Cup thus far against Italy. Given his exploits in Serie A, the uncharitable could argue that he was simply preaching to the converted but Hamsik was simply irresistible, setting up two and narrowly missing out on grabbing a goal himself. The aging Mark Van Bommel will have his hands full shackling this one when the Netherlands meet Slovakia.
Is he worth it?
Probably. Hamsik hasn't quite delivered the World Cup that everyone hoped - yet. But there's still time. Should he catapult himself into the realm of major stars, his status at the Stadio San Paolo will ensure he won't come cheaply.
Keisuke Honda
(Japan & CSKA Moscow)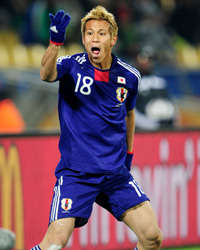 Age: 25


The central figure in Japan's surprise second-round qualification, Honda's exquisite left-foot has been creating a buzz in Europe for a few years now, ever since he first showcased his goalscoring prowess in the Dutch second tier, with VVV Venlo. His spell in the Netherlands attracted a number of admirers for the wide man - including one Ruud Gullit - and following promotion, he was snapped up by CSKA Moscow after a mere half-season in the Eredivisie for £5m.
Honda underlined his direct free-kick mastery by scoring the tournament's first, in the win over Denmark, but he had already shown his shooting power at the top table, with his rocket for CSKA flummoxing Sevilla's experienced Andres Palop and sending the Russians through to the Champions League quarter-finals. An energetic performer, he is becoming one of European football's worst-kept secrets and CSKA could be tempted into the common Russian practice of selling on quickly at a huge profit.
Is he worth it?
Yes. Honda's quick adaptation to an alien culture in Russia, the tempo of the Champions League and now the World Cup shows top temperament to match his aptitude. Years of European stardom await.
Sami Khedira
(Germany & Stuttgart)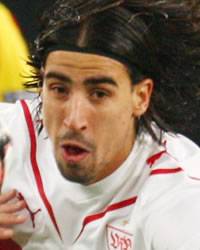 Age: 23


This rangy midfielder joined Stuttgart at the age of eight, and played an important part in their surprise 2007 Bundesliga title win, though his obvious potential has not borne fruit at the rate some expected in the intervening period.
Khedira made his debut for the Nationalmannschaft less than a year ago in the friendly win over South Africa, but has been afforded a chance in this tournament in the wake of Michael Ballack's injury. His athletic, all-action style has been a feature of Germany's play and suggests a future move to the Premier League could work out well.
Is he worth it?
Maybe. His ability is not in question, but his club form has not been relentlessly consistent. The knockout rounds will give us a better idea of what he is made of.
Simon Kjaer
(Denmark & Palermo)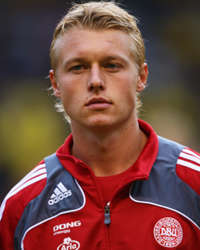 Age: 21


It's not just the fact that his agent, Mikkel Beck, has extensive playing experience in the Premier League that is pushing this young defender towards England. A boyhood Liverpool fan, Kjaer is a tough yet composed centre-back, with maturity way beyond his age and callow appearance. He has attracted every scout worth his salt to Sicily to watch him in action with his club Palermo over the last two years.
Sadly the world will be denied seeing Kjaer in the knockout rounds of the World Cup, after Denmark's limp elimination to Japan. Still, he had the chance to give us glimpses of his quality in initially stemming the Dutch tide in the group opener, and even more with his superlative cross-field pass to help create Nicklas Bendtner's equaliser against Cameroon.
Is he worth it?
Probably. Denmark's samey showing has not exactly enhanced his reputation, but nor has it significantly wounded it. A big money move beckons imminently.
Raul Meireles
(Portugal & Porto)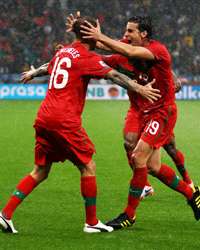 Age: 27


If it seems like he has been around for a while, it's because he has. The winner of four Portuguese league titles with Porto. Meireles also has extensive Champions League experience. Back in 2007 he shocked Premier League champions Chelsea with a stunning strike at the Dragao, though he has often been overshadowed in the interim by more high-profile colleagues such as Lucho Gonzalez and Lisandro Lopez.
The first indication that he could be Carlos Queiroz's secret weapon in this tournament came in the pre-tournament friendly against Cameroon, when he scored a brace. The opener against North Korea confirmed this potential, with Tiago's replacement of Deco in the Portugal side giving him more freedom to burst forward into the box. These late runs into the area are sure to have Premier League managers linking their greedy lips.
Is he worth it?
Probably. Meireles is very consistent, though as Portugal have shown, a side has to be set up quite specifically to get the most out of his attacking gifts. On the other hand, he is a stable, balanced character and a fine passer too.
Mesut Oezil
(Germany & Werder Bremen)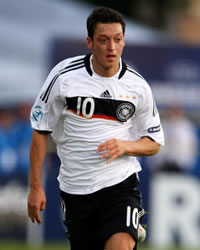 Age: 21

Perhaps the star of the World Cup so far, this elegant left-footer has simply carried on where he left off last summer, which he spent firing Germany to European Under-21 Championship victory in Sweden. England's coaching staff will be well aware of Oezil's quality from his two-goal role in the Malmo final over their own youngsters. Inventive and blessed with tremendous balance, he has shone in central positions as well as out wide in South Africa.

Oezil has just completed his best season in club football for Werder Bremen, hitting a double-figure goal tally for the first time in helping his side to the German Cup final and a surprise Champions League place. He has helped Thomas Schaaf to make light of the departure of creative fulcrum Diego to Juventus - no mean feat.


Is he worth it?
Yes. The real deal. Oezil's ability to step up each significant challenge suggests we are watching the emergence of a genuine world-class talent.
Diego Perez
(Uruguay & Monaco)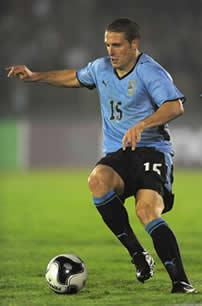 Age: 30


At 30, Perez may seem to have missed the boat in terms of a really big move. This rugged defensive midfielder has, however, been outstanding in Uruguay's qualification for the last 16. His ball-winning prowess and tactical awareness has been instrumental in Oscar Tabarez's team attaining of perfect defensive record in the group.
He has experience in a physically-demanding league, having been brought to Monaco in 2004 by Didier Deschamps. Perez's priorities are clear - in six seasons in the Principality, he has scored just twice. His leadership qualities and reliability make him a potential bargain, though as the current recipient of a tax-free salary, it would take a substantial wage package to persuade him to jump ship.
Is he worth it?
Yes. He has experience, knowledge of diverse footballing cultures, is a fine leader and wouldn't break the bank. What's not to like?
Alexis Sanchez
(Chile & Udinese)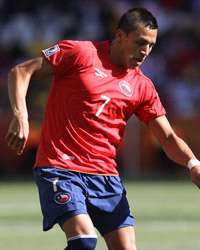 Age: 21


At just 21, the Udinese flyer had already convinced many Serie A watchers of his ability to go to the very top. His performances for Marcelo Bielsa's attractive Chile side have nevertheless been superb. Blessed with a rare combination of pace, balance, close control and awareness, Sanchez has been the wide player of the World Cup. According to Opta, he had completed more dribbles than any other player in the competition after the first two group games - eleven, in case you wondered.
Real Madrid and Lyon have long been sniffing around, but any hopes of them sealing a deal at anywhere near a reasonable price seem to be dead in the water. Another stellar performance in the second round against Brazil will have Europe's finest jostling for position.
Is he worth it?
Definitely. He could do with scoring more, but his balance is quite astonishing, especially for one so tricky and quick. Destined to dent the Champions League year after year, whatever his next club.
Luis Suarez
(Uruguay & Ajax)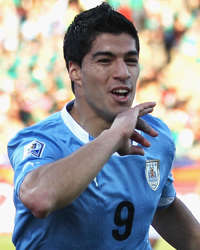 Age: 23


The scorer of 49 goals for Ajax in an astonishing season, Suarez is no mere poacher. He can create, attack from either wing, and is full of nimble wit. Inevitably he has been linked with the Premier League but Barcelona's mooted interest is more of an indication of his very special qualities.
This ability is why so many were disappointed with his initial forays in South Africa 2010. He has on occasion failed to live up to star billing for Uruguay, though hopes are his winner against Mexico will give his tournament lift-off. At least he has the guiding hand of the experienced Diego Forlan beside him.
Is he worth it?
Probably. As discussed, he still has much to prove in this tournament, but with Uruguay having a clear route to the semi-finals, he may yet have time to play himself in and become a star of the World Cup. He will need this to fully convince - there must be more than one interested coach who keeps hearing the words 'Afonso Alves' in his head when looking at Suarez.
Park Chu Young
(South Korea & Monaco)
Age: 24


Having just completed a successful second season in Europe with Monaco, Young has been linked with a move to England, Spain or Germany for some months. He scored at a near-one-in-two rate in Ligue 1 last season, but it is his versatility that makes him an attractive prospect.
Nominally a striker, he has the vision to be effective in deeper areas, so is often used as a '9-and-a-half' or even out on the left. After recovering from his unfortunate own goal in the game with Argentina, it was Young's strike against Nigeria in the final group match which eventually clinched qualification. His stock is continuing to rise as dark horses South Korea impress in the competition.
Is he worth it?
Yes. Young has proved his ability to make an impact in key matches, and the success of Park-Ji Sung has done much to dispel the - frankly ridiculous - myth that South Korean players are too fragile to survive in Europe, something Young himself has already proved in France.