On first look making comparisons between
Paraguay
and Ireland seems to imply overindulgence on certain crops that thrive in the South American country's tropical climate. Ireland is a fully industrialised European nation, a member of the European Union and boasts one of the best quality of life indexes in the world.
Paraguay on the other hand is the second poorest nation in South America, with a GDP of only $4,000 and an economy dominated by agriculture and remittances from emigrants to more prosperous lands. When it comes to football however, perhaps the link does not seem so outlandish.
For just as Ireland a generation ago flourished as a footballing nation thanks to the input of English coach Jack Charlton and an influx of British-born players, so has Paraguayan football on a national and international level benefited from the expertise and experience bestowed through links with richer, more developed
Argentina
.
The influence of Tata:
Paraguay's 'big Jack' is one
Gerardo 'Tata' Martino
. A considered, unassuming personality from Rosario, 'Tata' enjoyed a long career at city institution Newell's Old Boys, forging a reputation as a strong, steady centre half and club legend.
As a coach however it was a move to Paraguay that secured Martino's reputation. As head of Asuncion clubs Libertad and Cerro Porteno he inspired great success, winning five national championships in five years between the two. This made him the obvious choice to take over the national side after the resignation of Anibal Ruiz, who left after the Guaranies crashed out of the 2006 World Cup at the group stages.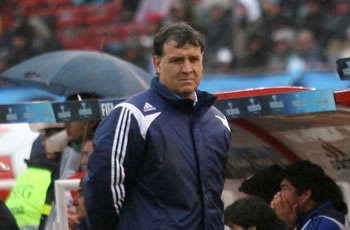 Martino built on domestic success and led Paraguay to famous qualifying wins over Argentina and Brazil.
Martino transformed a Paraguay side, which although counting on undoubted talent seemed to be unable to translate this into real fluency and teamwork. In the past they possibly relied too greatly on the goalkeeping legend Jose Luis Chilavert and accomplished defensive veterans Celso Ayala and Carlos Gamarra, to the detriment of significant potency up front. Tata's Paraguay on the other hand has proved both in qualifying and the World Cup so far that they combine strong defence with attractive passing football and no little attacking threat.
The Paraguayan potential was well known in South America during qualifying. In the notoriously tortuous campaign they finished joint second, just one point behind Brazil and in front of Argentina. And it seems that Martino's side has come to South Africa with exactly the same intention to surprise the world as they previously did on their home turf.
Guarani with an Argentine twang:
While the tenure of Martino is widely praised in Paraguay, one aspect of his management has been rather less popular; the policy of nationalising Argentine-born players with Paraguayan ancestry to pull on the red and white.
The current squad includes four players born in Argentina, of which currently injured winger
Jonathan Santana
is the most established in the side. This has led many in both countries' media to question their commitment, seeing it as a less than positive trend for all concerned.
Just as Andy Townsend, Ray Houghton and the rest of the 'Irish grandmother' brigade recruited by Charlton were dubbed 'Plastic Paddies' and mocked for their cockney or scouse accents, so are Santana and company. They are criticised for not speaking Guarani, the official language of the Albirroja dressing room which is understood by 90% of the population.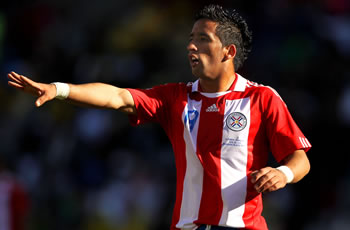 The inclusion of Argentine-born players such as Lucas Barrios has not been universally popular in Paraguay.
As generally economic migrants who enter the country with few resources, the Paraguayan community is not always the most popular in Argentina; in a nation where jobs are scarce they are well over-represented in unemployment figures and as inhabitants of the shanty towns which line most cities.
They also suffer widespread racism and discrimination - get a Buenos Aires taxi driver on the subject and the slurs that are frequently heard. In a football crazy, patriotic nation, the idea that players born and bred in the country would renounce their beloved Argentina to play for their poor cousins to the north is tantamount to treason.
But if one thing is clear it is that this trend is only going to grow. Paraguayans constitute the largest group of immigrants in Argentina - the 2001 census estimated that some 325,000 inhabitants were born in Paraguay, which considering the total population of the latter is just over 6 million represents a significant percentage.
The players themselves have no doubt that it is Paraguay whom they want to play for, and profess their love for the birthplace of their mother, father or grandparents. Santana responded to claims he did not feel anything for his adopted nation by insisting that, "I don't regret for a minute the decision to represent Paraguay, as the support I have received from the start makes me feel like one more Paraguayan."
Of course, it is much simpler to be accepted when your team is winning. With the Albirroja in the form of their lives, and Santana and fellow Argentine
Lucas Barrios
impressing home and international observers alike it is bound to make the transition much more straightforward for Martino's compatriots.
A future of continued co-operation:
Paraguay and Argentina have long been closely linked in terms of football and as nations generally, to a mutual benefit which is obvious. Although the globalisation of the sport means Paraguayans now tend to look east towards Europe for a move, a significant proportion of players still choose Boca, River or other Argentine stages. Three of the current squad ply their trade south of the border, while another four narrowly missed Martino's call up.
Meanwhile coaches continue to follow Tata's lead and take up coaching positions in Paraguay. The latest is Javier Torrente, who will take up the reins at Cerro Porteno, Libertad's Asuncion rivals.
The results of this interchange are now becoming clear - Paraguayan football can and has benefited immensely from the contribution of their neighbour's impeccable footballing heritage and the expertise of such pioneers as Martino. And if the Albirroja can get past the second round for the first time in history you will be sure to hear, no matter if it's in Guarani or released with a Buenos Aires lilt,
'neike Paraguay
',
'vamos Paraguay
!'
Become a fan of Goal.com International on Facebook! Just click onto Facebook.com/Goal to join the beautiful game's leading fan community...