Goal.com's Ewan Macdonald looks into Friday's big game...
The lusophone world is not a big one. Mozambique, Angola, Timor-Leste, Cape Verde, and a few others comprise the far-flung outposts of the lusosphere. This language community, however, is dominated by two other states. First is Portugal, the mother of the language and the source of much of the culture. The other is Brazil, the vibrant, heavily-populated home of the majority of Portuguese speakers.
The two countries share not just a language but also aspects of a common culture - not least a national obsession with the beautiful game of football. Portugal are highly regarded in Europe, but Brazil, one hardly needs reminding, set the benchmark for the international game.
Thus when the two come together - as they do this Friday in the World Cup - fireworks are inevitable. It's set to be a fantastic match. But what about off the pitch? How do the countries regard each other? Is it a case of familiarity breeding contempt, or will it be strength in numbers? I spoke to
Andre Baibich
, editor
of
Goal.com Brazil
,
and
Goal.com International's Luis Mira
, Lisbon correspondent, to find out.
Luis tells me that from the Portuguese side, there is little by way of ill feeling.
"We do not see Friday's game as crucial, we did not expect to win it before the tournament started, and we do not expect to do it now, also because we are most likely already through to the next round," he shrugged.
"There are many Brazilians living in Portugal, so it will be quite a nice environment on Friday in Portugal, as many Brazilians root for Portugal when their team is out of competitions, and also the other way around. In Lisbon, where I live, it is common to see shops or cars with both Portuguese and Brazilian flags on them, which shows how united the two countries are.
"I do not see any kind of tension, especially because these two teams will most likely progress, so it will be kind of a friendly match, as far as I can tell."
For Andre, the situation is much the same, although he did admit that there may well be a small amount of goading - mainly good-natured - against the opponents.
"The victory would be as important as against any other opponent in this stage of the World Cup. There is no big rivalry from Brazilians towards the Portuguese. The big rivalry is against the Argentinians," he noted.
"When the campaigns for the independence of Brazil started, a lot of jokes were made up to portray the Portuguese as dumb people. Those jokes are still spreading to this day, so the Portuguese are often portrayed as dumb in Brazil.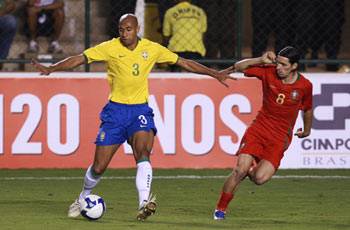 Brazil 6-2 Portugal -
Last time these sides met in 2008 it was a massive home win
"But there are a lot of positives in the image of Portugal in Brazil. Brazilians praise the beauty of big Portuguese cities and the cooking, with the famous cod-fish and the delicious pastries."
For Liedson and others - born in Brazil but set to wear the red jersey of Portugal on Friday - doubtless there will be mixed feelings. But fans find it hard to complain in such cases.
"Opinions are divided towards those types of players," said Andre. "It's very common to see Brazilians choosing other countries to play for, so this has been debated widely here.
"One view condemns the players for 'abandoning' their country. There's another point of view that understands them, as players that never had the chance to make it to the Selecao and search a way to be in such a major event as the World Cup."
As soon as the players line up on the pitch in Durban, though, all else fades into the background.
Become a fan of Goal.com International on Facebook! Just click onto Facebook.com/Goal to join the beautiful game's leading fan community...