Kick-Off: Thursday, June 24, 16:00 CET.
Peter Mokaba Stadium, Polokwane.

Last 16 Qualification
Paraguay have been a 'contradictory' side so far in the World Cup. The South Americans may count themselves a bit fortunate to have come away with a 1-1 draw with Italy in their opening game of Group F after spending much of the 90 minutes inside their own half, but stepped up their level against Slovakia in their second match as they marched to an imperious 2-0 victory.
Four points from two matches have left
Gerardo Martino's side
in pole position in Group F, meaning that to secure qualification to the second round of the 2010 World Cup, all that Paraguay need to accomplish is a draw with minnows New Zealand. A win against the All Whites will see the South Americans win the group. If Italy and Slovakia draw their match then Paraguay can progress even with a defeat to New Zealand.
However, Paraguay are the favourites to win against the Kiwis on Thursday; a victory will see them top the group and potentially avoid the Netherlands in the second round, meaning that they would theoretically have an easier path to the quarter-finals.

The Miracle Of Polokwane
At the start of the World Cup, Oceania side New Zealand were belittled by most football followers. Ranked closer to 100 than to the top 32, the All Whites were supposedly the whipping boys in Group F, but they have proved to be anything but.
Going into the final day of action in Group F, New Zealand can still hope for second round qualification. With two points from two matches, the Kiwis are level on points with Italy. A win over Paraguay will confirm their qualification, and although one would be tempted to say that a Kiwi win is impossible, it must be accepted that it is not improbable.
New Zealand scored a 94th-minute equaliser to garner a point against Slovakia in their opening match at the World Cup and held mighty Italy to a draw in their second match. A draw will still be enough for Ricki Herbert's side to go through to the second round but for that they would have to hope that Italy and Slovakia draw their game and that they finish ahead of the Azzurri on goals scored.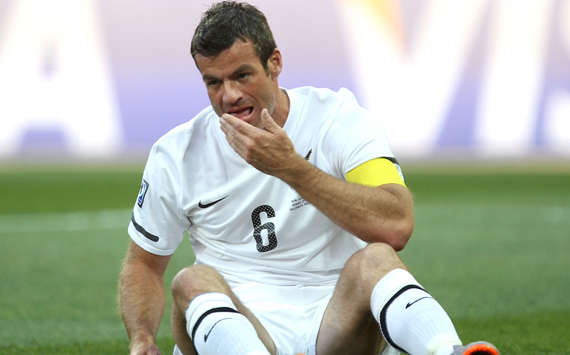 FORM GUIDEParaguay
June 20: Slovakia 0-2 Paraguay (World Cup)

June 14: Italy 1-1 Paraguay (World Cup)

June 2: Greece 0-2 Paraguay (Friendly)

May 30: Paraguay 2-2 Ivory Coast (Friendly)

May 25: Republic of Ireland 2-1 Paraguay (Friendly)

New Zealand
June 20: Italy 1-1 New Zealand (World Cup)
June 15: New Zealand 1-1 Slovakia (World Cup)

June 9: Chile 2-0 New Zealand (Friendly)

June 4: Slovenia 3-1 New Zealand (Friendly)

May 29: New Zealand 1-0 Serbia (Friendly)


TEAM NEWS

Paraguay

There shouldn't be any change to the Paraguay line-up that defeated Slovakia 2-0 in their last game.

Probable Line-up (4-3-3): Villar, Bonet, Alcaraz, Da Silva, Morel; Vera, Caceres, Riveros;
Barrios, Valdez,
Santa Cruz


New Zealand
The All Whites are likely to start with the same XI that held Italy to a 1-1 draw in their last game. Tim Brown is likely to remain on the bench, Mark Paston will be between the posts, although Glen Moss has served his suspension and is eligible to play.

Probable Line-up (3-4-3): Paston, Reid, Nelson, Smith;
Bertos, Elliot,
Vicelich,
Lochhead
; Killen, Fallon,
Smeltz


PLAYERS TO WATCH

Lucas Barrios (Paraguay)

The Argentina-born striker has been a very good player for Paraguay so far in the World Cup and set up the opening goal against Slovakia in the last match. Barrios is not only very effective in the opposition's box but can also link with his team-mates, bring them into play and maintain the rhythm of the game. Barrios will be looking to put the New Zealand defence in sixes and sevens on Thursday.

Ryan Nelsen (New Zealand)

The New Zealand defender was the man of the match against Italy as he kept the Azzurri attackers at bay. Nelsen made some vitals blocks and interventions and prevented the Azzurri from scoring a late winner when he blocked a Gianluca Zambrotta shot. He will have to maintain his form against Paraguay to stop the South Americans from breaching the Kiwi citadel.

PREDICTION

Paraguay have yet to lose in the World Cup and their performance against Slovakia in the last match was very encouraging. Indeed, the Castrol World Cup match predictor gives the South Americans a 64% chance of winning the match while New Zealand are given just 13%; a draw is given just 23%. A Paraguayan win does look likely but don't be surprised if New Zealand draw their third successive game in the group.

Paraguay 2-1 New Zealand



Think you can do better than our expert? Place a bet now on the match with Goal.com's official betting partner Titanbet.

Who will come out on top? Check out Castrol Football's 2010 World Cup Match Predictor.