In our World Cup Comment series, individual writers at Goal.com offer their views on the hot World Cup topics of the day with local expertise and a global outlook...
France's group stage exit from the World Cup may not be deemed a complete surprise given the abject nature of Raymond Domenech's reign, but the total capitulation of les Bleus has certainly raised eyebrows and has prompted questions over the stability of the national team in the future.
A great chasm has opened between the players and the FFF (Federation Francaise de Football), and the man who will be tasked with the unenviable job of repairing the damage done by Domenech's needlessly long stint will be former Girondins de Bordeaux coach Laurent Blanc.
'Le President' is a former World Cup winner, and he will need to use every ounce of his experience to unite a dressing room seeming shattered into countless fragments over the last few days.
Blanc will, of course, bring his own style to the France job, and there can be little doubt that he will adopt a far more offensive stance than the negatively minded Domenech, which should spell good news for fans of les Bleus, who have been frustrated with the robotic and unimaginative nature of their attack since the retirement of Zinedine Zidane.
Expect attacking players to be quickly thrown on if les Bleus are struggling against inferior opposition and expect a far more tactically astute mind in the dugout. But who will be retained by Blanc and who will be for the chop?
For starters, it's likely that Thierry Henry and William Gallas, two of the elder statesmen of the side who seemingly grew restless under Domenech, will quit the international scene. Both are 32, and the negative publicity surrounding both over the course of the last week will not have convinced Blanc that either is of suitable mindset let alone quality for his squad.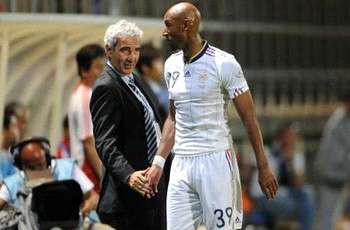 As for Nicolas Anelka, 31, the indications are that the FFF's decision to send him home in disgrace from South Africa will be enough to push him into quitting.

Other older players such as Sidney Govou and Eric Abidal, both of whom seem to be on a downward spiral, may also be excluded, though it's not inconceivable that they will be around for Euro 2012 should les Bleus qualify.

The remnants of Domenech's squad are otherwise legitimate options for Blanc, though he will want to impose his own ideas on a setup that is clearly rotten to the core. Patrice Evra, for example, may be one of the best left-backs in the world game, but with Gael Clichy, Aly Cissokho and Benoit Tremoulinas, a former charge of Blanc at Bordeaux, all knocking on the door, the Manchester United man is far from irreplaceable. Unless France's World Cup captain has a good explanation for the events of the last week, his place is not secure.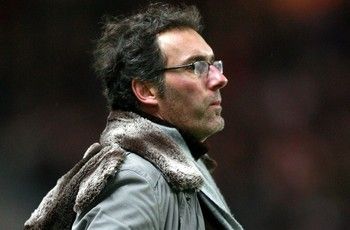 Blanc will suffer from the same problems as Domenech. He must address a weakness in the centre of France's defence, but at the same time he must also find more cutting edge for the team.

Producing more goals shouldn't prove too much of an issue as France have a wealth of fine attacking players at their disposal. Karim Benzema and Samir Nasri should be quickly recalled to the squad, while the likes of Louis Saha, Jeremy Menez, Jimmy Briand, Hatem Ben Arfa, Sylvain Marveaux and Loic Remy are all floating in the wings and could be ripe for selection, depending on form.
Manufacturing an effective centre-back pairing could take time. Philippe Mexes may be recalled from the international cold as he is both experienced and able, while former Bordeaux player Michael Ciani must also be a good bet to be in the first Blanc-influenced squad, though Sebastien Squillaci is perhaps a likelier starter. Don't discount Julien Escude either. In terms of younger options, Lille's Adil Rami, who may well be with Olympique Lyonnais by August, and Paris Saint-Germain's Mamadou Sakho could be secondary picks.
Five To Recall?
Karim Benzema


Samir
Nasri


Philippe Mexes


Sebastien Frey



Julien
Escude


Rather than altering personnel, Blanc's job is altering attitude. Players such as Franck Ribery looked at the World Cup as an opportunity to showcase their wares rather than those of the team, and Blanc must eradicate that mindset. Having forged a wonderful team spirit at Bordeaux, don't back against him doing just that.

Indeed, Blanc's Bordeaux were strangely overlooked by Domenech, and it would be little surprise to see the Ligue 1 winning side of 2009 more strongly represented with les Bleus in future, even if a relatively small number of players start. There will also be a greater willingness to feature players from Serie A and La Liga (maybe Sebastien Frey will finally be recalled to the national setup?), while the more pragmatic approach of Le President will be a breath of fresh air in the French game.

Healing the scars of 2010 will not be an instant job, but given time Blanc can help France flourish as they should.
Potential France XI Under Blanc:


Lloris

Sagna Mexes Squillaci Evra

L. Diarra Toulalan

Ribery Gourcuff/Nasri Malouda

Benzema
Become a fan of Goal.com International on Facebook! Just click onto Facebook.com/Goal to join the beautiful game's leading fan community...