Kick Off: Tuesday, June 22, 2010. 16:00 CET
Free State Stadium, Bloemfontein

In Disarray

The World Cup has a history of teams self-destructing, but rarely can the explosion be as spectacular as the one that has befallen France. With two World Cup games left, the fate of Raymond Domenech's side is entirely out of their hands and only a victory over South Africa on Tuesday evening can breathe any potential life into their dying campaign.
France are now only led by Domenech in name only. The coach cut a more isolated figure than usual in the dugout during les Bleus' 2-0 reverse against Mexico last Thursday evening. Over the weekend, the world learned why.
A seemingly huge bust up in the dressing room with Nicolas Anelka finally seemed to cut any ties between the squad and the coach, with the news broken to the media by a person captain Patrick Evra claimed to be "a traitor". The differences between the parties were further emphasised by rumours in the press that suggested a group of militant players had plotted with Zinedine Zidane the best tactics for the side, only to be rubbished by Domenech.
On Sunday, the squad refused to train after a bust up between the Manchester United left-back and Robert Duverne, the team's fitness coach. Former player Bixente Lizarazu has termed these events to be like something from "science fiction".
Football could barely be any further from the squad's mind, and they have already seemingly given up thoughts of progression to the second round.

Hoping For A Miracle
Yet France are ironically better positioned, at least in terms of the Group A standings, to progress than hosts South Africa. With just one point from their first two matches, Bafana Bafana are battling the odds to maintain the World Cup's record of the host nation always progressing past the first round.
Les Bleus may be vulnerable, but the South African side is not in a great state coming into the game, and even victory is unlikely to be enough to push Bafana into the last 16. Not only do they need to win (probably handsomely), Carlos Alberto Parreira's men are reliant on Uruguay or Mexico winning the group's other game, which is played out concurrently.
On the evidence of the hosts' performance against Uruguay last time out, they have a great deal of work to do to claim three points. Thoroughly outplayed, Bafana seemed to freeze in the spotlight and were pummelled 3-0. On this occasion, with success not anticipated, the pressure will be off to some extent and there can be real hopes of a first victory at the competition for the home side.
"We are concerned about ourselves and how we are going to beat France. We still have plenty of self belief and confidence that we can finish the group stage with a win," confident Teko Modise told the
PA
.
Backed by a partisan and noisy home support, South Africa, aided by the vuvuzelas that France have already noted their distasted for, can justify their self-belief.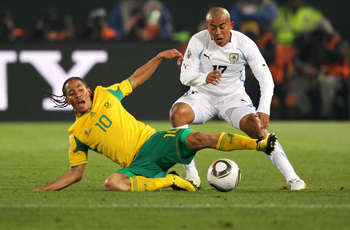 FORM GUIDE

France
LOST 2-0 (n) Mexico (World Cup, June 17)
DREW 0-0 (n) Uruguay (World Cup, June 11)
LOST 1-0 (h) China (Friendly, June 4)
DREW 1-1 (a) Tunisia (Friendly, May 30)
WON 2-1 (h) Costa Rica (Friendly, May 26)

South Africa
LOST 3-0 (n) Uruguay (World Cup, June 16)
DREW 1-1 (h) Mexico (World Cup, June 11)
WIN 1-0 (h) Denmark (Friendly, June 5)
WIN 5-0 (h) Guatemala (Friendly, May 31)
WIN 2-1 (h) Colombia (Friendly, May 27)
TEAM NEWS

France
Les Bleus' squad is in turmoil, and Raymond Domenech's power would now seem to be minimal. Just how France will line-up is therefore something of a lottery.
Nicolas Anelka has been sent home, leaving les Bleus with a squad of 21 as Cedric Carrasso is injured. Though Stephane Ruffier is training with the squad, he is not permitted by FIFA to play.
Jeremy Toulalan is banned.

Probable Starting XI:
Lloris; Sagna, Gallas, Abidal, Evra; Valbuena, Diaby, Diarra, Ribery; Henry, Gignac

South Africa
Goalkeeper Itumeleng Khune is out of the match after receiving a red card, while Fulham midfielder Kagiso Dikgacoi is also suspended after receiving his second yellow card of the tournament.
Apart from those two key players, South Africa are not struggling with any injury worries, and it looks like Moeneeb Josephs will take Khune's place between the sticks, while Macbeth Sibaya is a possible replacement for Dikgacoi.

Probable Starting XI:
Josephs; Gaxa, Mokoena, Khumalo, Masilela; Sibaya, Pienaar, Tshabalala, Modise; Mphela, Parker

PLAYERS TO WATCH

France

Thierry Henry
is likely to be brought back into the starting XI, and France's record scorer will shoulder the goal-getting of the team on Tuesday afternoon. Les Bleus have presently yet to find the net in this campaign, and in truth have rarely looked like scoring. Perhaps the Barcelona man can change their fortunes.
South Africa

Steven Pienaar
is Bafana Bafana's biggest name, but he has yet to produce what he is truly capable of in this tournament. When his country needs him most, what better time is there for the 28-year-old to produce his best? Has admitted to feeling tired previously, but adrenaline should be enough to get the Everton player what could be the most important international game he will ever play.

PREDICTION
Les Bleus fortunes will likely go one of two ways. Either the weekend's events were a cathartic event for the France team and therefore the dawn of the new era, or simply the death rattle of Raymond Domenech's reign, which will likely end on Tuesday. France and South Africa are both praying for a miracle to move through, but the hosts are in a far better state to pick up the points. The Castrol World Cup Match Predictor gives France a 35 per cent chance of winning, but of course that doesn't tell the whole story.

France 0-1 South Africa
Think you can do better than our expert? Place a bet now on the match with Goal.com's official betting partner Titanbet.