The striker is back in the goals as 10-man Brazil win again.
Brazil 3-1 Cote D'Ivoire - Line-Ups/Stats
World Cup 2010 - Results/Standings
Fabiano hit goals either side of half-time, though the second had a hint of handball about it, before Elano wrapped up the win. Didier Drogba's header proved only a consolation for the Elephants.
As expected, Drogba was recalled to the starting line-up by Ivory Coast coach Sven-Goran Eriksson after having come on as a substitute against Portugal. Brazil were again able to field their one to 11, Dunga deciding not to tinker with the line-up which overcame North Korea.
Brazil could well have had the lead within the first minute as an Ivory Coast attack was broken down and Robinho broke straight through the middle before firing a 30-yard strike just over the bar.
Cote d'Ivoire's first half-chance came when Salomon Kalou attempted to thread a pass through the Selecao's backline for Drogba, but he just put too much weight on his effort and Julio Cesar beat the Elephants' striker to the ball.
The Chelsea frontman looked set to cause Brazil trouble when he stood over a 13th-minute free-kick, but he blasted his 25-yard effort well over the bar. But it wasn't long before he'd earned his side another set piece after tangling with Lucio. Emmanuel Eboue swung a well-placed dead ball and Julio Cesar had to be on his toes to punch clear ahead of two green shirts.
At this stage it was the Africans who were on top, with Brazil looking to rein back a rare spell of possession. Full-back Maicon decided to take the bull by the horns by going on a rampaging run down the right which earned Brazil a corner.

When the ball came in Gilberto Silva had his shot from the edge of the area blocked and the rebound fell to Robinho, but again he couldn't keep his shot down as his left foot effort failed to test Boubacar Barry.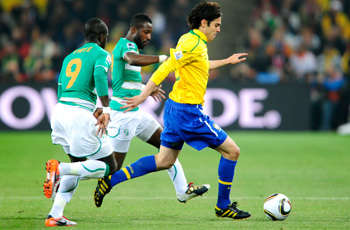 Kaka ¦ Involved in two Brazil goals

But this only proved to be the catalyst to a period of pressure from Brazil which would lead to the opening goal on 26 minutes.
Robinho picked up the ball in midfield and fed Luis Fabiano, whose first-time flick freed Kaka. The Real Madrid man did well to keep hold of possession under pressure before returning the pass to Luis Fabiano, who strode forward and fired emphatically into the roof of the net at Barry's near post.
The breakthrough was just what Brazil needed to take control of the game, and for several minutes afterwards Ivory Coast did well to so much as get out of their own half as the Selecao began to dominate possession and territory for the first time. It became a lesson in keep-ball for a few minutes as the Samba stars stroked the ball around with ease.
On the rare occasions that the Elephants did progress, they appeared to be constantly being foiled by Felipe Melo in midfield. This prompted a couple of longer range efforts, the best of which saw Julio Cesar smother the ball well from a Kalou strike.
Eboue was the next to try his luck from range, his 20-yard shot taking a flick off Juan before going wide of the near post, but the referee and his assistants failed to spot the deflection and gave a goal kick.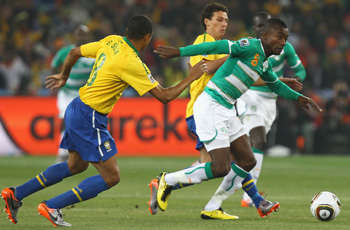 Kalou And Gilberto ¦
Both featured heavily in competitive first half
It was probably a deserved lead which Brazil took into the interval, though Ivorian journalist Gio was righly disappointed when speaking to Goal.com's Peter Pedroncelli inside Soccer City at half-time. "It is a pity we could not capitalise on the good early pressure we had. If we had scored early on we would probably be two or three goals up by now," he said.
Brazil came out for the second half with an extra spring in their step and within just five minutes Luis Fabiano added a controversial second goal.
With two defenders to beat, Luis Fabiano appeared to take the ball down with the top of his arm, before flicking it up with his right foot, then once more connecting with the top of his arm. With no whistle forthcoming, the striker was able to drill home the bouncing ball with his left foot, though Barry may feel he could have gotten more on the ball as he could only get his fingers to the strike.
It was a real sucker punch for Cote d'Ivoire, but they weren't about to give up, and just two minutes later Drogba worked himself into space, from where he was able to get a header in on goal. But his effort ran along the face of goal with Julio Cesar scrambling across.
Kalou then tried to put in substitute Gervinho – a replacement for the ineffective Aruna Dindane – but his pass was just too long as Cote d'Ivoire began to play with a hint more urgency, but just after the hour mark Brazil put the game to bed.
Kaka did superbly to get to the bye-line on the left, drawing Kolo Toure in doing so, before cutting back into the centre, where Elano timed his run to perfection and slotted home coolly with his left foot.
It was practically Elano's last touch of the game, as he picked up an injury soon after had to be stretchered off the pitch. He was replaced by Dani Alves, whilst Sven-Goran Eriksson used the break in play to introduce Kader Keita for Kalou.
Maicon very nearly added a fourth when he nutmegged Yaya Toure before slashing a low shot just wide at the near post. It was an example of the kind of casual football which the Selecao were now demonstrating in most areas of the pitch.
Cote d'Ivoire were reduced to the odd break at this point, but it was from one such moment that they reduced the deficit.
Gervinho went on a magnificent run from his own half, but had his shot blocked. But he continued to chase down the loose ball and wait for support. When the ball was finally crossed back into the area, Didier Drogba arrived unmarked to head past the motionless Julio Cesar.
It was a real fillip for the 'home' crowd, most of whom had come to cheer on their African brothers.
But just as the game looked set to come alive once more, a highly tempestuous end came about instead. After an original confrontation between Keita and Kaka, Check Tiote was then booked for a bad challenge on Luis Fabiano.
Then came the real flashpoint with just three minutes remaining as Keita ran into Kaka in back play before throwing himself to the floor. As recriminations were sent back and forth between the two sets of players, there was a great amount of pushing and shoving before the referee regained control. When order was restored he eventually showed Kaka a second yellow card and the subsequent red, but Brazil managed to hold out and record their second successive win.
Become a fan of Goal.com International on Facebook! Just click onto Facebook.com/Goal to join the beautiful game's leading fan community...