Kick Off: Monday, June 21, 2010. 13:30 CET
Cape Town Stadium, Cape Town

Risk Takers
Group G was touted to be the pool to watch from the moment the draw for the 2010 World Cup was made. Brazil were regarded as clear favourites, but Portugal and Cote d' Ivoire were ready for an almighty duel to claim second place. After a scoreless draw with the Elephants in their opening fixture, the Seleccao now need to accrue maximum points against the pre-empted also-rans of the group, North Korea.
Portugal only offered glimpses of their talent in their first game, which was marked by caution and a desire not to lose. Carlos Queiroz's side might have come closest to winning full points – Cristiano Ronaldo having cracked a long range thunderbolt off the Elephants' post – but it was the African side who held marginal sway over the majority of the fixture.
Despite the talents of 'CR9', Portugal have often found goals hard to find in recent matches, and Queiroz was not impressed by the Ivorians' approach last week, as he felt it was defensive.
"The Ivory Coast did not want to take control at the start, they were just at the back defending, trying to launch counter-attacks," the coach told
RP-1.
"We wanted to win the match, but as you saw, this was a game between two favourites, a very hard encounter."
Queiroz has spoken of taking "a few more risks" against North Korea, though all does not seem to be well in the Portuguese camp. Deco stormed off after being substituted against Ivory Coast, and reports suggest the creative midfielder is ready to be omitted from this encounter.
Had it not been for France's internal capitulation, Portugal's worries may well have been more in the spotlight, and as a result players such as Raul Meireles have emphasised the importance of winning the match first and worrying about the potentially crucial goal difference later.

Take Note
Deemed tournament whipping boys before having the chance to kick a ball in anger, North Korea certainly made the cynics sit up and take note in their opening game. Brazil were expected to walk over the Asian side, perhaps winning 4 or 5-0, but the Chollima showed immense defensive resilience to withstand the South American side's attack and had international football's most famous side rattled towards the end, slipping to a narrow 2-1 loss.
Cote d'Ivoire coach Sven-Goran Eriksson has since refused to rule the Koreans out of the running to finish second in Group G, while neighbours South Korea unsuccessfully tried to draw inspiration from the Chollima's relative success ahead of a tussle with Argentina.
Jong Tae-Se was undoubtedly one of the star men against Brazil. Dubbed 'the People's Rooney', he showed no shortage of talent and commitment to go from a blubbering wreck during the national anthems to a genuine thorn in Brazilian sides a matter of minutes later. And he believes he can be as effective against Portugal.
"I'm going to try to improve for the next game and score my first goal," he declared, according to FIFA's website.
Fittingly given DPR Korea's reputation as one of the world's most insular countries, four of their players have gone missing over the last week, with no news of where they are. The North Koreans cannot afford for any of the starting XI to do likewise in a more metaphorical sense against Portugal, else they risk being swept away.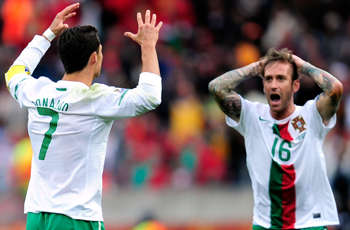 FORM GUIDE

Portugal
DREW 0-0 (n) Cote d'Ivoire (World Cup, June 15)
WON 3-0 (n) Mozambique (Friendly, June 8)
WON 3-1 (h) Cameroon (Friendly, June 1)
DREW 0-0 (h) Cape Verde (Friendly, May 25)
WON 2-0 (h) China (Friendly, March 3)

North Korea
LOST 2-1 (n) Brazil (World Cup, June 15)
LOST 3-1 (n) Nigeria (Friendly, June 6)
DREW 2-2 (n) Greece (Friendly, May 25)
LOST 1-0 (n) Paraguay (Friendly, May 15)
DREW 0-0 (n) South Africa (Friendly, April 22)

TEAM NEWS

Portugal

Deco's apparent bust-up with Carlos Queiroz could mean that he is forced to warm the bench from the outset of this game, with Danny the man most likely to take over the diminutive midfielder's playmaking role.
Simao would therefore be promoted to the starting XI, where he will look to make a positive impression from the flank.

Probable Starting XI:
Eduardo; Ferreira, Carvalho, Alves, Coentrao; Danny, Pedro Mendes, Meireles; Ronaldo, Liedson, Simao

North Korea
Kim Myong-Won, An Chol-Hyok, Kim Kyong-Il and Pak Sung-Hyok were all listed as absent on the teamsheet for the opening game against Brazil, and FIFA has confessed that they have no information on the players' whereabouts, though North Korea claim a clerical error is to blame for what they claim is a misunderstanding.

Probable Starting XI:
Myong-Guk; Jong-Hyok, Chol-Jin, Jun-Il, Kwang-Chon, Yun-Nam; In-Guk, Young-Hak, Nam-Chol; Yong-Jo; Tae-Se
PLAYERS TO WATCH

Portugal

Cristiano Ronaldo
will be frothing at the mouth at the prospect of playing North Korea. This match will provide him with a great chance to finally banish his goal drought for the Seleccao, which stretches back almost 18 months, and it should also allow the Real Madrid ace to make a point to FIFA officials, who refused to overturn the yellow card he was given for diving against Cote d'Ivoire.

North Korea

Ri Kwang-Chon
was superb in the centre of the North Korea defence against Brazil and will have to enjoy another high level performance if the Chollima are to pick up their first points of the competition. Made several superb blocks against the Selecao in the opening game, and will likely have to repeat that feat against Portugal.

PREDICTION
Given the tenacity North Korea defended with against Brazil, they will be looking to this encounter with cautious optimism. Portugal haven't necessarily found the net readily in recent times, so the 63 per cent chance of winning they have suggested by the Castrol World Cup Match Predictor would seem about right. Anything shy of a win for the Seleccao would be a tremendous blow, and they should pick up three points.

Portugal 2-0 North KoreaBecome a fan of Goal.com International on Facebook! Just click onto Facebook.com/Goal to join the beautiful game's leading fan community...