World Cup hosts South Africa lost in disappointing fashion to a superior Uruguay side in today's Group A action. The Diego Forlan led Celeste won 3-0, and the score was probably a true reflection of the pitch play, as Bafana were out of sorts and had little in the way of a game plan.
The disappointing result means that South Africa have little hope of progressing to the next round of the competition after a 1-1 draw against Mexico and this loss leaves them on a single point with France still to come. Uruguay is now on four points, and a great deal will depend on Mexico's game against France, with both sides on a point.
So what went wrong in tonight's match for Bafana? Well, there was no creative spark in the midfield. Steven Pienaar is a great player, and he was on the pitch at Loftus Versfeld Stadium tonight, but you would be forgiven for believing that he wasn't, as he was invisible for most of the game.
The Everton star has had a wonderful season in the Premier League, but he looks tired and has recently admitted to feeling the effects of a long season in his legs. Tonight's match was the proof of this. His spirit and mind may have been focused, but his body was not up to the challenge.
It may sound strange that his form affects the team to such a degree, but it does, and when he is not playing well Bafana struggle to find any options in attack. There is no replacement in the South African squad for Pienaar, and what can be considered the 'Pirlo-Syndrome' is a key problem in the team.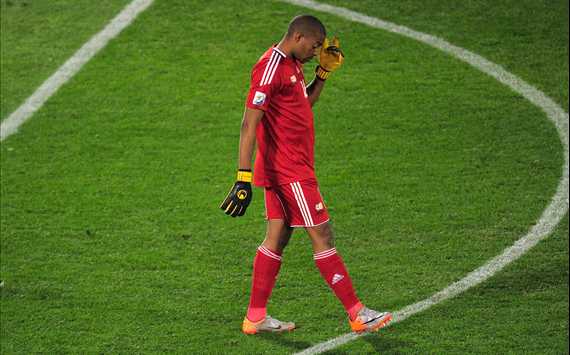 It Was A Sad Day For Bafana
Just as Andrea Pirlo is such an important player for Italy in terms of their attacking prospects, an on form Pienaar makes all the difference for a South African outfit which can do little to change formation or tactics during a game if the need arises due to the lack of versatile players. The fact that goalkeeper Itumeleng Khune's sending off prompted Pienaar's substitution shows how little his presence mattered tonight due to his poor form.
For all of Bafana's failings, something must be said about the Uruguayan talisman Diego Forlan, who was incredible during the encounter, scoring two goals and was a constant menace to the Bafana's backline. He was the true difference between the two sides, with the Atletico Madrid star playing a deeper role compared to Pienaar, and shining while doing so.
Even though Bafana lost and they seem to be on the brink of elimination, there is still some hope for the hosts, as a final Group A fixture against France is a chance to get three points, while other games will need to be kind to South Africa in terms of the results. One such game is tomorrow's clash between Mexico and France, and South Africans will be glued to their televisions in hopes that their beloved Bafana still have a small ray of hope in their final group match against les Bleus in Bloemfontein.
Become a fan of Goal.com International on Facebook! Just click onto Facebook.com/Goal to join the beautiful game's leading fan community...