Italy may have their most average team for at least 50 years, but if they take Germany's example from the last decade they can punch above their weight writes Carlo Garganese...
And so South Africa 2010 finally begins for world champions Italy tonight as they take on Paraguay in Cape Town.
Expectations going into the tournament are low, and there can be no denying that personnel-wise this is the weakest group of players the Azzurri have taken to a major tournament for more than 50 years.
There are alarming flaws in numerous areas. Many of the defenders are either past their best (Fabio Cannavaro, Gianluca Zambrotta) or extremely inexperienced with few caps to their names (Salvatore Bocchetti, Domenico Criscito, Leonardo Bonucci).
In midfield there is an abundance of centre midfielders, but a dearth of creative, skilful, attacking midfielders and widemen who can stretch the game, open up the opposition and link the middle third to the final third.
Meanwhile, the five attacking options of Antonio Di Natale, Vincenzo Iaquinta, Alberto Gilardino, Fabio Quagliarella, and Giampaolo Pazzini are worryingly average and individually far inferior to any of the frontmen Italy have ever taken to a past World Cup.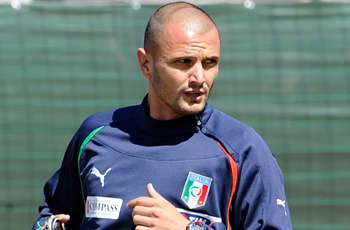 The probable starting XI for tonight's opener against South Americans Paraguay hardly fills you with too much confidence: (4-3-3) Buffon; Zambrotta, Cannavaro, Chiellini, Bocchetti; De Rossi, Montolivo, Marchisio; Pepe, Gilardino, Iaquinta
On the positive side, though, you can never truly rule out an Italy team – even one as middling as this. The Azzurri don't have four stars on their shirt for nothing, and when it really matters la Nazionale rarely fail to show.
In fact, Italy have often produced their best when written off. In 1982, following three successive group game draws against Poland, Peru and rank-outsiders Cameroon, Enzo Bearzot's men were considered as no-hopers – only to go on and win the World Cup. In 2006, amidst the Calciopoli scandal, Marcello Lippi's boys were also given no chance but again roared to glory. Another example is in 2000, when Italy were just seconds away from winning the Euros. Before the competition began, many Italians thought they would be eliminated in the first round.
While it is true that the 1982, 2000 and 2006 teams were still full of world class players – unlike today's group – Italy must still try to believe.
Germany have been painfully average for a decade now, but have still managed to reach the World Cup final in 2002, semis in 2006, and the final of Euro 2008. Even this edition's group is hardly brimming with quality, but last night's emphatic 4-0 thrashing of Australia suggested once again that they will go far.
Italy must use Germany's example as they begin their World Cup defence. The talent may be lacking, but with determination, belief, hard work, organisation and a winning mentality this World Cup doesn't have to be the disaster many experts have predicted it will be.