The tournament starts!
Almost three years on since the first match of qualification. 204 teams. 848 matches. 2337 goals. And it's finally come down to this.
The dawn over Africa brings a World Cup for the first time in history. When Mexico line out against the Bafana Bafana this afternoon in Soccer City, they won't be playing 11 men. They will be playing an entire continent, for this is Africa's World Cup.
While South Africa may harbour distant dreams about deep progress in the competition the likes of Cote D'Ivoire and Cameroon have more realistic hopes of representing Africa in the latter stages of the tournament. And they will have their work cut out for them by some of the greatest teams on earth.
From South America come former winners Argentina and Brazil. Europe brings the pedigree of Spain, Italy, Germany, England, The Netherlands and others. From Asia come a team from each side of the Korean divide.
It's clear that the World Cup of 2010 is truly a global event - the globe will hold its breath for the duration. Heroes and villains will be made. Legends will be anointed. Champions affirmed. And you won't miss a kick on Goal.com. Each and every moment, from opening ceremony to the final, will be documented; previews, live coverage, match reports, player ratings, reactions from the biggest names in the game, opinion, analysis.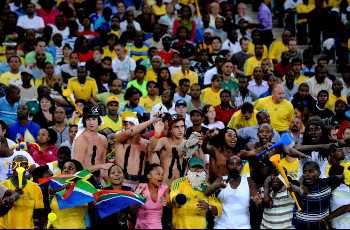 Join us. Share the experience, share the moments, share the magic of an historic World Cup.
Above all, there are the words of one of
Goal.com's African
correspondents,
Lolade Adewuyi
of Nigeria:
"It is with great joy that I write as the World Cup kicks off in South Africa today. We have waited for more than six years in anticipation of our turn to host the world's most important sporting event.

"Every fours years the stars of football come out to shine at the World Cup and this time we have the opportunity to host them on our land with our impressive cultural heritage.

"Africa welcomes the world to this great continent of beauty, hopes and dreams. We open our arms wide and we say welcome, Akwaaba, Ekaabo, Sanu da zuwa, and Sawubona to everyone that will be visiting our continent during this period.

"Football is more than a sport. It is a passion. The World Cup is the biggest shrine of football and it is where many of us dreamed of being as kids. To see our heroes play means more than a thousand treasures.

"As the World Cup begins in our Africa this week, I will be supporting my team the Super Eagles to victory. No matter what happens during the tournament, I will be the number one fan of the Super Eagles. And if the Eagles fail to make it further, I will support football.

"For football is much more than nationality. It is a lifestyle, it is a religion, it is a calling and a gift to mankind. Football is a force for good. So let us embrace this beautiful gift that has been given to Africa and rise up to celebrate it.

"It is our time."
Today's Schedule


South Africa - Mexico
Friday 11 June 2010 - 16:00 local time
Preview: The hosts are firmly underdogs for this fixture
The sides have never met before in FIFA competition
South Africa will be backed by a raucous home support
Uruguay - France
Friday 11 June 2010 - 20:30 local time
Preview: France need to shake their pre-tournament blues
Uruguay beat France 2-1 in the First Round in 1966, and the two drew 0-0 in the 2002 group stage
Les Bleus are firm favourites to top the group but need a good start
Five Players To Watch Today
Aaron MOKOENA

South Africa

The South Africa captain has the hopes of a country, a continent, on his shoulders. Yet you wouldn't know it to listen to him. The accomplished defender knows that sport unifies people: "The World Cup will show that again," he says.
Steven PIENAAR

South Africa

Perhaps the most naturally gifted of all South African players, Pienaar is an attacking master who, despite scoring only twice for Bafana Bafana, has gathered a raft of assists so far.
Cuauahtemoc BLANCO

Mexico

At the other side of the pitch is Cuauahtemoc Blanco, playing in what will surely be his last ever World Cup. The well-traveled midfielder is the oldest outfielder at the tournament at the ripe old age of 37, but few would bet against his adding to his 38 goal haul.
Diego FORLAN

Uruguay
The jewel in an already-glistening Uruguayan crown is Diego Forlan of Atletico Madrid. The striker scored seven times during qualifying and is a force to be reckoned with; yet strangely only two of his 24 international goals have come against European teams.
Franck RIBERY

France

France's great hope on the left wing is Bayern Munich's Franck Ribery. Lately he hasn't quite hit the heights expected of him, but the man who so wowed the world in 2006 is a World Cup specialist.
Did You Know...?


Today's match between South Africa and Mexico is the first at Soccer City; The venue for today's opener is auspicious for all kinds of reasons. First built in 1989, it was where Nelson Mandela gave his first speech upon his freedom from prison. Fully rebuilt in 2009, it is now one of the continent's best venues and is expected to be full to the rafters for Bafana versus Mexico.
| | |
| --- | --- |
| 94,700 | The number of places available at Soccer City stadium for spectators |
| 100% | The amount of available tickets sold for South Africa's curtain-raiser against Mexico |
What We Saw Yesterday...


The Kickoff Concert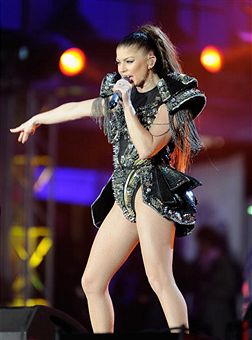 One night before the tournament began on the pitch we saw an amazing show in Johannesburg to truly welcome the World Cup to South Africa.
The official Kickoff Concert in Soweto brought together some of the biggest names in music - including Shakira, the Black Eyed Peas and Fergie (left) - along with Africa's hottest stars.
Over 30,000 attended the concert, including Nelson Mandela, Jacob Zuma and Desmond Tutu, of all people.
Perhaps the highlight was K'Naan's performance of Wavin Flag. The Somalia-born hip hop star's famous anthem will be instantly recognisable to all football fans by the time this tournament is over - and rightly so.
The message of that song, and of the whole night, was "unity and celebration", according to K'Naan himself. There can be no arguing with that.
Now it's time to make the vision reality.
MORE