Over the last six months Castrol's team of 80 analysts have assessed all 540 games from 1966 to 2006 - spending over 3,000 hours logging close to one million player movements to uncover the Castrol Index scores for players past and present. From these results, Castrol has identified the top performing players from the past 40 years of FIFA World Cup™ action.

Goal.com's exclusive series continues as we profile Italy's Paolo Rossi, who emerged from two years in the wilderness to play a starring role in the Azzurri's third world crown.
Taking Paolo Rossi to the 1982 World Cup was considered a risk by Italian coach Enzo Bearzot. After all, the striker had just returned from a two-year playing ban after being implicated in a betting scandal.
A few weeks later Rossi departed with the Golden Boot, Golden Ball and the World Cup after his six goals inspired the Azzurri's victory. Nobody was talking about risky choices anymore.
While Rossi is best remembered for his display in 1982, he had shot to prominence four years earlier in Argentina, scoring three goals and providing two assists. Although Italy beat the hosts earlier in the tournament, they eventually missed out on a place in the final after being bested by Holland in the second group phase.
The intervening years wouldn't be so kind to Rossi as he got hit with a three-year playing ban which was later reduced to two. Rossi returned to action in May 1982 with the World Cup in Spain barely a month away.
Despite his lack of playing time Rossi was an automatic starter as Italy limped through the first group phase with three consecutive draws. He featured again when Italy beat Argentina in the second group but after four games Rossi still hadn't got on the scoresheet.
The notoriously demanding Italian press were calling for his head, but it was here that Rossi's close relationship with Enzo Bearzot came to the fore.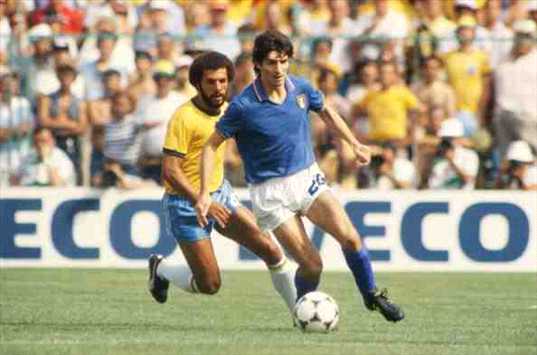 "The fact that Bearzot trusted me was fundamental," said Rossi in
FIFA
interview years later.
He added: "Bearzot believed in me and was sure I would come through at the right time. When I started playing again after two years out it was really, really tough and Bearzot's trust was very important."
His faith was repaid in the final group game against Brazil when Rossi silenced all his critics with a sensational hat-trick. The first came early as Rossi nodded home from close range, his second was a bullet strike which punished some slack Brazil defending, while his third was an instinctive poacher's effort.
With the favourites dispatched and Rossi now the darling of the Italian media, 'Pablito' added a brace in the semi-final against Poland to set up a final encounter with West Germany. Italy were 90 minutes away from their first World Cup since 1938 with Rossi very much the inspiration.
Perhaps predictably, Italy's number 20 opened the scoring in the second half, sending president Sandro Pertini into raptures with his close range opener. Once again the 'fox in the box' had delivered when it mattered most and Italy went on to win 3-1.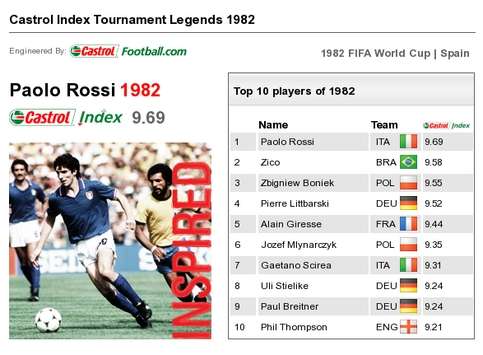 Rossi's 1982 stats, courtesy of the Castrol Index, demonstrate just how sharp he was. He netted his six goals from just seven shots on target, posting a 46% goals to shots conversion rate overall. Just one of his goals from his 13 shots overall came from outside the area. The ultimate penalty box striker in other words.
Impressive statistics aside, what mattered more was that Rossi had secured his place in the annals of World Cup history with his very own renaissance story.