While Fabio Capello spends day and night pondering whether to start Emile Heskey or Peter Crouch alongside Wayne Rooney, Marcello Lippi frantically searches for a genuine world class striker in his list of forwards and Diego Maradona spends half the day taking tactical lessons to sort out the frontline, Vicente del Bosque is tearing his hair out trying to figure whether to start with both Fernando Torres and David Villa in attack for Spain, or just one at a time.
Okay, that was an exaggeration but when Spain's best selling sportspaper
Marca
runs a poll asking whether or not Spain should venture with two strikers upfront, you know that a Torres-Villa partnership is not a certainty. The mere fact that the El Nino-El Guaje combination is not taken for granted implies that there is a hint, howsoever abstract it may be, that the Spain coach is plotting to use either Villa or Torres and not both of them in attack, at least in the initial stages.
But if
Marca
's poll results are any indicators, then no, there is nothing to discuss here: Torres and Villa should start.
The Two-Man Strikeforce Scenario

And frankly, you cannot argue much against the two-man strikeforce. After all, Villa and Torres have been playing together in the Spanish national team for the best part of four years and are arguably the best and most lethal goalscoring partnership in international football at present.
Villa is just seven goals short of Raul's all-time scoring record for the Iberian nation having played 45 matches less and won the Golden Boot at Euro 2008, while Torres has expressed his true self at Liverpool and netted the winner in the final against Germany.
The Villa-Torres partnership is also the most complete in international football. While some would argue that a tall targetman combines well with a short, more mobile forward, Torres and Villa are very much compatible and complement as well as supplement each other. Neither is a tall, lumbering fox-in-the box and they are interchangeable, and trying to man-mark either of them would be like chasing a Ferrari on a golf cart.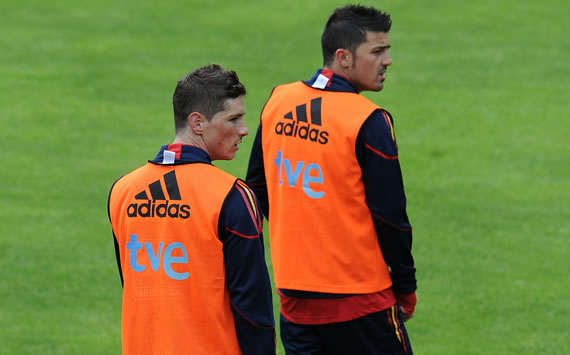 Villa can drop back and craft in the final ball for Torres to take a stinging shot from the edge of the penalty area while Torres can nod the ball towards Villa inside the 18-yard box; Villa can move to wide left and whip in a cross while Torres can drop deeper and float in a ball over the defence for the 28-year-old.
Villa and Torres bring out the best of each other, as was demonstrated at Euro 2008. Playing the duo together would mean that you would have two of the best forwards on the planet asphyxiating the defenders for every second of the 90 minutes. Add to that Spain's scintillating midfield force, and you have a Greek tragedy waiting to be scripted for the opposition.
The Four-Man Midfield Scenario
But 'football ain't so simple'. At a time, you can have 11 of your players on the pitch, and given that Del Bosque plays with four defenders, a front-two implies the deployment of four midfielders.
And herein lies the debate.
If either Torres or Villa is dropped from the starting lineup, then the additional man will be added to the midfield. In a four-man midfield, you would have Sergio Busquets as the anchorman with Xavi supporting him in central midfield and Andres Iniesta and David Silva as the two attacking midfielders playing wide.
It sounds perfect, only it is not: Busquets is a weak link. As the game against Inter in the first leg of their Champions League semi-final tie exhibited, Busquets can and is a lightweight in the middle of the park against physical and counter-attacking opponents.
Busquets' 'competitors' are Carlos Marchena and Javi Martinez; one of them functions best in central defence while the other did not even win his first senior cap for Spain before getting the call for the World Cup. A Marcos Senna would have been perfect in a four-man midfield as he would have protected the backfour with more assurance than Busquets would, but Spain don't have a Senna.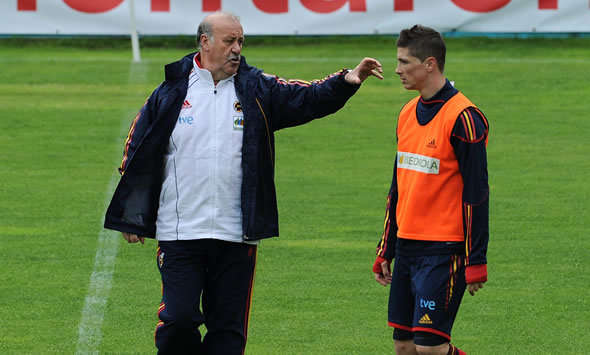 The Five-Man Midfield Scenario
This leaves the option of the deployment of a 4-4-2 system with Xavi and Xabi Alonso in central midfield and Silva and Iniesta on the flanks. As tempting as it sounds, neither Xavi nor Alonso is a purely defensive midfielder or robust tackler, and against teams in the World Cup with a double-pivot system in a five-man midfield, if Spain lose possession, then they could be exposed to counter-attacks, especially if they meet Brazil in the second round. Cesc Fabregas instead of Busquets or Alonso? Perhaps, but then again, Fabregas is preferred as a 'super sub'.
Which means that a five-man midfield, the one used against Saudi Arabia when Alonso, Silva, Iniesta, Busquets and Xavi started with Villa playing as the lone striker upfront, is the best available option.
Which actually makes sense. Spain can score from midfield and the initial 4-5-1 formation would eventually split into 4-2-3-1, with Alonso and Busquets as the two holding midfielders and Iniesta, Xavi and Silva as the more attack-minded players. Alonso would help Busquets in protecting the backfour and play long balls to the frontline.
Orchestra-conductor Xavi is a master from set plays, Iniesta and Silva can chip in with crucial goals and Villa is the best striker in the world: add to that Alonso's long range efforts, Carles Puyol and Sergio Ramos' headers from corners and Gerard Pique's ball-playing abilities, and you would find it hard to visualise Spain not scoring, even without Torres.
And if the five-man midfield system doesn't work, then, of course, Del Bosque can pull out the extra midfielder and throw in El Nino. Now, how threatening is that for the opposition!
Can Spain go all the way? Check out Castrol Football's 2010 FIFA World Cup Success Predictor.

Become a fan of Goal.com International on Facebook! Just click onto Facebook.com/Goal to join the beautiful game's leading fan community...