If you clicked on this page because you honestly believed I was going to proclaim that Italy would reach the World Cup Final this summer then you are more optimistic than Simone Pepe attempting a backheel.
I was of course referring to female tennis player Francesca Schiavone, who yesterday became the first Italian woman in the Open era to reach a Grand Slam final when she defeated Russian Elena Dementieva in the French Open semi final.
Schiavone's win at least ensured that all the Italian media attention this morning wasn't on the football team's dreadful performance in the 2-1 pre-World Cup friendly defeat to Mexico in Brussels.
It may have only been a friendly, but the signs are ominous going into the World Cup – which kicks off a week today. Mexico outplayed Marcello Lippi's men in every outfield department. They carved open and got in behind the defence time and again, they exposed the lack of pace in the wide positions, completely dominated the centre of midfield, and easily neutralised the impotent Azzurri attack. Mexico were fitter, faster, more determined, more organised, more skilful, and the list goes on.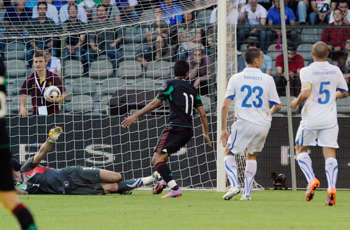 The North Americans boasted well over 60 per cent of the possession, and had their finishing been up to standard would have scored five goals on the night. Pablo Barrera, Javier Hernandez and Andres Guardado all missed sitters to add to the one-on-one goals scored by Carlos Vela and Alberto Medina. Italy, meanwhile, did not force Oscar Perez into a single save all night, and only created three chances – all from corners, one of which one they scored from in the final minute.
My views on the current Italy squad are well known by now, so I instead asked Goal.com Italia chief editor Sergio Chesi a few questions on his thoughts about last night's game and the Azzurri in general going into the World Cup...
Carlo: The Italy defence was breached time and again, will this be the backline at the World Cup?
Sergio: In the last friendly in March against Cameroon, Lippi tested a three-man backline. Against Mexico he went with a flat back four. The defence suffered a great deal during the match, just as the whole team did.
This certainly won't be the definitive defensive line at the World Cup. Giorgio Chiellini was injured, and he is fundamental for Italy. He will be first choice, the question is understanding in which role. If he will play in a central position, Leonardo Bonucci will be dropped; if he will play as a left back (Lippi is studying this solution) Bonucci-Cannavaro will play in the centre and Christian Maggio on the right (he is more offensive than Gianluca Zambrotta).
Carlo: The attack has been hugely criticised. I believe this is Italy's worst group of World Cup forwards ever. Do you agree there are problems, and who will start up-front in South Africa?
Sergio: Antonio Di Natale is 100 per cent sure of his place. He is the only quality player in the Italian attack, the rest are very ordinary, so Lippi would be crazy to leave him out. But we saw even he had big problems against Mexico. As has happened so many times for Italy, he disappeared. This is a big worry.
Vincenzo Iaquinta has a good chance to be in the starting XI (in the 4-3-3 or 4-2-3-1 formation), as Lippi likes him very much. As the central striker, Alberto Gilardino is much preferred by Lippi to Giampaolo Pazzini.
Carlo: Who did well against Mexico, who was disappointing, and were there any positives to take from the game?
Sergio: The formation was pretty much as expected, with just one surprise: Maggio out and Criscito in, with Zambrotta on the right. It's really difficult to find positive performances in the Azzurri team. Perhaps (I hope...) the players were very tired after ten days of hard training.
Carlo: Was the game a good final test for the upcoming Wold Cup?
What are Italy's World Cup chances?
Sergio: Lippi said that this was an important test before South Africa, and we have to hope that he now understands how to improve the team's performance.
At the moment, this Italy is a team without identity, quality or quantity. If they don't improve before the World Cup, the Azzurri risk suffering the worst World Cup of their history.