Over the last six months Castrol's team of 80 analysts have assessed all 540 games from 1966 to 2006 - spending over 3,000 hours logging close to one million player movements to uncover the Castrol Index scores for players past and present. From these results, Castrol has identified the top performing players from the past 40 years of FIFA World Cup™ action.

Goal.com's exclusive series continues as we profile Johan Cruyff, who led his team of Dutch masters agonisingly close to ultimate glory in 1974.


Mention the name Cruyff anywhere in Holland and you are guaranteed to strike up a lively conversation. Thirty six years on from his sole World Cup finals appearance the Dutch master remains a huge topic of debate witnessed by his recent admission why he infamously didn't play for Oranje in 1978.
Four years earlier Holland's stylish number 14 was at his absolute peak. Having failed to qualify for the previous four tournaments the Netherlands weren't considered to be one of the favourites. After all they had just qualified on goal difference after being pushed all the way by close neighbours Belgium.
The world was forced to sit up and take notice as the stylish Dutch made light work of the first group phase. Johnny Rep scored both in their opening win against Uruguay before Sweden held Holland to a goalless draw in Dortmund. While the stalemate was shy on goals it will forever be remembered for Cruyff's classic turn which to this day bears his name.
Bulgaria were put to the sword 4-1 in the last group game when Cruyff won his side an early penalty which was converted by Johan Neeskens. His reaction to the goal was classic Cruyff, instead of leaping with delight he carefully gave out instructions to his team as they ran back to the centre circle. When he broke into the Ajax first team as a 17-year-old Cruyff regularly used to dictate tactical instructions to players ten years his senior.
Confidence was never an issue for Johan Cruyff.
He got on the score sheet for the first time against Argentina in the next group phase. Displaying his superb ability with both feet Cruyff effortlessly trapped the ball, rounded the 'keeper and slotted home to make it 1-0. An assist and a late fourth capped another fabulous performance as everybody spoke about 'Total Football'.
In total Cruyff scored three goals in the 1974 tournament, provided three assists and created a total of 29 chances in open play. As we would soon see in the final he was the dribble king with his tally of 55. The Castrol Index winners of 1966 and 1970, Franz Beckenbauer and Gerd Muller, were placed fourth and fifth in the efficiency rankings for 1974.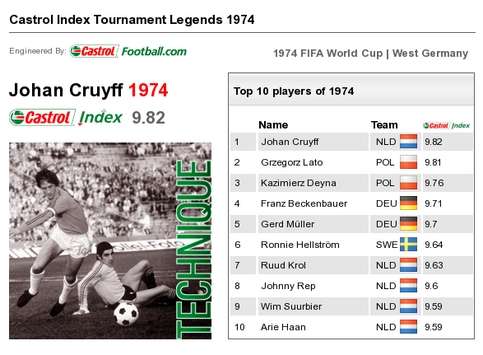 Ironically, West Germany failed to win either of those tournaments while Cruyff himself ensured the trend continued by going home with a runners up medal
also in 1974.
Having defeated East Germany 2-0, Holland were now installed as favourites and only needed a point against Brazil to reach the final. The spectacle failed to live up to the hype and the uncharacteristic physical play of the holders made for a difficult evening in Dortmund. Cruyff provided the magic as he created the opener for Johan Neeskens then added a volley to make it two which displayed his
impeccable balance.
The script was written for Holland to win their first World Cup against the hosts and bitter foes West Germany in Munich. It couldn't have began better as Holland stroked the ball around, teasing their opponents, before Cruyff set off on a charging run forcing a penalty within the first minute. Neeskens converted and the resulting 88 minutes continue to be spoken about in Dutch households. West Germany crept back into the game clearly infuriated by Holland's attempt to humiliate them on home turf. By half-time they were in front and held on to secure the win against a team many considered to be superior.
Like Hungary and Ferenc Puskas twenty years earlier, Holland and Cruyff were denied by West Germany. Years afterwards Cruyff remarked that Holland became more famous for not winning the tournament.
In 1978, Cruyff was mysteriously absent as Holland again lost in the final to the host nation but that's another story altogether...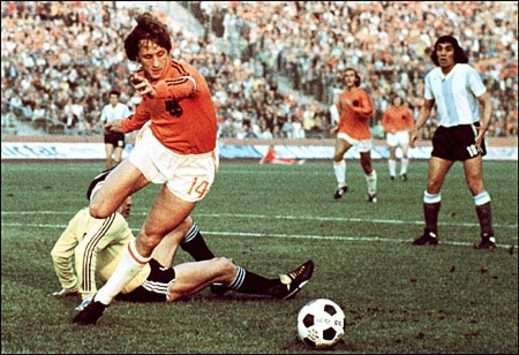 To find out more about the series log onto the Castrol Football Legends site

Tomorrow: Mario Kempes 1978