Bloemfontein is a cultural and historical city in central South Africa. Surrounded by a vast and open landscape, there is plenty to do in the way of adventure and sporting activities, as well as sample some of the city's artistic treasures. Popularly known as the 'City of Roses', visitors should certainly brace themselves for a wonderful time in a passionate atmosphere.

Aventura Maselspoort Resort, which lies along the banks of the Modder River, offers visitors a playground of leisure opportunities that include swimming, rowing, fishing, tennis and much more. Ride the super tube, get in a round of mini golf, head out on a tranquil horse ride, go game viewing, hike, soak up some adventure on a 4 x 4 trail or even enjoy a light meal on a river barge.
This resort is filled with variety that must top your list of places to go for some relaxation after a hectic day or night of supporting your team. There is a great deal of entertainment on offer for a very good price indeed.

Go-Carting at the Motocross Track allows you to zoom around an 860 metre go-carting circuit, said to be one of the most technically difficult in the country and designed by South African carting champion, George Barkheizen. Put your racing skills to the test and have heaps of fun at this circuit with other supporters of your team, or perhaps an opposition fan for a warm-up to the big game.
Golf is another possibility when looking to pass the time in Bloem. Bloemfontein is not only a footballing city in South Africa, as it also offers some wonderful opportunities for budding golfers to get in a round. If you're serious about golf or want to explore your talent, the Bloemfontein Golf Course is one such course that is a must visit. About 6 km from the city centre, the course's last five holes are known to be among the most difficult in South Africa.
If you love challenges and believe that everything is difficult but not impossible, then get your clubs ready for a round or two. The course is open every day and visitors are always welcome.

Sticking with golf, another course that can be enjoyed is the Schoeman Park Golf Course which is open daily for your golfing enjoyment. The 18-hole golf course was opened in 1904 by several Scottish members of the Old Bloemfontein Railway Institute. Today it is a very scenic, well kept course dotted with numerous challenges, making for an interesting game of golf.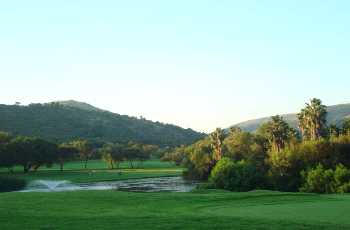 Take Some Time To Play Golf

Skydiving presents another interesting, but terrifying way to spend some time in the city. There is no better way to introduce yourself in the city of Bloemfontein than by flying high in the sky, pulse racing and anticipating the moment when you will pull open your parachute, free-falling to the ground below. The Bloemfontein Skydiving Club is one of the oldest in South Africa and is situated just west of the city at the Tempe Airport. Trust me, if you have a phobia of heights and flying there is no better way to get over your fear than to face it head on.

The Sand du Plessis Theatre is housed in a uniquely designed building, giving performances that delight audiences time and time again. The interior of the theatre is designed to give theatre-goers a sense of intimacy whilst watching a production. A romantic spot for those travelling to South Africa with their wives and girlfriends, and perhaps even a good place to ask your girlfriend to be your wife - but if she says no, don't blame Bloem.

For those who allow creativity to flow freely, the art galleries are waiting for you to truly get a sense of the artistic talent found within the city. The Johannes Stegmann Art Gallery exhibits art by students of the University of the Free State, as well as works by well-known and established artists. The gallery is situated in the Sasol Library on the University's campus. What I can say is that I fell in love with the place the first time I set my feet there and perhaps you will appreciate the charm of the place.

How can I forget the Neo Cape Dutch manor known as the Oliewenhuis Art Gallery which exhibits some rather impressive artwork. The gallery was originally the home of the South African Governor General in 1942. Following South Africa becoming a Republic in 1961, the house became the official residence of State Presidents staying in Bloemfontein.
Oliewenhuis got its name from the abundance of olives growing in the area and was so called after 1972. It was on July 19 in 1985 that art-loving citizens in the city of Bloemfontein campaigned for an art museum, and so the house became a gallery. Admission to the gallery is free.

Loch Logan Waterfront allows your wallet to do some of the talking at the leisure and entertainment hub of Bloemfontein. Situated in Bloemfontein's city centre, this masterpiece caters for all and even houses a rugby, cricket and athletics stadium. An open-air art market is held on the first Saturday of every month and is an attraction for thousands living in Bloemfontein. Satisfy your desire for culinary delights in any one of the restaurants, or shop at the numerous clothing, beauty and heath, home, decor, lifestyle and technology stores. For all the shopaholics, by now you should have programmed your Garmin to bring you straight there.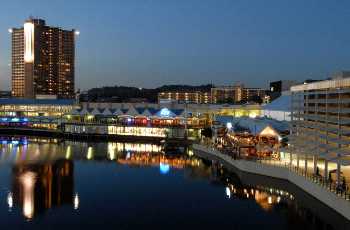 The Loch Logan Waterfront

Then comes the Orchid House of course. It is a modern greenhouse that houses a large collection of plants. It also has the largest collection of orchids in South Africa. The greenhouse has the effect of a tropical oasis with lush greenery, as well as colourful orchids and plant life. There is also a fragrance garden, which is designed for the blind to enjoy. Entrance to the Orchid House is free so be sure to hit the grounds and explore the beauty of nature.
Naledi Sun Hotel & Casino Complex is yet another place to enjoy amazing entertainment facilities. Go wild and play until the sun comes up, before relaxing with a cocktail or enjoying a midnight stroll. There are 160 reel, poker and video slot machines to choose from. Mystery jackpot prizes are frequently up for grabs, remember gambling is not for the feint hearted and be sure you are over 18 years of age.

Catch 22 Seafood Restaurant, winner of the "Best Restaurant in the Free State" in the year 2006-07 is another place you should add to your check-list. The place is a top quality, smart-casual place to dine and a venue your stomach and taste buds will remember for some time. The restaurant also received platinum status from Customer Service Solutions (CSS). Diners are treated to a Mediterranean Cape decor style restaurant serving up delicious seafood dishes, prepared by Portuguese – Mozambican chefs. I'm hungry already!
Jazz is a popular form of music in Bloemfontein with several clubs offering a warm and inviting atmosphere, soulful food and quality music. At the Jazz Time Cafe you can dine on unusually flavoured dishes and soak in the beats of the jazz, blues, big band and soul music that are played.

To sum up, for all of your arts, culture, history, shopping and outdoor adventure desires, Bloemfontein is undoubtedly a destination to explore. With a host of diverse people and cultures giving the place a unique feel and atmosphere, a look around will make you realise that there is plenty to see and do in Bloemfontein.

Become a fan of Goal.com International on Facebook! Just click onto Facebook.com/Goal to join the beautiful game's leading fan community...