Another
World Cup
, same old refrain. Can
England
finally bury two generations of false hope and disappointment by emulating the heroes of 1966?
Well, according to four of those who played in the most iconic fixture in the history of English football, the answer may well be 'yes' - courtesy of Fabio Capello, the Alf Ramsey of his time.
Who says so? None other than hat-trick hero Geoff Hurst, Martin Peters – scorer of the other goal in that memorable 4-2 win over West Germany – goalkeeping legend Gordon Banks and Hurst's fellow striker back then, Roger Hunt.
It may be 44 years since the famous four helped win sport's most treasured trophy, but their views still count for an awful lot judging by the atmosphere of reverence that greeted their appearance at a major promotion in London.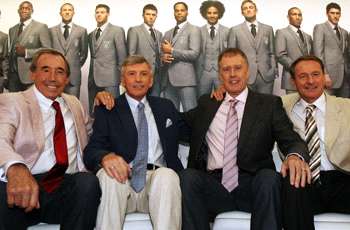 Legends of the game | Banks, Peters, Hurst and Hunt
Comparisons between Ramsey and Capello have been well chronicled but when the boys of 1966 share their views, you sit up and listen. Mixing humorous asides with anecdotal quips and serious analysis, they had their audience enthralled for a captivating 30 minutes.
"Alf and Capello are both very single-minded and have the ability to transfer that to the players," said Hunt, the former Liverpool star. "Like Alf, Capello has brought a lot more discipline into the England team. I knows it's been said two three times in the past but this time I think we can do it."
Sir Geoff added further insight into Ramsey's no-nonsense approach . "Alf's team talks were always individual, never collective," recalled Hurst. "He always said what he expected of you. You had no illusions about what your responsibilities were. And he always kept you on your toes. When a game was over and I'd say 'see you Alf', he'd look back and say, 'perhaps, Geoffrey, perhaps!'."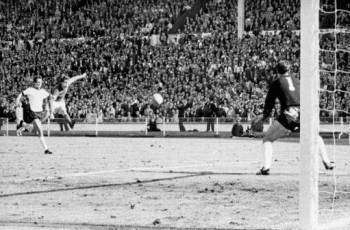 Three and easy | Hurst was England's hat-trick hero
Peters recalled how, on a trip to Austria, the players' wives were accidentally booked into the same hotel as them. "I remember the sense of panic when Alf saw my and Geoff's wives coming down stairs," said Peters. "When they got to the bottom Alf said, 'Hello girls. If you are ever in the same hotel as Geoff and Martin again, I will never pick them again'. That's how strong he was about everything."
"During the '66 World Cup, we'd be watching television in our rooms – black and white back then – and Alf would come in and say 'goodnight gentlemen'. That was it. We went straight to bed. Mr Capello comes across as very similar to Alf in many ways."
Inevitably, Banks was asked which of England's three keepers he would start with in South Africa. Surprisingly, perhaps, he went for the veteran of the three, David James.
Banks believes said that while Joe Hart has enjoyed an impressive season and Robert Green played well in a struggling West Ham side, experience would be a vital asset in South Africa.
"Joe Hart is really the most consistent one but he hasn't played a full international match for England, he has only played half a game. I think that it would be a little bit dodgy because he hasn't got experience of playing in a World Cup, he could freeze a little bit.
"The other two are very much of the same mould. They make the most fantastic saves, that probably no other goalkeeper could make, but then they make an error which coud lose a goal."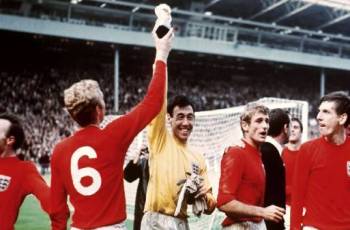 Banks very much | Goalie lifts Jules Rimet trophy
Pressed on which he would then choose, he finally came off the fence. "It's a very difficult question. James has come back and had some really good games. Green has played very well for West Ham even though they haven't had a very good season. Sometimes, watching games, his positioning is just a tiny bit off, though. So I think I'd probably go with James - and hope he doesn't go on a run-around out of the box!
"What Capello can't do is go chopping and changing this close to the competition. I think whoever he plays in the next game, whether it be James or Green, that'll be who he must start with."
A superb qualifying campaign, the prodigious form of Wayne Rooney and favourable weather conditions in South Africa have given England a fighting chance. But all four 1966 legends identified one key weakness – lack of back-up if anything happens to Rooney.
"In our day if either Roger or I wasn't playing we had Jimmy Greaves," said Hurst. "If Rooney is out we are a bit light. We aren't quite blessed with real depth up front. On the other hand, while you can't possibly envisage England winning the World Cup without Rooney, we did it without Jimmy. They key thing for us was team spirit and camaraderie and Capello has done much the same."
Hurst, Hunt, Peters and Banks were speaking at the launch of the official Marks and Spencer World Cup suit in London
No trip to South Africa is complete without a visit to its most beautiful and sunniest city. Durban offers much more than sandy beaches, safaris, casinos and the World Cup, for information on what to do and see, please click here.

Become a fan of Goal.com UK's Facebook fan page for all the latest news and insight into everything related to the beautiful game!