Much like people may decorate the outside of their houses around Christmas time, South Africans are getting into the spirit of the World Cup and football in general by decorating their homes, schools, shops and buildings – and by using their cars to show where their World Cup allegiances lie.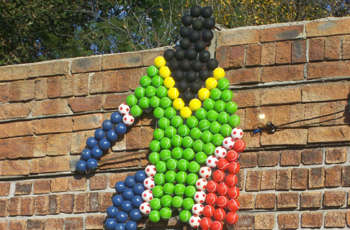 South African Mosaic Footballer Flag At A Johannesburg School
With South Africa being such a diverse country with many people from all over the globe calling the host nation home, the country has embraced a wide variety of nationalities and though most support is visibly for Bafana, many people hold two flags on their cars or homes, one South African and another of their original nationality or the team they are supporting to take the cup in July.
The most popular flags aside from the South African ones seem to be Italy, Portugal, England, Germany, Greece, Spain, Brazil and Holland, while it is not uncommon to see Switzerland, Argentina, Australia, USA and a few other international flags adding colour to the cars in South Africa.
Flags on the cars are also very popular, with side mirror wraparound flags visible everywhere and available for all of the teams taking part in the competition.
This is a house in Orange Grove, a suburb of Johannesburg, where the residents have decorated the outside of their home with flags to welcome the World Cup nations and support their own two teams of Italy and South Africa.
Many people have decorated the outside of their houses in a similar fashion, with an almost festive season feel to proceedings, as World Cup supporters decorate their places of work, offices, homes and shops in the way they would around Christmas time.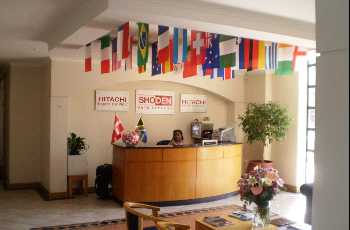 South African Businesses Decorated For The World Cup
At the Sun City Hotel, 59 days remained ahead of the World Cup, and the place was decorated accordingly, with flags and a miniature field used to celebrate the showpiece event.
Excitement is building, and South Africans are looking forward to welcoming fans from all corners of the globe, and there is anticipation as the teams will soon be arriving on South African shores, with heroes of the game ready to contest the greatest show on earth.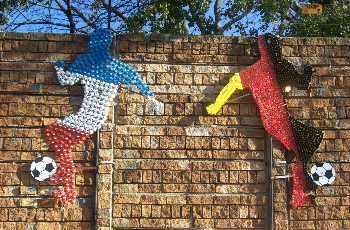 France And Germany Footballer Flags
No trip to South Africa is complete without a visit to its most beautiful and sunniest city. Durban offers much more than sandy beaches, safaris, casinos and the World Cup, for information on what to do and see, please click here
Become a fan of Goal.com International on Facebook! Just click onto Facebook.com/Goal to join the beautiful game's leading fan community...