· Situated in North West province
· 120km north west of Johannesburg
· Area of rich mineral deposits and mines
· City dates back to 1905 and the Nel brothers
· Town near to the Sun City casino complex
· Population around 130,000
· Located in the north west of South Africa
· Mining centre and tourist base
If your team are to be involved in fixtures in Rustenburg, it is definitely worthwhile spending a couple of days in and around this pleasant town situated 120 kilometres north west of Johannesburg.
Now a prosperous agricultural, mining and tourist region, it is a wealthy, cosmopolitan town.
Stadium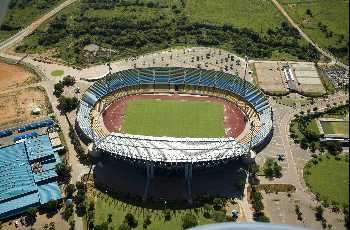 The Royal Bafokeng Sports Palace
Rustenburg's World Cup stadium - the Royal Bafokeng Sports Palace - is a modern structure built in 1999 and required minimal upgrade to attain FIFA's standards. It is a 42,000 seater venue which will host first and second round games. The stadium is situated in the small town of Phokeng, 15 kilometres north west of Rustenburg, en route to Sun City.
Places of Interest
Rustenburg Nature Reserve, 3.000 hectares in extent, is situated to the south of the town, at the western edge of the Magaliesberg mountain range and is home to many protected and rare plants, antelope, hyena, jackal and leopard.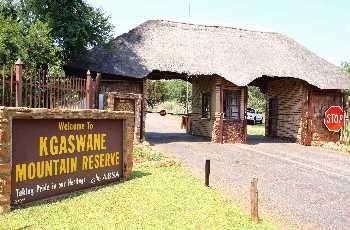 Kgaswane Mountain Reserve
Boekenhoutfontein, the farm, built in the mid 1800s , belonged to President Paul Kruger. Some of the original buildings have been pleasantly preserved.
Rustenburg Museum is situated in the town centre and houses many items relating back to the early Boer settlers.
Further afield, 38 kilometres to the north of the town, is the Pilansberg National Park which is the third largest game park - 500 square kilometres - south of the Limpopo River.
Situated in a series of volcanic craters with Lake Mankwe in its centre, the reserve is home to the big five animals, plus hippo, giraffe, cheetah, the full range of antelope and over 300 species of birds. A fantastic central lookout post - Lenong - overlooks the lake and much of the park.
There is ample accommodation in the park from camping sites to luxury lodges. As at all game parks early booking is essential.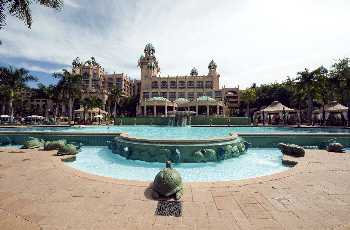 Come And Relax At Sun City
Just to the south of the Game Reserve en route to the soccer stadium and Rustenburg is the "Las Vegas" of South Africa - Sun City, a huge entertainment and accommodation complex which houses arguably South Africa's largest casino complex, nightclubs, cinemas, concert venues, two championship golf courses, an artificial wave-pool beach, lush botanical gardens, a crocodile park, a waterworld for parasailing, water skiing, windsurfing and kite boarding, the Disney-inspired Lost City, balloon flights over the game reserve and four five-star hotel complexes which even in off-peak times are expensive and fully booked.
Whether you enjoy the wilds and open spaces of Africa or the artificial man-made attractions of Sun City, it is well worth spending a couple of days in the area, between fixtures.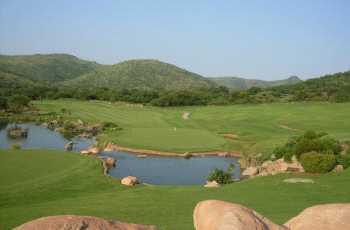 The Lost City Golf Course
Tourist Offices
The Rustenburg Tourist Information Center (Tel: 014 597 0904) is on Main Road (7.30am-5pm; Mon-Fri; 8am-1pm Sat).
Rustenburg Tourism Centre
Getting ThereAir -
There is a small airport close to Sun City - Pilanesberg Airport which receives flights from Durban, Johannesburg, and from Cape Town.
Rail
- There is a train service from Pretoria.
Bus -
From Johannesburg and Pretoria it is less than 120 kilometres to Rustenburg along the N4 , take your time and enjoy the scenery of the Magaliesberg mountains and the array of fruit and African craft and stone sculpture stalls along the way.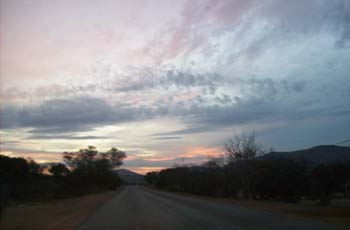 Scenic Natural Views On The Road To Rustenburg
From the south, Cape Town, Bloemfontein and Port Elizabeth, one can circumnavigate Johannesburg by turning on to the R 76 at Kroonstad and driving through Klerksdorp, Ventersdorp and Derby. The roads are excellent, and carry few vehicles. Luxury coaches connect Rustenburg to Johannesburg, Pretoria (four hours) and Windhoek in Namibia and Gaborone in Botswana.
Getting Around
The minibus taxi park is behind Nelspruit Plaza with destinations including White River (20 mins), Barberton (40 mins), Sabie (60 mins), Hazyview (60 mins), Graskop (90 mins) and Komatipoort (2 hours).
Football
Rustenburg does not technically have a PSL team residing in the city, as Platinum Stars, named for the Platinum in the area are based in Johannesburg, but their home ground is considered to be the Royal Bafokeng Stadium in Rustenburg where they play the majority of their home encounters.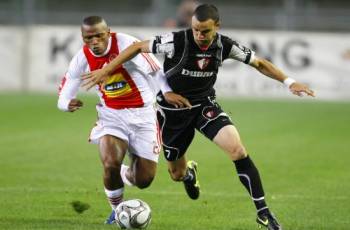 Platinum Stars
Weather
The weather during the day time should be pleasant, anything between 20 and 25 degrees Centigrade - warm enough for sunbathing on the artificial beach, but cold at night. Normally one would expect no rain over the World Cup period.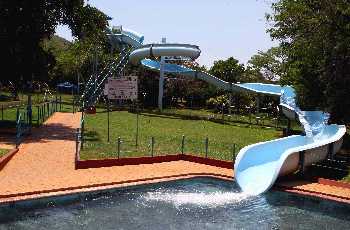 Water Slide At Kloof Holiday Resort