Khaldoon Al Mubarak has shrugged off
Manchester City
's recent Financial Fair Play (FFP) fine, declaring that the club are willing to take a "pinch" every once in a while in order to keep moving forward.
MAN CITY HIT WITH FFP FINE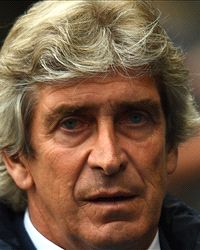 FULL STORY: The Premier League champions are punished for overspending by Uefa and have their Champions League squad reduced


The Premier League champions were
fined €60 million - €40m of which has been suspended - and see their Champions League squad allocation reduced from 25 to 21 players
after breaching Uefa's regulations.
But chairman Al Mubarak, while reiterating his disagreement with the punishment, has maintained the club are in fine financial health and sees no reason to alter their plans going forward.
"We have zero debt. We don't pay a penny to service any debt. For me, that's a sustainable model," he told the club's official website.
"Our friends at Uefa seem to believe otherwise. They have their view, we have ours. I disagree with their views. But we are pragmatic.
"One thing our fans need to know; we will do, as always, what is best for this club, for the fans. If it means sometimes to take a pinch, we'll take a pinch. And we'll move on.
"We'll be pragmatic and know that we have the right model, and we believe in this model and it is the right model. At the same time, it will not compromise us or our strategy."
City won the Premier League - their second in three seasons - on the final day of the campaign, adding to their Capital One Cup triumph earlier in the term, and Al Mubarak is upbeat regarding the club's progression.
He added: "It's been a great season. The success that this club has achieved in every aspect is something I'm very proud of. It's been a wonderful, wonderful season that we, as fans, should all be delighted with.
"Winning two Premier Leagues in three years is remarkable, but winning it this year in the way we did it is exactly what we aspire to."