PROFILE
By Eric Gomez
The 2012 Club World Cup kicks off in less than one week, and is set to cap off the year in football as the world's most well-known clubs vie to be named the best.
The tournament, which runs from December 6 to 16 in Japan, will see the top clubs from all the world's confederations battling it out, and, while most football fans are familiar with the likes of Barcelona and Santos, several of the other competitors are in need of introduction.
Goal.com
presents to you all seven teams that will be taking part in this highly-anticipated competition. Here, we profile Monterrey.
Founded in 1945 on the heels of the end of World War II, Monterrey was created to give one of Mexico's most baseball-minded towns an identity in the burgeoning Mexican professional league, created two years earlier. A tragic bus accident which took the lives of several players forced the team to withdraw from the league until 1952, eventually gaining promotion to the top flight in 1956.

Decades of instability would be the norm for Los Rayados, until a strong run in the 1980's catapulted them to their first league title in 1986. Daniel Pasarella managed them to their second title in 2003, while current manager Victor Manuel Vucetich is responsible for the team's sparkling run of late, guiding them to league championships in 2009 and 2010, as well as the CONCACAF Champions League crowns in 2011 and 2012.
Victor Manuel Vucetich has crafted an organized attacking style for Monterrey, with veteran midfielders given an onus on maximising possession and creating chances for the team's two-striker set.

Vucetich's variety of options in the midfield allows him to fluctuate between a frontal attack with heavy passing in the middle of the pitch, to a wing-oriented attack that allows motion and emphasis on crosses for star strikers Humberto Suazo and Aldo de Nigris. On defense, a steady four player line is usually the norm.
THE STAR
|
Humberto Suazo

The Chilean national teamer has been Monterrey's crown jewel and offensive figure for the better part of the last five years. His 100 goals in all competitions with the northern Mexico side have made him Monterrey's top scorer in its 67-year history.
Still explosive at the age of 31, Suazo's body control, strength and speed in short bursts make him a nightmare for any defensive unit. Equally adept to strike within the box or outside of it, teams facing Monterrey will definitely make a point of stopping Suazo's advances in the CWC.
THE SYMBOL |
Aldo de Nigris

A venerated player within the organization and the Monterrey community, De Nigris came to prominence while his brother Antonio was one of Mexico's few European exports at the time. When Antonio died of a heart attack in Greece, De Nigris took it upon himself to dedicate his performances to his brother. Months later, De Nigris headed an inspired run that culminated in a league championship.
Currently the team's vice-captain, De Nigris will play supporting striker to Suazo, but the Mexican national teamer is no slouch in front of goal, with more than 50 league strikes to his name.
THE YOUNGSTER | Jesús Corona

As a 19-year-old who cracked his way into Monterrey's lineup by way of injuries to regular starters, Corona showed manager Victor Manuel Vucetich that he could stay in the starting XI beyond the emergency situation.

Described as a right winger, Corona has been mostly deployed as a wingback for Monterrey, showing speed and flair in his runs up the pitch. Despite being improvised in the team's back line, he has not shown any weakness so far in his defensive labor.
Monterrey's current first-choice kit consisting of blue and white stripes was originally inspired by another Mexican league team, Tampico Madero, who wore similar uniforms in the 1960's.
Manager Victor Manuel Vucetich has won 12 of 13 finals in his storied career, dating back to 1989. Santos Laguna ended his streak in 2012, when they defeated Monterrey in the Liga MX final.
Monterrey is the first team to win back-to-back confederation titles under the new CONCACAF Champions League tournament. Previously, Pachuca attended two consecutive Club World Cups by way of winning the CONCACAF Champions Cup in 2007 and 2008.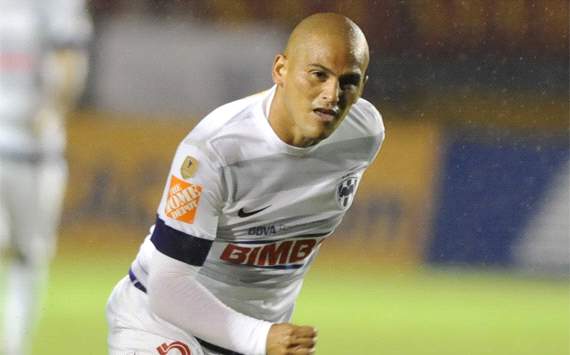 Monterrey struggled through injuries and locker room bickering towards the end of the Liga MX season, prompting manager Vucetich to drop talented but problematic midfielder Angel Reyna from the line-up and later, the CWC roster.
Thus, we will most likely see a modified version of Vucetich's end of domestic season line-up at the CWC.

Orozco
Pérez, Basanta (c), Mier, Chávez
Cardozo, Ayoví, Morales, Delgado

De Nigris, Suazo