It's always darkest just before the dawn...
Everyone likes Yuji Nakazawa - a sincere, hard-working captain who shares the fan's joy when Japan triumph and their pain in defeat.
After the 3-0 loss at home to Serbia on April 7, the players were forced to perform a lap of contrition. The look on the defender's face as he bowed to the four sections of Nagai Stadium in Osaka as fans gave the thumbs-down would scare any Danish, Dutch or Cameroonian striker.
Old Bomberhead didn't have the best of nights, though the same could be said of virtually the entire team.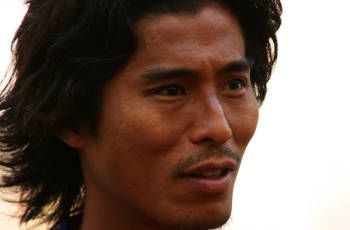 Nakazawa Looking Thoughtful
The defeat poured more pressure on coach Takeshi Okada. The former Yokohama F. Marinos coach has flirted with ridicule at times by insisting that his target for the World Cup is a place in the last four.
Results in 2010 don't lend much weight to the argument. Five home games have resulted in one win against Bahrain in a dead-rubber Asian Cup qualifier. Two goalless draws against Venezuela and China were not well-received but that was nothing compared to the reaction following the 3-1 loss to South Korea in February and the Serbian setback.
Okada has been criticised for heaping unnecessary pressure on his players and setting standards that are just too high for a team that has lost five and drawn one of its six games in overseas World Cups. Junji Ogura, the vice-president of the Japan FA,
spoke for most recently when he told Goal.com
that a place in the second round will do just fine.
While preparations for the tournament have not gone well in terms of results, there are two positives to be taken. The first is that for the four games that were not won, the foreign-based stars were not available. Keisuke Honda of CSKA Moscow, Grenoble's Daisuke Matsui and Makoto Hasebe, who has just extended his contract with VfL Wolfsburg, will come in and will make a difference though it remains to be seen by just how much.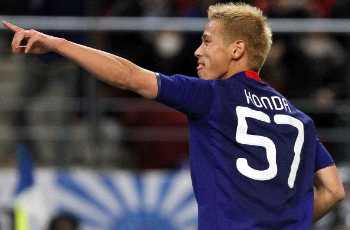 Honda Could Make A Difference
The other is that, unlike 2006, there are actually almost no expectations in Japan. At the Nagai Stadium, it was impossible to find a Japanese journalist who thought the team would not be on the way home at the earliest opportunity, finding those who thought that the team would struggle to collect a point against the Netherlands, Cameroon and Denmark was easier.
Four years ago, the then-Asian champions travelled to Germany ready to go to the second round under Zico. I remember Frankfurt station and waiting for the 7.54am train to Kaiserslautern. As commuters arrived in the massive station to begin their week's work, Japanese fans were drinking bottles of becks and talking of an expected victory against Australia.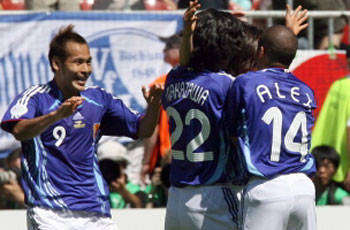 The 2006 World Cup Started Well
The rest is fairly unpleasant history. Zico took his players home after having collected just one point. This time, no pressure may just be what the team needs.
Nakazawa thinks so. "I feel a lot calmer this time. I don't think I feel the stress across my shoulders I did last time. I'm more relaxed about it."
"I had no idea what the World Cup was all about in 2006. It was my first time. I didn't know what preparation was needed or the mentality to approach the tournament. This time I have the experience so my motivation and conditioning can be as near perfect as possible."
Maybe Okada was right all along. By targeting a last four finish, the whole country has convinced itself that such a lofty goal out of reach. The poor preparation performances have removed every last segment of expectation.
It may not be what Okada wanted, but it may be the team's best hope of success in South Africa.
John Duerden
Asia Editor
john.duerden@goal.com