The Frenchman is tied to the Parc des Princes side until 2018 - a definite move from the ambitious capital side to shy away from the possibility of the Portuguese taking charge
---

COMMENT
---
The decision by the
Paris Saint-Germain
board to give
Laurent Blanc
a new contract to lead the club was a logical one.
PSG have lost only once this season – a terrifically unfortunate 1-0 defeat away to Real Madrid in the Champions League group stage – and are in the midst of a record 34-game undefeated record in the league. Meanwhile, their dominance of French domestic football is unprecedented, as Wednesday's 3-0 victory over Lyon in the Coupe de France keeps them firmly on track for successive trebles.
For his endeavours, Blanc has been given the security of two and a half more years at the Parc des Princes, yet remarkably little more than six months ago it was not certain that he would be offered any kind of fresh deal.
The former Bordeaux and France boss has never been perceived as a figure who has entirely satisfied the PSG hierarchy. When he arrived in place of the departing Carlo Ancelotti, he seemed to be little more than an interim stop gap before a more glamourous option, such as Jose Mourinho, became available.
Blanc has endured, albeit dangerously at times. Despite winning a treble last term and once again reaching the latter stages of the Champions League, eliminating Chelsea en route, he was handed only a one-year extension.
Rumours were rife that Mourinho would leave Stamford Bridge in the summer of 2016 to move to France and usurp Blanc, but the fortunes of the two coaches have shifted dramatically. This is not, however, a story of how the ex-Inter boss lost the chance to coach the French club; it is about how Blanc's record made dispensing with him impossible.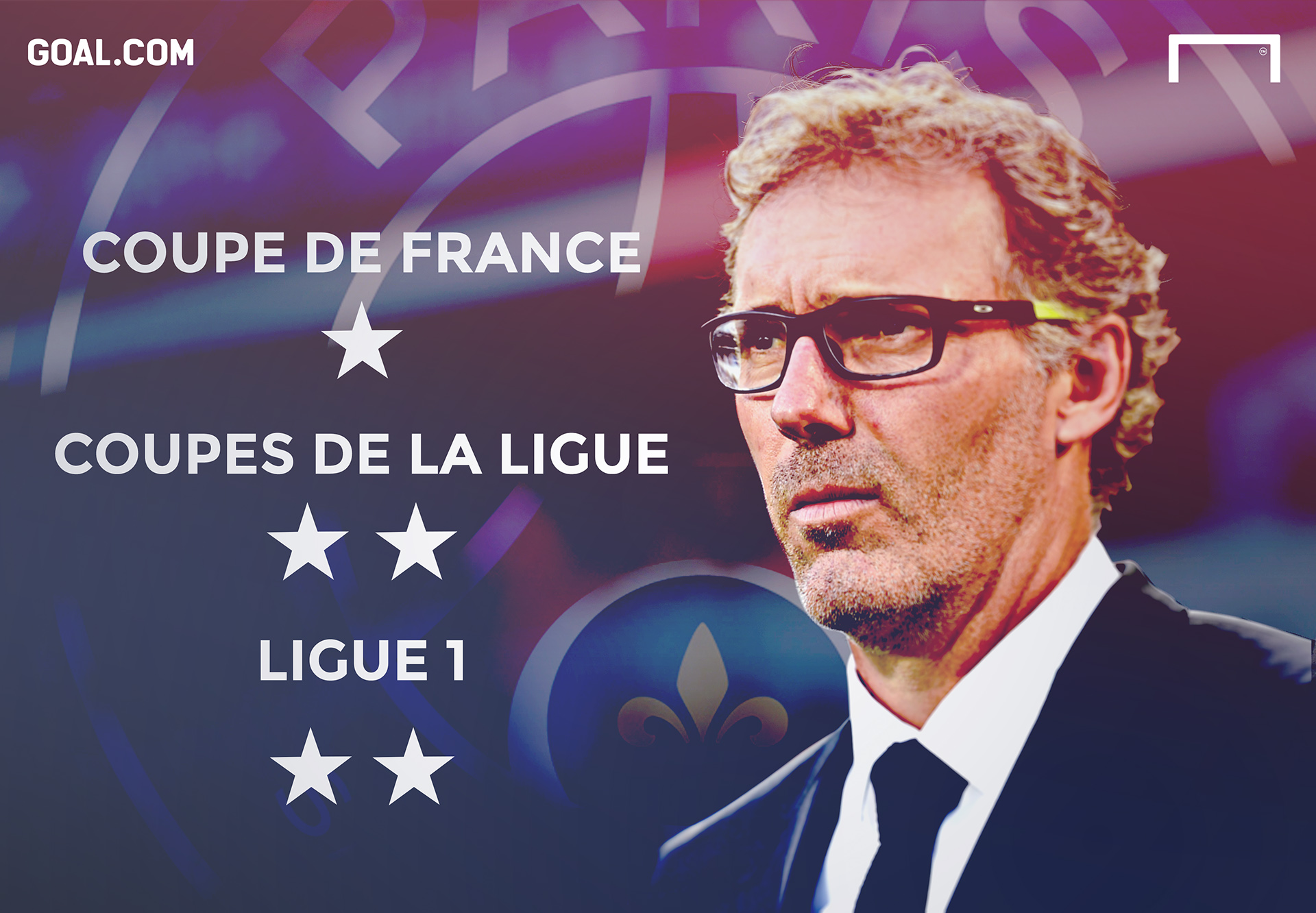 While the struggles of the Portuguese in England were well documented, the successes of the 50-year-old Frenchman have gone rather under the radar.
PSG have played 152 matches under Blanc and have won 112 of them, suffering only 13 defeats. His win percentage of 73.68 is the best in the history of the club. Moreover, he has eight titles to his credit; his success – and admittedly budget he has enjoyed – has been unparalleled.
But until PSG lift the Champions League, his bosses will not be truly content.
As a result, president Nasser Al- Khelaifi and sporting director Olivier Letang have continued to monitor the market for coaches, but the possession-based style of Blanc's game, as well as the results he has achieved have been enough to seduce them into another couple of seasons of 'Le President'.
One of the biggest questions Blanc was forced to answer following his arrival in Paris was how he could handle a dressing room full of great egos. France's collapse at Euro 2012 was attributed to his poor man management, while his formative years in Paris were dogged with suggestions of backroom discontent.
These problems dog him no longer, and indeed, the rapport he enjoys with his squad is a strong one, particularly with keystone figures such as Thiago Silva and Zlatan Ibrahimovic. His relationships are respectful, based on discussions and trust.
Mourinho, meanwhile, has a reputation of having a tempestuous bond with stars, as the apparent disintegration at Chelsea is testimony to. Ibrahimovic, a man who encapsulates the essence of the word mercurial, may have worked with the Portuguese before, but he is liable to leave in the summer.
Risking the foundations of the PSG project, the brand the club is so keen to promote, which have been built on a platform of solidarity and consistency, cannot afford to be shaken by the brash Portuguese.
"If you don't like your players, you can't move forward with them," Blanc explained recently. "It can take long discussions, and you have to remember that your solution is not always the best one."
Thiago Silva has been particularly well handled by the coach, who has rejuvenated the Brazil international centre-back since a miserable experience at World Cup 2014, in which he was well below the level that made him respected as the game's best centre-back for so long.
Meanwhile, Blanc was a stout defender of Ibrahimovic in the early part of the season, when the Swede's capabilities were being questioned. He argued persistently that Zlatan would show his best form when he regained full fitness after niggling problems. Now the striker has 27 goals in 32 appearances this term, despite this uncharacteristically sluggish start, and no-one can argue with the coach's logic.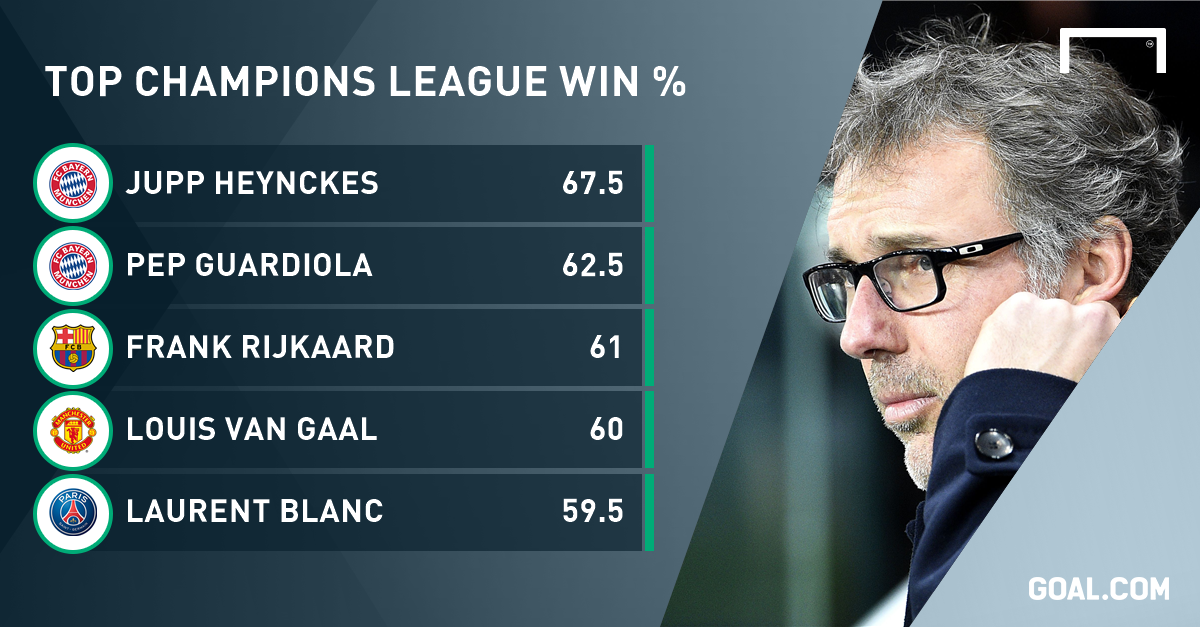 *at least 30 Champions League matches coached in order to qualify. Where a coach is no longer active, their latest UCL club badge has been used
The laid-back style has not been universally successful, however. Discontent behind closed doors has been voiced by Edinson Cavani, while David Luiz was unhappy about being withdrawn from last weekend's victory over Marseille, despite struggling with a knee problem.
"Squad management is something very important and not as easy as you might think," he said. "I've been faced with situations that I had never known before, but in hindsight, you learn from these situations and you know afterwards how to manage them.
"I feel I have progressed in all areas. PSG have helped me a great deal to do that.
"Everyone knows that difficult situations don't bother me."
In Blanc, PSG have found a boss who has grown alongside their project, all he misses to confirm himself as one of the great French coaches of his era is the Champions League.
Should he see his contract out until 2018, he will become the club's longest-serving coach – something few would have bet on when he was appointed two-and-a-half years ago.