It has become increasingly difficult to take any Fifa vote seriously - including the one for the Ballon d'Or.
From Wesley Sneijder failing to make the top three in 2010 to Carlos Tevez and Gianluigi Buffon being inexplicably left off this year's 23-man longlist, there have been a string of farcical decisions by the coaches, captains and journalists tasked with selecting the greatest player on the planet.
However, it is not just the top prize that has been affected. The World Coach of the Year accolade has also produced some ridiculous results.
Indeed, quite how Diego Simeone failed to get the nod last year, after pulling off one of the great coaching achievements of the modern era
by leading Atletico Madrid to Liga glory ahead of both Barcelona and Real, is anyone's guess. Still, at least Simeone finished in the final three. Juve coach Massimiliano Allegri did not even make this year's shortlist - and yet Pep Guardiola, who is not even attending the ceremony in Zurich, did.
Karl Heinz-Rummenigge claimed after Bayern Munich's Champions League elimination last May that "there is an anti-Guardiola trend at the moment within society." It certainly doesn't feel that way, though. Not anymore, at least. Not when Guardiola can get nominated for the World Coach of the Year after a 2015 in which his Bayern Munich side won nothing other than the Bundesliga, while double-winning Juventus boss Allegri criminally missed out despite putting the Old Lady back among Europe's elite.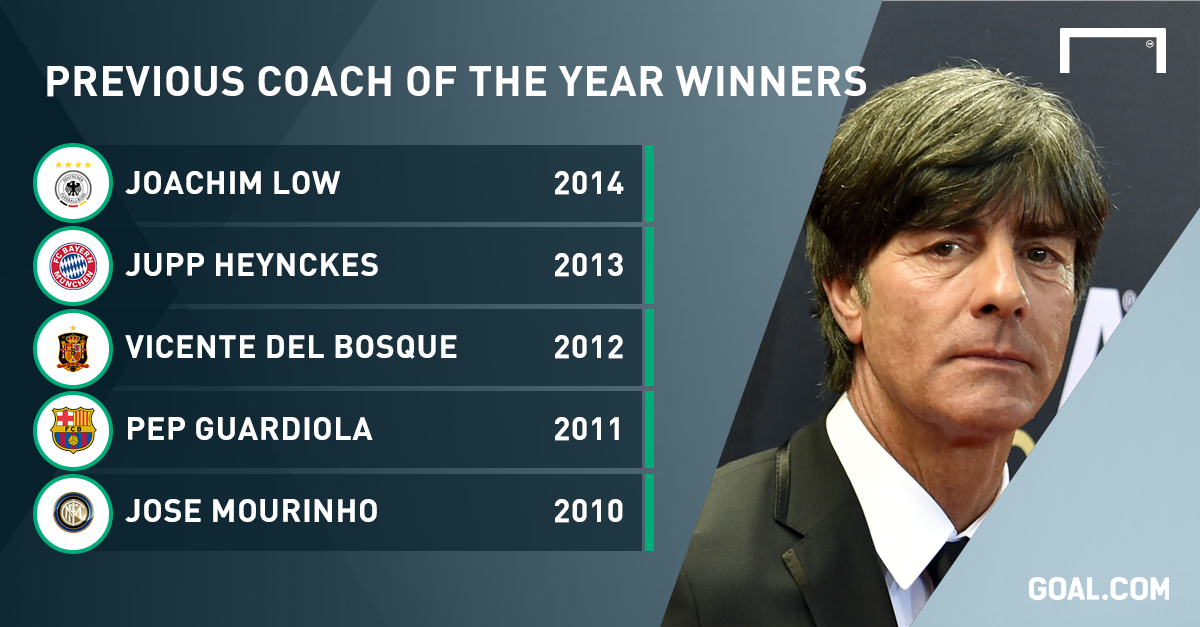 Of course, it would be disrespectful to suggest that winning the German title with Bayern requires next to no expertise, as Jose Mourinho did last year when he snidely stated: "Maybe I will go to a country where a kitman can be coach and win the title."
However, it was difficult to feel any great sympathy for Guardiola when he suggested that Bayern are not getting the credit they deserve for their domestic dominance. "No club has ever won four Bundesliga titles a row. You don't understand how hard it is to win it."
Hard is trying to win it with Wolfsburg, Bayer Leverkusen - or even Borussia Dortmund. Bayern, after, all have lifted the last three championships - Pep is responsible for the last two - and they wrapped up last year's title before the end of April.
Of course, Guardiola deserves respect for the
way
in which Bayern have bossed the Bundesliga. The likes of Jens Lehmann and Michael Ballack believe that Bayern are actually a better side now than they were when they won the treble under Jupp Heynckes - in spite of the fact that they have been beaten in the semi-finals of the Champions League for the past two seasons.
New Real Madrid coach Zinedine Zidane even went so far as to say that "since Pep went to Bayern, I have not seen them in a bad game". That is an exaggeration but there is no denying that Bayern have developed under Guardiola this season; become a more rounded, effective side.
Whereas Bayern legend Franz Beckenbauer once complained that Guardiola was making Bayern "unwatchable", too one-dimensional and solely focused on retaining possession, they now have more strings to their bow, with the arrivals of wingers Douglas Costa and Kingsley Coman having done wonders for their ability to break down deep-lying defences.
However, the fact of the matter remains that for all of Bayern's progression, which could yet end in a treble triumph next summer, 2015 was hardly a stellar year for the Bavarians - or their revered coach. Indeed, Guardiola's year simply does not warrant comparison with that of Allegri.
Yes, the Italian took over a Juventus side that had won three consecutive
Scudetti
under Antonio Conte. However, Allegri not only maintained the Old Lady's grip on the Italian game, he actually strengthened it, leading the
Bianconeri
to another league title as well as a first Coppa Italia triumph in 20 years.
Furthermore, it is worth remembering that Allegri's appointment in July of 2014 was met with open hostility in Turin. Yet Allegri achieved something that Conte could not, success in Europe, by taking Juve all the way to the final of the Champions League, where they were only undone by the individual brilliance of Barcelona's stellar forward line of Lionel Messi, Luis Suarez and Neymar.
Indeed, Juve were on top, bossing Barca's much-vaunted midfield when Suarez put the Catalans back in front very much against the run of play. Allegri really didn't put a foot wrong, tactically, against either last-four opponents Real Madrid or eventual champions Barca.
The Italian also did all this at a club who, according to 2015's Deloitte Football Money League, make more than €200 million less in revenue a year than Pep's Bayern.
Guardiola, meanwhile, came up short in his biggest test of the year - Bayern's semi-final showdown with Barca. Guardiola made the colossal mistake of going man for man against the 'MSN' at Camp Nou before realising after 15 chaotic minutes that he needed to revert to a four-man defence.
Of course, Messi's genius decided the game in Barca's favour but Bayern had also been punished for naively pushing forward in the closing stages, gifting a late breakaway goal to Neymar that effectively put the tie beyond the Bavarians.
Guardiola remains the most innovative coach in world football, a true tactical genius, but the pervading feeling is that Bayern have yet to peak under Pep. Admirable character that he is, he appreciates that European success remains the barometer by which his time at the Allianz Arena will be judged. "Without winning the Champions League, my time here would not be perfect, I understand that."
Essentially, Guardiola has yet to live up to expectations in Munich; Allegri has already surpassed them in Turin, making yet another mockery of yet another horribly flawed, Fifa-run voting process.