By Ben Hayward in Barcelona
The reports of his international retirement have been greatly exaggerated. Lionel Messi is still sad after Argentina lost the World Cup final to Germany in July, but the Barcelona forward remains committed to his country - despite all of the criticism he continues to receive.
Argentina face Germany on Wednesday in Gerardo Martino's first game as coach, a repeat of the Maracana meeting in July which Joachim Low's side won thanks to Mario Gotze's extra-time goal. And Messi misses the latest match through injury due to a strain in his right adductor picked up in Barca's 1-0 win at Villarreal on Sunday.
In Argentina, some said that was a convenient excuse to sit out the Germany game in Dusseldorf, while other reports claimed the 27-year-old intended to quit his national team altogether.
Neither are true.
What is true is that, this year, Messi's main focus is Barcelona and not Argentina. In the months leading up to the World Cup, the forward geared his fitness programme towards Brazil 2014, was allowed to recover from injury back in his native Rosario and was even granted permission by the Catalan club to fly over the Albiceleste kinesiologist for special training in the lead-up to the tournament.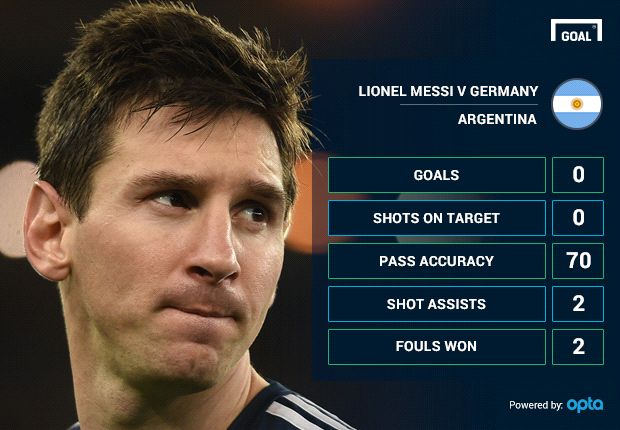 World Cups come only once every four years and Messi feels it is fair to give his full focus to Barcelona this season - and not Argentina. The 27-year-old will play in the Copa America next summer for his country, but is likely to miss some friendly fixtures for the Albiceleste, concentrating instead on the important dates.
"Lionel isn't leaving the national team," the player's father said this week. "It's just something made up by the press and there is no truth in it." And Barca team-mate Javier Mascherano added: "Leo is more committed than anyone to the national team. It's crazy to think he would give up on the Seleccion."
Messi's career with Argentina has had its difficulties. In the early years, the Barca forward received fierce criticism in his homeland, with many fans accusing him of caring only about making money at the Catalan club or not caring about his national team. Some supporters even believed the Albiceleste should pick playmaker Juan Roman Riquelme instead - even though Messi is a far superior player to the veteran No.10.
Leo was upset by criticism following Argentina's World Cup final defeat, frustrated that he was being blamed for a poor game against Germany after carrying the team through the early stages of the competition almost single-handedly.
But the captain's performances in Brazil and his obvious sadness as he stood with the Golden Ball trophy in Rio instead of the World Cup saw him gain greater popularity in Argentina than ever before. It has taken time, but Messi is finally winning over his compatriots. Against Germany on Wednesday he will be missing, but a future without him remains unthinkable.
Follow Ben Hayward on