By Peter Staunton
Sepp Blatter has fortified his position throughout his four terms in office as Fifa president. It has never been weakened despite public disapproval of his reign - no more so apparent than in the awarding of the 2022 World Cup to Qatar. Through his clever politicking though, he has more or less ensured he will never be beaten by electoral ballot.
"They say I should not be a candidate or I should not be elected," Blatter said earlier this month. "They can take the risk to be in the election.
"If they want to take the risk, then take the risk. That is good. And I am happy to fight. But if you take the risk you also have the chance to lose.
"
Blatter will be 79 by the time of the Fifa presidential ballot next year but he is already sure to claim victory. He announced his intention to run for a fifth term just before the World Cup in Brazil and that proclamation was met with widespread approval around the world.
Five of the six confederations hailed his decision to run again as Fifa voted against term and age limits for elected officers. Blatter has well looked after his confederations and member nations and they have looked after him even if he has never won around Uefa - the richest and most powerful confederation of them all.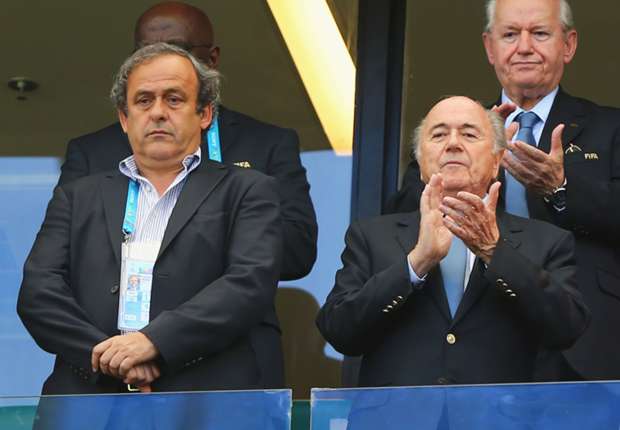 HEIR APPARENT | Platini was at once stage reckoned to be the natural choice to replace Blatter in 2015
Michel Platini was confident that Blatter would not seek re-election in 2015 and it was at one time widely assumed that the Uefa president was Blatter's heir apparent. Blatter ended up standing unopposed for re-election in 2011 after Mohamed Bin Hammam was engulfed in financial scandal but it looked as though the Swiss would give up his reign in time. On he fights, however, emboldened.
While controversy has accounted for previous Blatter allies, he himself remains as good as unimpeachable. He has promised a campaign of renewal around Fifa but things are moving at a glacial pace. Internal investigations have been undermined by troublesome elements on the Executive Committee itself, according to Mark Pieth, installed as head of Independent Governance Committee by Blatter.
The confederations at large would never in a million years vote against Blatter but if he were to ease himself towards retirement then they would be obliged to identify a successor. Nonetheless, Blatter remains married to the job and has reneged on a promise to step aside. Platini, now, has no chance of defeating the veteran despite presiding over Uefa successfully and so has bowed out of the presidential race before it starts with his tail between his legs.
"I have thought long and hard about this over many months but I have never managed to convince myself that I had to go to Fifa. It's really that simple," Platini said on Thursday.
"My will is to run for a new term of office for the presidency of Uefa. I told the chairmen this morning this a choice from my heart, based on football and based on my passion.
"We have big projects ahead at Uefa and I have the motivation to carry them out before one day moving on to something else, but now is not the time, or my time, for Fifa, not yet."
Uefa's 54 delegates voiced their displeasure over the Blatter tenure at the Fifa Congress in Sao Paulo last summer but there will be no great effect. Uefa has grown exasperated with the constant overspill of scandals in Fifa which, in turn, affect the credibility of the sport as a whole.
Uefa, though, remains in the minority as a Blatter sceptic confederation. The other confederations are heavily dependent on the brotherhood structure built up by Blatter which ensures a constant supply of money and projects. No way would the confederations contemplate a threat to that by throwing their lots in with Platini. There is simply no appetite for change within Fifa.
So it comes to this. Platini will lead Uefa for a third term - he is expected to announce his plans to run next year - and wait it out in the hope that Blatter will have had enough by the age of 83.
There is no doubt Fifa needs to be reorganised. It needs a more transparent structure and needs to answer more accountably. Blatter has paid lip service to those types of change in the recent past, overwhelmed so he has been by the scale of Fifa's problems, but no real legitimate change will ever take place on his watch.
"We want a Fifa that works better, with more transparency and solidarity and is more respected by those that love football," said Platini. "I have looked Sepp Blatter in the eye. I have told him I no longer support him and there should be change." But he, himself, is unwilling to slay the beast.
The KNVB head Michael van Praag could mount a token challenge in order to illustrate Uefa's discontent with the current structure but there is not a hope of him filling Blatter's boots. Likewise, Jerome Champagne has also announced his candidacy but with Blatter running that is not expected to get off the ground either.
So, it's much the same from Fifa for the next four years as Mr. Blatter's reign continues.