News of Barcelona's capture of Sao Paulo full-back Douglas was initially greeted with chuckles from most Brazilian football fans. But what was once a joke is now looking like a fairy-tale move.
Barca were watching young defensive midfielder Rodrigo Caio, but instead had their heads turned by 24-year-old full-back Douglas after Caio was sidelined with a serious knee injury.
Speaking on on August 13, Sao Paulo vice-president Ataide Gil Guerreiro was somewhat facetiously asked about the Spanish giants' reported interest in the full-back.
"I don't know where it came from," he said. But the following day, president Carlos Miguel Aidar and coach Muricy Ramalho confirmed that negotiations were indeed taking place.
Those negotiations were supposed to be kept secret according to Guerreiro, who immediately vented his frustrations at his loose-lipped colleagues and vowed to take it up with them personally.
Not that the Sao Paulo fans care all that much. They won't be overly disappointed to see Douglas depart in a deal that could net the club as much as €5.5 million. Since arriving from Goias on a free transfer in 2012, he didn't enjoy the most harmonious relationship with the locals. At the beginning of the year, Douglas was seemingly behind 30-year-old Luis Ricardo in the pecking order.
Something of a 'patinho feio' (ugly duckling), he was often singled out for criticism in an underperforming side that has reached just two of the last five Copa Libertadores campaigns and is without a major title since romping to three straight Brasileirao championships between 2006 and 2008.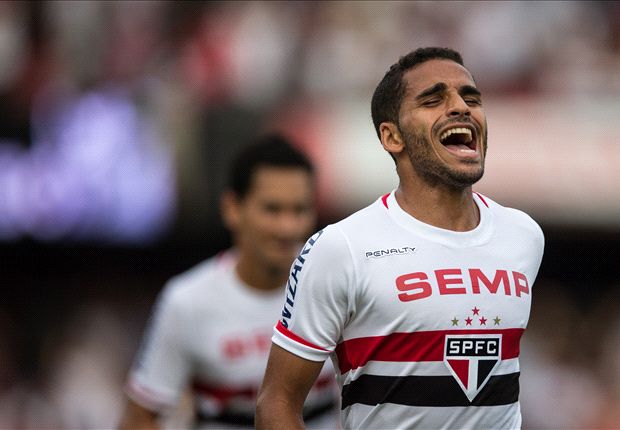 Pain game | Douglas has often been singled out for criticism at Sao Paulo
Douglas shot to something like prominence in a more attacking role as a 21-year-old in the second division with Goias and would have joined Internacional if not for a failed medical.
He signed for Sao Paulo at the insistence of then coach Emerson Leao, while others at the club were calling for centre back Joao Felipe – now 26 and last seen at Avai in the Brazilian second tier – to be shifted across to right-back.
His form has improved of late, however, and Ramalho is certainly a fan. The coach was reluctant to let Douglas leave, but conceded he could offer no real opposition to a deal, with Sports marketing agency Traffic netting 40 per cent of any potential fee.
It wouldn't be the first time a Traffic player has made a slightly perplexing transfer to Barcelona. Henrique joined the club for a fee of around €8m from Palmeiras 2008, while Keirrison arrived the following year in a deal worth closer to €14m. After a series of loan spells, both would return to Brazil on free transfers without making a single Liga appearance.
There are now suggestions Douglas will be sent straight to Barcelona B. But for all the surprise surrounding the deal, to completely dismiss Douglas as a no-hoper would be unfair. He certainly hasn't looked like a player ready to walk into one of the world's finest teams, but has potential to fit into a Barcelona-esque model.
He is athletic, adept at finding pockets of space out wide, technically competent and has now drawn inevitable comparisons to Dani Alves. He could feasibly improve exponentially over 12 months or so in Catalonia. Perhaps Barcelona think they may have unearthed a hidden gem.
But regardless, the is transfer is now complete and it will certainly be considered one of the more curious deals of the transfer window.
Follow Rupert Fryer on