By Robin Bairner
There can be little doubt that Adrien Rabiot is one of the most talented French teenagers around, yet the 19-year-old is primed to force his way out of Paris Saint-Germain in the closing days of the transfer window.
Standing over six feet tall, the midfielder is already built for first-team football, with his mop of curly hair serving to make him look an even larger and more intimidating presence on the field. Off it, though, it is his mother Veronique who calls the shots and it would seem that she has decided that staying in Paris is no longer in her son's best interests.
Rabiot made his debut at Parc des Princes in a friendly against Barcelona, a fact that passed under the radar at the time owing to the presence of a certain Zlatan Ibrahimovic, who was also turning out at PSG's home ground for the first time.
However, the 17-year-old's performance won the respect of many critics, including France great Lilian Thuram, who told his compatriot after the match: "You impressed me, kid!"
Erstwhile coach Carlo Ancelotti also heaped praised on Rabiot, who had only signed professional terms a matter of days earlier, and declared the debutant "one for the future".
Little over two years on, though, Rabiot has tired of being a bit-part player at PSG and craves greater recognition. Crucially, he wishes to be in a position to play in Euro 2016 with France.
The Parisian side boast one of the most formidable midfields in Europe, with their youth academy product fifth in line behind a stellar line-up that includes Thiago Motta, Marco Verratti and Blaise Matuidi. It was the January arrival of Yohan Cabaye that unsettled the entourage of Rabiot, who took this deal as a sign of a lack of confidence in their charge.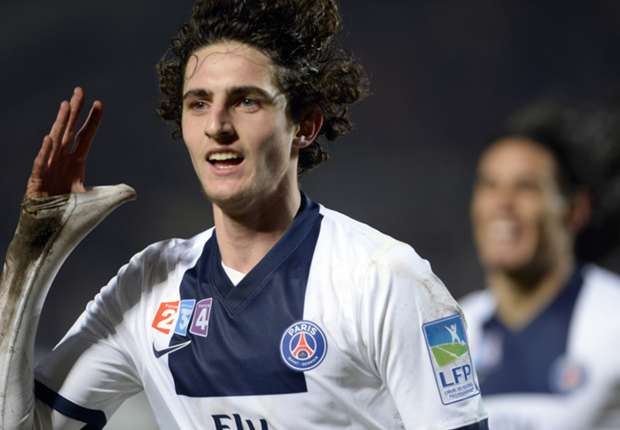 Exit Strategy | With just a year left on his contract, Rabiot looks set to leave PSG
Now, having missed part of pre-season and the beginning of the new Ligue 1 campaign with a foot problem, Rabiot wants to leave. And he is in a strong position to do so.
His contract is up in little over a year, and though PSG have gone to great lengths to keep him at Parc des Princes, it seems that the relationship has frayed to almost breaking point. The vultures are circling, with Arsenal, Juventus and Roma the biggest names reportedly clamouring for the teenager, while there is also a swirl of Ligue 1 sides, including Monaco, that the Parisians do not wish to sell to.
"With Adrien, we could have done a lot of things because we appreciate him as a player and as a guy," current coach Laurent Blanc explained on Thursday. "But, at some point, you cannot go any further.
"I think he has a great opportunity at PSG but his entourage don't want to take any notice and want to take advantage of his contractual situation.
"I think there must be offers. He had a very nice offer from PSG but apparently it's not interesting. It's a shame."
Blanc's words echoed with frustration at the unwillingness of the Rabiot camp to negotiate, with the hard-nosed approach seemingly coming primarily from Veronique.
"He needs to play regularly in high-level matches," she told
Le Parisien
in July. "Since February he has only started five times in the league and once in the Champions League.
"He cannot afford to spend a season on the bench. At his age, if you do not progress, you regress. His goal is to join the France team at Euro 2016.
"Staying at PSG seems very difficult."



"If supporters were parents they would understand"





- Veronique Rabiot

Rabiot has already departed PSG once previously and even though it was only on loan to Toulouse in the winter of 2013, his temporary departure earned the youngster and his mother criticism in the press for perceived impatience.
"If the supporters were parents, they would understand," Veronique told
Chronofoot
.
In 2008, Rabiot was signed to the Manchester City youth academy on a six-year deal that should have seen him turn professional with the Premier League club when the youngster turned 17. It took only six months for this arrangement to be severed, though, with rumours suggesting that Veronique was angry with the English club's treatment of her boy.
Now, for all of Rabiot's talents, it is difficult to envisage him earning significantly more first-team experience at a side of the calibre of Arsenal, Juventus or Roma than he might with PSG, whose battle on four fronts will compel them to play two games a week most weeks and introduce the kind of squad rotation that goes hand in hand with a such a congested schedule.
Blanc and PSG have shown a willingness to work with the youngster and allow him to gradually develop, introducing him slowly to the first team in much the manner that Sir Alex Ferguson did at Manchester United with the likes of David Beckham or Wayne Rooney.
And Rabiot is not short of role models in Paris. The youngster can learn much from the technique of Verratti, the application of Matuidi, the vision of Cabaye and the physique of Thiago Motta, who is built in an almost identical manner to the 19-year-old.
Perhaps more than a new start in England or France, Rabiot could use some objectivity from his advisors, the kind of which his mother will never be able to offer. Big things are still expected of the player at PSG, but increasingly the teenager's future appears to lie elsewhere – to the detriment of all concerned.
Follow Robin Bairner on