COMMENT
By Kris Voakes | International Football Correspondent
On the face of it, fortune couldn't have landed more favourably for the FIGC. They needed a coach, and the reigning Serie A champion needed a job. Antonio Conte looked ready made for the role.
But question marks have been raised by some in regards to the new appointment, with Conte moving into the Italy role at the age of just 45 at a time when common wisdom suggests national team coaching is an old man's game.
Having walked out on Juventus in mid-July, Conte left himself with few obvious options in the short term. With the top clubs in Europe having already chosen their direction for the coming campaign, he was left staring down the barrel of a year out of the game or a push for the Azzurri job under the same people who banned him for 10 months in 2012 for failing to report match-fixing.
ONCE, TWICE, THREE TIMES A CHAMPION | Conte at Juve


2011-12


1st

Began with a bang, beating Parma 4-1 at opening of Juventus Stadium, and never looked back. Ended the season unbeaten as Juve claimed first league title since Calciopoli, but beaten in Coppa Italia final by Napoli.

2012-13


1st

Saw unbeaten run end at 49 games, but still won the title with something to spare. In the Champions League, Juve drew their first three games but won next three and beat Celtic in Round of 16 before quarter-final exit to Bayern Munich.

2013-14


1st

Helped Juve to a record 102 points, with 33 wins in 38 league games. But the European issues continued, collecting only six points from Champions League group stage before losing to Benfica in Europa League semi-final.
As a man with a serious thirst for football, it was clear which Conte would choose. Yet the decision by the FIGC to make the ex-Italy international their chosen one deserves more scrutiny than might be immediately obvious.
The capture of three straight Scudetti as Juve boss would suggest that he is cut from the finest of coaching cloth, but the Bianconeri's issues in Europe show a potential flaw in preparing his team for opponents of differing tactical and technical backgrounds.
Juventus were transformed from calcio's also-rans to its runaway kings under Conte, with the Lecce-born coach bringing out the 'Juventinismo' that had been sadly lacking under the likes of Claudio Ranieri, Ciro Ferrara, Alberto Zaccheroni and Luigi Del Neri.
"It's time we stopped being crap," he told the players upon his arrival at the club, as relayed by Andrea Pirlo in his autobiography. "We need to do whatever it takes to pull ourselves up and start being Juve again. Turning round this ship is not a polite request; it's an order, a moral obligation."
He got the players wearing the black and white shirt with pride again, formed the kind of siege mentality Sir Alex Ferguson had woven into the fabric of Manchester United and coaxed a consistency of results out of his squad in return.
Yet when he took his team abroad, he found that motivation wasn't quite enough. In his first Champions League campaign it took three straight wins in their final three group matches to dig them out of a huge hole after they'd drawn each of their previous games. Having their backs to the wall suited Conte's coaching style, and he used it to get the best out of the players. They came up woefully short against Bayern Munich, and while they were far from the only ones there was a tactical naivety running through the Juve side over both legs.
The following season they were favourites to progress with Real Madrid from their group when heading to Istanbul to face Galatasaray but they couldn't see the job through with motivation alone, failing to come up with a convincing plan for the threat of Didier Drogba and Wesley Sneijder and being dumped out as a result. They had long since been found wanting in their 3-5-2 by then, but Conte wasn't much for changing.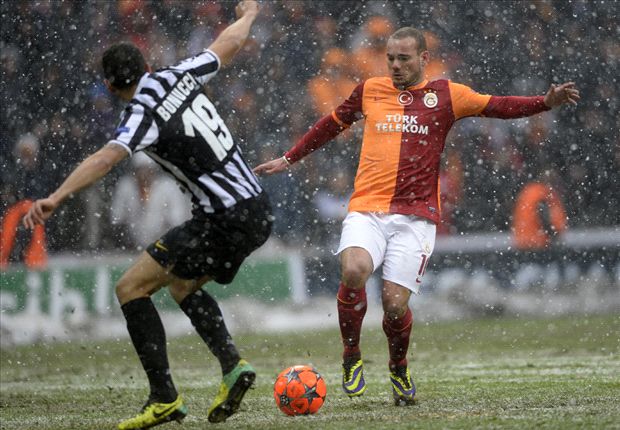 Over and out | The snowbound exit at Galatasaray underlined Conte's shortcomings
Now it is also time for Italy to 'stop being crap and become Italy again', but can he use the same approach as a national coach that he used at Juventus?
It is likely that he will assess his options before plumping for one tactical shape and sticking to it. He was well known for his use of the 4-2-4 at Siena before arriving at Vinovo and picking the 3-5-2 as the formation of choice to take his beloved Bianconeri forward. But once he decided on an approach, he would rarely stray from it and that proved to be an error in Europe in particular.
Not only might he have to be more flexible in his tactics as Italy coach, he will also have to come to terms with the inability to gather his players regularly. As a leader who thrives on bringing his team together as a unit, he will find the approach much harder to pull off in an international environment which leaves a lot of time for thumb-twiddling in between training sessions.
Yet if there's one certainty, it is that Conte deserves his chance. As Italy's champion coach, he is the one best placed to gain the respect of a national team badly in need of a new direction.
But he still has something to prove, and he will now be asked to do so at the highest level possible.
Follow Kris Voakes on