By Enis Koylu
With just 31 days having passed since the World Cup final, it would be fair to say that a match between the two teams who contributed the most players to Germany's winning effort would be a sedate affair, filled with squad players.
And yet, after Borussia Dortmund put a decidedly shoddy Bayern Munich outfit to the sword in the DFL Supercup to win 2-0 and lift the first silverware of the season, the Bavarian club have nothing but negatives upon which to reflect.
What will live longest in the memory is the sickening injury sustained by Javi Martinez, who went down clutching his knee after a horrible collision with Marcel Schmelzer.
Initial reports suggested that the Spaniard had ruptured his anterior cruciate ligament, which would rule him out of much, if not all, of the new season and would provide Pep Guardiola with a headache he could have done without.
The Spaniard, though a midfielder by trade, was playing as a makeshift centre-back and was set to play a starring role this term thanks to his versatility and comfort in a variety of systems. A serious injury would be a huge blow to Bayern's ambitions, but they cannot mourn his absence for long.
Guardiola was heavily criticised by a variety of pundits and experts during his maiden campaign in Germany for trying to reinvent the wheel and messing with a winning formula. He hasn't heeded the warnings.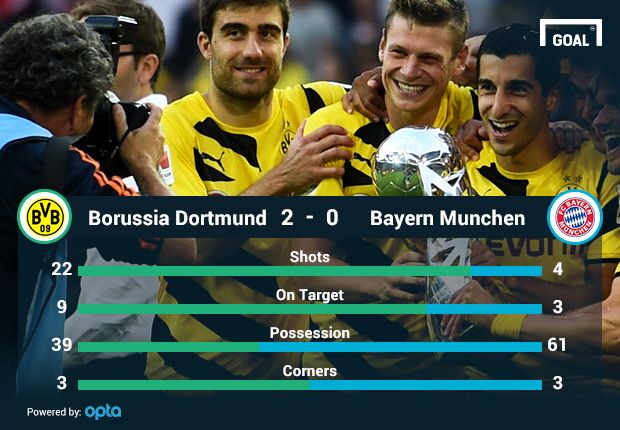 Bayern began the game with a 3-4-3 formation and the problems posed with by the formation were evident from the off.
There may have been a swathe of missing players, but David Alaba, Dante - who replaced Martinez - and Jerome Boateng are all senior figures in the squad. They looked like they had no idea what their roles were.
Dortmund had no such problems. Henrikh Mkhitaryan, Jonas Hofmann and Pierre-Emerick Aubameyang were in their faces from the off with incisive, smart running. The match finished 2-0, but the margin flattered Guardiola's side.
The attack was ably backed by Sebastian Kehl and Oliver Kirch, two wily competitors who made sure that the likes of Pierre-Emile Hojbjerg and Gianluca Gaudino were unable to have any impact on the match. The young pair's inexperience was there for all to see.
It left Bayern's attack limp and lifeless. Thomas Muller, Xherdan Shaqiri and Robert Lewandowski would walk into most teams in Europe, but were all too isolated. They barely had any possession to speak of and were too shot-shy.
The Pole, greeted by boos with every touch, endured a frustrating debut, with Shaqiri the only man looking capable of making an impact. The Bavarians will point to the number of first-teamers that were absent but BVB were without Marco Reus, Ilkay Gundogan, Nuri Sahin, Mats Hummels and more.
So congratulations go to Dortmund for an accomplished performance, despite several key absences of their own and Bayern must go back to the drawing board. The first impressions of the 3-4-3 are not promising and Martinez will be a big loss.
BVB won this trophy last year, but failed to muster a serious challenge for the Bundesliga title as they fell away either side of Christmas. If this coming domestic campaign is to be an interesting one, they must produce these showings more often.
Perhaps their injury crisis last year taught them how to perform without key players, something their defeated opponents have not been confronted with.
For Bayern, Guardiola must seriously consider whether the tactics he employed on Wednesday are truly going to help his team progress.