COMMENT
By Ewan Roberts at Emirates Stadium
In the process of lavishing praise on new signing Alexis Sanchez this week, Arsene Wenger also made a point of reiterating his need for speed – an obsession that has not been particularly obvious in recent seasons. "I love pace," he said - an attribute Arsenal have sorely lacked at times. Until now.
On Saturday, against Portuguese champions Benfica, the Gunners' frontline appeared reborn – admittedly in a friendly contest against a side further behind in their preparations. Despite not being a hugely competitive exchange, the home side's surging, electric pace stood out, particularly in contrast to last season.
Here, there was a constant supply of runners in behind, stretching the defence and leaving a trail of smoke and wheezing Benfica bodies in their wake. The Lisbon outfit are used to ripping sides to shreds themselves; now they were on the receiving end.
Joel Campbell, playing for his immediate Arsenal future, powered down the touchline, Alex Oxlade-Chamberlain floated inside with confidence and Yaya Sanogo, a player that has so often been more miss than hit, never stopped driving in behind the visitors' defence – and his exuberance was rewarded with a four-goal haul.
Last season, it was an absence of this very vibrancy and speed that contributed to the derailment of the Gunners' title tilt, with early season belief curtailed by key injuries. Aaron Ramsey was unquestionably missed, but the absence of Theo Walcott – and the pace and run-making he provides that was once almost unique within this Arsenal side – handicapped the north Londoners just as much.
"When we lost Walcott we suffered a little bit on that front," admitted Wenger of his side's lack of pace in the second half of last season. The French boss can be confident his side will not suffer in the absence of the Englishman any longer.
Campbell, with his bullish physique and low centre of gravity, was just as adept at dropping deep and driving forward as he was at sniping in behind the defence. He was found by his team-mates on numerous occasions – and his supply line will only increase when Mesut Ozil returns – and he showed the instincts of a predator to volley past Moraes Artur as well as selflessly servicing the unstoppable Sanogo.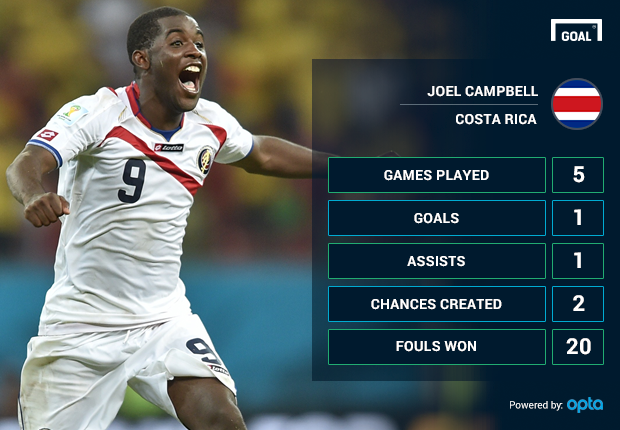 Wenger has insisted the Costa Rica international is part of his plans for the upcoming season and Campbell showed enough to suggest that assertion was more than just press conference conjecture.
Sanogo, meanwhile, remains a curious beast. Evidently blessed with power, he caused Benfica countless problems with his directness and leggy, galloping running style, and teamed that with composure and skill – notably his cute, subtle flick to re-direct Ramsey's cut-back into the back of the net.
Yet he also appeared cumbersome and clunky – an awkwardness typified by his celebration for his fourth goal where he ungainly careered towards the turf – and he routinely turned over possession with miscontrol or wayward passes.
But there is evidently a player in there and his goals and all-round performance against Benfica suggest Wenger's faith in his young compatriot is not quite as mystifying as it was last season, where he was even picked to lead the line against Bayern Munich. On this form he is able backup to Olivier Giroud, and a more mobile – if not particularly aesthetically pleasing – alternative.
Arsenal fans will be delighted, too, that as well as seeing evidence of renewed speed across the attack, the reliable weapons of last season also impressed – namely Ramsey.
The Welshman once again showed his irrepressible class, deceiving two Benfica players with a subtle turn before racing towards goal and squaring for Sanogo to open the scoring, before later scooping a pass over the defence as the Gunners began to embarrass the Europa League finalists and head coach Jorge Jesus – who enjoyed himself rather more on his last visit to north London.
Ramsey is perhaps even more dangerous when surrounded by pace, with options and runners all around him. Today he was unleashed by the presence of Mathieu Flamini and provided a brilliant link between a flying attack and a more makeshift back-line, and his display suggests he is ready to pick up where he left off last season.
Summer recruit Sanchez made a brief cameo in front of the Emirates faithful, his every touch greeted by cheers and the slapping of seats as the crowd rose to their feet. The Chilean was signed to provide the pace that was previously at a premium, but now the Chilean's fleet-footed speed is practically par for the course and, with or without the former Barcelona man, Wenger has a host of lightning-fast options to unleash upon the Premier League and add a fresh dimension.