PROFILE
By Liam Twomey
The €20 million deal which takes
Calum Chambers
from
Southampton
to
Arsenal
will make him the eighth most expensive teenager in the history of football.
That it will take place barely a month after former team-mate Luke Shaw rose to the top of that particular list with his own €37.5m move to Manchester United speaks volumes about the outrageous inflation of the transfer market, the price of English talent and the enduring excellence of Southampton's youth system.
But even more significantly, it caps a remarkable personal rise to prominence over the past 12 months for a 19-year-old right-back who, not so long ago, was a budding midfielder in the Saints academy who spent two years cleaning Rickie Lambert's boots.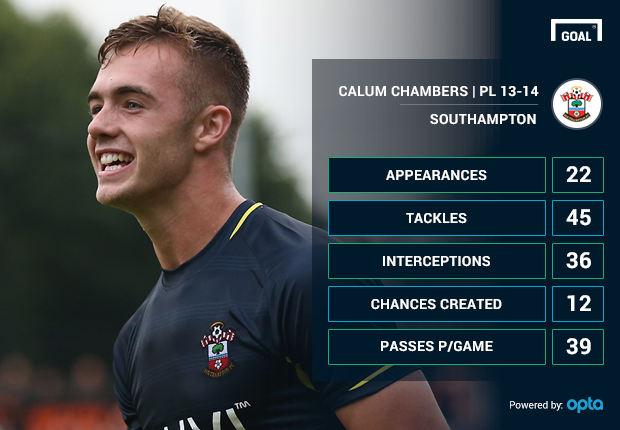 The player profile on Southampton's website still describes Chambers as "a tall, talented and creative midfielder with good awareness and a quality final product in his locker". It was on the right of a back four, though, where he made his breakthrough last season, notching 22 Premier League appearances and 18 starts despite stiff competition from the highly rated Nathaniel Clyne.
"I thought it would help my career to take everything I'd learned in midfield – vision, first touch – and take it to right-back," Chambers told
The Guardian
back in April. "It would help kick me on further, and the coaches supported me to adapt."
He allies a midfielder's technique and poise in possession with deceptive pace, athleticism and defensive diligence. His crossing is a weapon and, standing six feet tall, he can also hold his own in the air.
The 19-year-old's progress has been facilitated by Southampton's willingness to give their youngsters first-team experience – particularly since fellow academy graduates Shaw, James Ward-Prowse, Harrison Reed (his flatmate off the pitch) and Sam McQueen have been team-mates since the age of eight. At one point their Saints youth side went two years unbeaten.
Shaw's senior England experience and price tag mean he remains the most heralded of the group, and there will doubtless be more than a few raised eyebrows at Arsene Wenger's willingness to sanction €20m for Chambers when Mathieu Debuchy has already been signed to replace the departed Bacary Sagna. Liverpool and United – the 19-year-old's boyhood club – were also reportedly interested in signing him.
But Wenger is attempting to build his next great Arsenal team around a talented and youthful British core. Carl Jenkinson's future remains unclear and Chambers offers the technical level demanded at the Emirates Stadium, as well as the physicality and versatility to become an asset in several positions. Former England Under-19 coach Noel Blake believes his long-term future could well lie at centre-back.
Meanwhile, the deal is undoubtedly another blow to Southampton, even if they stand to be handsomely compensated. They will lose another player whose gifts they have nurtured and refined over a decade in a transfer window which has seen both the brain and spine of last season's youthful and vibrant team ripped away. New boss Ronald Koeman has money to spend but a huge rebuilding job to do.
Follow Liam Twomey on