ANALYSIS
By Jay Jaffa
Sea change at Tottenham? It's usually par for the course in N17 but after last year's underwhelming campaign in which Andre Villas-Boas was sacked, Erik Lamela seemingly disappeared off the face of the earth and €120 million worth of new talent flopped, it might be music to Spurs fans' ears to hear Mauricio Pochettino talk about stability.
Tottenham are currently in the United States on their tour of North America and the club's fourth manager in two years appears to be focused more on development of the group than overseeing an overhaul.
Pochettino was hired off the back of a highly impressive year at Southampton where the personal development of the likes of Luke Shaw, Adam Lallana and Jay Rodriguez and a devotion to fast-paced attacking football saw the Saints finish eighth.
The Argentine only added three players to that squad over the season and seems at home developing the group handed to him. As he told reporters in Toronto: "I'm very pleased with our squad and we don't expect many changes for the season. It's possible we may still add some players but [there will] not be many changes."
Days later, the club announced the signing of Ben Davies and Michel Vorm, immediately adding depth to a perennial problem position at left-back and bringing in a more suitable back-up sweeper-keeper to Hugo Lloris than the 42-year-old Brad Friedel.
Though Vorm's decision to sign for Spurs as a back-up looks misguided and lacking ambition, it shouldn't be ignored that without qualification for the Champions League next season, it's highly likely Lloris will be off next summer - the new five-year contract surely just a fail-safe to ensure they extract maximum value for the France captain.
Whatever the intricacies of Tottenham's transfer policy, at present the club have made slow but steady strides in the market, clearly addressing defensive frailties as their first port of call.
The work is far from done, though. It is one thing to embrace Pochettino's ability to develop individuals but another entirely to ignore holes in the squad that every so often were brutally exposed by the likes of Manchester City and Chelsea.
At centre-back, Jan Vertonghen was well below par for the majority of last season, while age seems to have finally caught up with Michael Dawson. After so long out injured, Younes Kaboul understandably looked slow and rusty on his return and neither Zeki Fryers or Vlad Chirches showcased the characteristics needed to step into the breach of an under-fire Premier League side.
Matija Nastasic would be an ideal signing for Tottenham. Previously thought of as one of Europe's most promising defenders until an injury-hit campaign last year,
the Serbian is available for €19 million
. His first season in England was nothing short of remarkable and he formed a formidable partnership with Vincent Kompany, displacing Joleon Lescott. Whether Manchester City would be willing to wave him on to another English club is a different question.
What must be noted, though, was Pochettino's effect on a Southampton defence who stunned many by conceding a miserly five goals in their first 11 games of last season. If the 42-year-old can tighten up Tottenham's backline in a similar vein, large investment in the defence may not be required.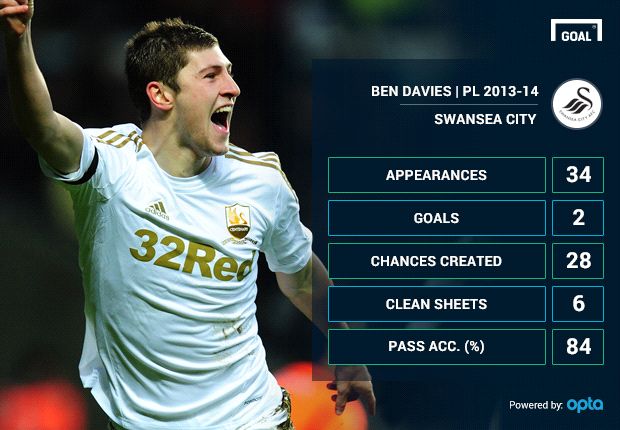 With four weeks to go until the Premier League kicks off, Spurs have ample time to fine-tune the squad. It was strange to observe the gradual change in opinion over the course of 2013-14 as the club's stronghold of central midfielders were one by one thrown under a bus, each one deemed as wasteful as the last. Nabil Bentaleb's prominence, for however talented he may be, spoke volumes of the tribulations the likes of Paulinho and Mousa Dembele endured.
In Sandro, Spurs have a destroyer in the purest of senses - going against the above theory. However after a year or so of injuries, the Brazilian struggled to match the dominant displays Spurs fans grew to love in his first 18 months at the club. Likewise Etienne Capoue, who saw a series of injuries curtail a season that looked set to be memorable after an all-action debut at Selhurst Park on last season's opening day.
Still, judging by Pochettino's team selections in North America, you can reasonably assume Capoue will be much more heavily inolved than he was under Tim Sherwood. The Frenchman has garnered a reputation as a defensive ball-winner since moving from Toulouse but there is more to come if his performances in Ligue 1 are anything to go by.
The intrigue comes from the second central midfield position. Dembele was another to underwhelm last year and his position as first-choice under Andre Villas-Boas is a distant memory. For Paulinho - a talented Brazil international - two years of non-stop football have undoubtedly affected his form and confidence, leaving him in need of a prolonged rest.
Links to Pochettino's former club were inevitable given their success but the one that makes the most sense is Morgan Schneiderlin, who has established himself as one of the league's foremost central midfielders. Over the last two Premier League seasons the Frenchman has made more tackles and interceptions (466) than any other player, while showing a calmness on the ball to complement the defensive side of his game.
The problem, though, is that
Arsenal have redoubled their efforts to complete his signing
, following on from the news that
Spurs were winning the race for the 24-year-old
.
A note also for Lewis Holtby, a popular figure among the fans, but one who ended up on loan at Fulham. The German has impressed in pre-season and his high energy off the ball is exactly what Pochettino likes in a player. Expect him to be involved the first-team squad next year.
Moving into the final third, Tottenham do possess a number of striking names - none more so than Erik Lamela, the near £30 million signing from Roma last summer. Needless to say, his first season in English football was a disaster, but almost six months out recuperating from a back problem appears to have invigorated the Argentine. A promising showing in the second half against Seattle Sounders preceded a two-goal first-half cameo in the 3-2 win over FC Toronto.
The hope is that compatriot Pochettino ekes out Lamela's potential and marries it to the likes of Christian Eriksen and Andros Townsend - though the latter will need to vastly improve on his past six months to stake a claim for the first team. Aaron Lennon is another one of Tottenham's wide players to have stalled in recent times. This feels like make-or-break time for the 27-year-old Lennon. Can he become an elite player or will he be another of the old guard to see his minutes reduced under new management?
Other options include Antoine Griezmann, who despite looking like a realistic option for Spurs,
has now moved one step closer to joining Atletico Madrid
, while Memphis Depay - a £15m target -
has been advised by former Netherlands manager Louis van Gaal to remain at PSV
.
Many felt Roberto Soldado's stay in north London would be limited to just the one season after difficulties last year but it looks increasingly likely that he will be starting up front for Spurs, half in part due to Emmanuel Adebayor's health problems and half thanks to his positive contributions so far in pre-season. Soldado's natural instinct to drop deep and play cute one-touch passes seemed alien to his team-mates under Villas-Boas and Sherwood but with Pochettino's swift, energetic style, the former Valencia man may just come into his own.
The other option, as reports across the country continue to speculate, is Jay Rodriguez. Though a gamble, considering his cruciate knee ligament injury, the Englishman thrived under Pochettino and adapted to the role of the wide-forward with gusto.
What next season boils down to for Tottenham fans is the restoration of pride after a wholly unsatisfactory return on the £100m lavished on the squad post-Gareth Bale. In placing five years' worth of faith in Pochettino, Spurs could be onto something, and a few more smart additions might move the club from top six to dark horses for the top four.