Such was the turn of events in Turin last week that to call it a shock would be a heavy understatement.
Antonio Conte began preparations for his fourth pre-season with Juventus but by the end of its first day he had resigned. Within a couple of days, all hell broke loose when former AC Milan coach Massimiliano Allegri was appointed in his place on a two-year deal – one that was greeted with heavy protests from fans.
Given the way the 46-year old was shown the door at Milan, it was rather expected. Given the Rossoneri's record during his final few months last season, it seems partly justified.
But only partly.
Milan have been in decline since that mini-revival back in the 2010-11 season when, during Allegri's first campaign in charge, they lifted their first Scudetto since 2004 - breaking Inter's hegemony in the process.
Back then, there were credits galore for the former Cagliari boss, who was praised for handling a dressing room full of stars pretty effectively despite it being his first big club assignment.
Sending Ronaldinho packing was a brave but correct decision given the Brazilian's decline as a footballer, while replacing Andrea Pirlo in favour of more hard-hitting midfielders like Massimo Ambrosini and Mark van Bommel made sense to critics and fans alike.
His first mistake? Concluding that Pirlo was no longer the player he used to be.
In hindsight, given the Italian's performances for both Juventus and Italy since that episode, Allegri has been fairly criticised in some quarters. But there were few dissenting voices at the time. Pirlo had not played a key role for Milan that season and, coupled with his injuries, he did look like a player who was past his best.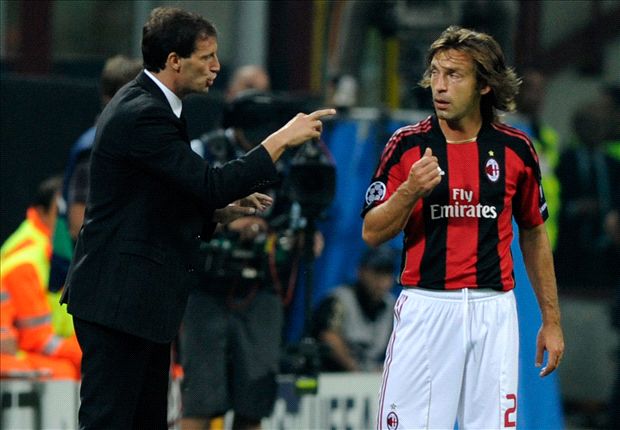 PIRLO PUNISHMENT | The Italy icon's exit came back to haunt Allegri
Milan finished runners-up in his second season, with certain events taking place that were out of Allegri's control. An error in judgement by the referee robbed Sulley Muntari of his goal against Juventus and directly tilted the race in Juve's favour, who then went undefeated to rightly lift their first Scudetto since the Calciopoli scandal in 2006.
Since then, the seven-time European champions have been catastrophic both on and off the field and Allegri has unfortunately become the face of that failure.
When you rob your head coach of players like Zlatan Ibrahimovic and Thiago Silva and yet ask him to remain competitive, what happened with Allegri towards the end of his Milan tenure becomes almost inevitable. Add to this the departure of a host of leaders like Clarence Seedorf, Pippo Inzaghi, Gennaro Gattuso and Alessandro Nesta - players who virtually bled the club's colours for more than a decade - and the life was sucked from San Siro.
A club that once boasted one of the best European teams to have ever taken the field was now being represented by a handful of free signings, including Kevin Constant, Muntari, Cristian Zapata and Bakaye Traore among others. Yet what Allegri achieved under the tight constraints was commendable.
Finishing third in the 2012-13 season behind Juventus and Napoli despite losing his best players was an achievement, one that he was never properly credited for. Instead, what he got was uncertainty over his future as the club continued their slide into mediocrity, pursuing summer transfer targets including Valter Birsa, Cristian Zaccardo and Alessandro Matri while rivals bought Carlos Tevez (Juventus), Gonzalo Higuain (Napoli), Mario Gomez (Fiorentina), Kevin Strootman (Roma) and Giuseppe Rossi (Fiorentina).
Despite enjoying a rather fruitful end to the 2012-13 season deploying a 4-3-3, Allegri was forced to revert back to the much outdated 4-3-1-2 by Silvio Berlusconi – a decision suited more to accommodate his vision rather than that of the coach. A fair share of injuries to star players such as Stephan El Sharaawy, who was instrumental when fit, and captain Riccardo Montolivo played their part but that went unnoticed as Milan under Allegri continued to rot.
Allegri's failure mirrored the sorry state of the club, not of his own standards. He was a scapegoat who was sacrificed while the club's hierarchy continued their mismanagement.
Allegri's achievements before Milan must not be forgotten, either. He was responsible for Sassuolo's rise to Serie B back in the 2007-08 season, before leading Cagliari to a ninth-placed finish in the 2008-09 which also won him the prestigious Panchina d'Oro – an award handed over to the best Serie A coach and voted by his contemporaries in the division. That he beat Jose Mourinho – the self-proclaimed 'Special One' who won the Scudetto in his first season in charge of Inter – made it even more special.
| | | |
| --- | --- | --- |
| | "I have explained a thousand times, in the end it just happened. The club, Andrea and I met and he decided to join Juventus and now I am lucky enough to link up with him again after three years. | |
Maybe Allegri wasn't the best option for Juventus – more so given the Bianconeri's thirst for European glory and his own dubious record in the Champions League during his three-and-a-half years with Milan. He is perhaps a step down given the high standards set by his predecessor, who ruled the club from the heart, but he does not deserve the light in which he has been cast in recent days.
Give him a good team and he can win the Scudetto - he showed that at Milan, and he could prove it with Juve. Sell your best players and he will still make his team punch above its weight. With speculation rife regarding the futures of both Paul Pogba and Arturo Vidal – the two most vital pieces in the Bianconeri midfield – Juventus have surely considered his ability to manage with a team under a tight budget, something that Conte wasn't willing to adjust to.
There is a reason why Allegri was in the running for the job at Roma last summer before Milan tied him to a new deal, why he was a favourite to succeed Cesare Prandelli as the head coach of the Italian national team. There is a reason why Milan hired him in the first place back in 2010 and why Juventus were quick to sign him despite the fact it would irk star man Pirlo.