By Kris Voakes | International Football Correspondent
Germany have been crowned the new world champions, the yellow and green bunting has been taken down from the bars and cafes, the paraphernalia has gone from the host stadiums, and Fifa have said their final 'thank you's for a tournament which will go down as one of the greatest ever.
The World Cup is over.
But as Brazil licks its wounds after the Selecao's shameful semi-final thrashing to Joachim Low's eventual winners, little will change for most fans around the country when it comes to their affection for the sport which broke their hearts last Tuesday.
Disappointment in the current national team, distaste for many of those in authority and disillusionment with the continued inability to win a World Cup on home soil will not be nearly enough to bring a final curtain down on the love affair that remains between the Brazilian public and the round ball.
The wealth of history which football retains around the country is exemplified in Sao Paulo, where Charles Miller first introduced the sport back in 1894.
While early examples of the game had been spotted across Brazil over preceding years, it was when Miller returned from boarding school in England to live with his Scottish father and Brazilian mother in Sao Paulo that football truly took off as a competitive pastime.
Having brought back two footballs, a rugby ball and a book explaining the laws of the game following his oversees trip, Miller went about a one-man task to make football as big as possible. His first stop was Sao Paulo Athletic Club (SPAC), of which his father was a member, having helped to form it in 1888.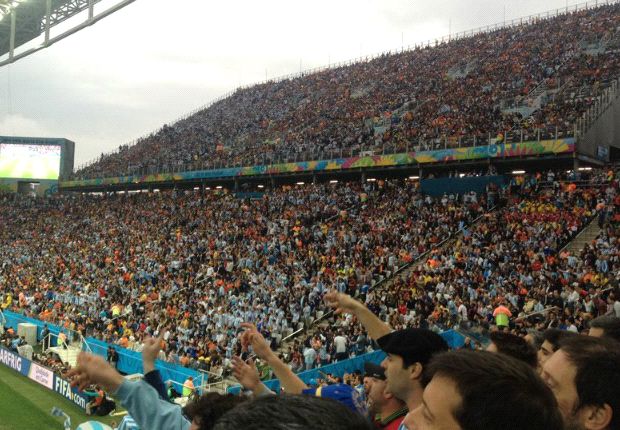 Arena Corinthians | Sao Paulo hosted six games at the World Cup
"I don't know how he got on academically, but as a sportsman he was one of these annoying people who was good at everything," explains SPAC president John McDonnell. "He played football, he played rugby, he played cricket, and he excelled at cricket and football. He represented Hampshire at county level in both cricket and in football.
"When he came back to Brazil, he worked tirelessly to not only see football played but see it organised as a sport. The Sao Paulo football league started in around 1900, and he played for SPAC. We were the first triple champions of this new football league, the trophy for which we still have in our trophy room.
"He worked tirelessly to promote the sport, and he worked with people from other clubs that were formed at the same time to play football as an amateur sport, amongst other sports, and to also provide social activities for the families of the members."
While SPAC never made the leap to professionalism, preferring instead to remain a club which catered for the needs of its members, Miller would leave a further indelible mark on football in the country.
Following a tour of Brazil by his former club Corinthian FC in 1910 which had attracted plenty of interest in Sao Paulo, Miller was asked for his opinion on what should be the name of a new football team being set up in the city by a group of railway workers. The Brit's suggestion was 'Corinthians', in honour of the visitors.
| | |
| --- | --- |
| | SAO PAULO'S WORLD CUP |
| Jun 12 | Brazil 3-1 Croatia |
| Jun 19 | Uruguay 2-1 England |
| Jun 23 | Netherlands 2-0 Chile |
| Jun 26 | South Korea 0-1 Belgium |
| Jul 1 | Argentina 1-0 Switzerland |
| Jul 9 | Netherlands 0-0* Argentina |
Over 100 years on, both Corinthians clubs are still going strong. But while Corinthian Casuals are down in the eighth tier of English football, their Brazilian namesakes are believed to be the best supported club in the southern hemisphere.
They are known as being the club of the people. The club of the underclass. Sao Paulo is a sprawling mass of a city, with much of it rooted firmly in the category of third world rather than first. Yet one of the great passions that keeps such communities going is their love of Corinthians.
But in a city as wide-ranging in size, wealth and taste, one club alone was never going to be enough to satisfy everyone.
Four years after Corinthians' formation, a group of Italian immigrants set up a club named Palestra Italia. Several Sao Paulo State Championships later, the club was forced to change its name after Brazil and Italy went into battle during the Second World War.
When the moniker 'Palestra Sao Paulo' was still deemed to be too Italian, the name Palmeiras was taken. Announcing the new name, the club secretary claimed they were 'born to be champions'.
Yet by this time, they were fighting not only Corinthians but another huge name in Brazilian football. Sao Paulo FC had been formed in the early 1930s by members of Paulistano, a sports club which competes to this very day with SPAC on the amateur sports circuit.
Sao Paulo were quickly considered to represent the richer population of the city, and remain largely so even now, with a slight blurring of the traditional rivals not doing enough to shift the three major clubs off their original axes.
Football in Brazil has, of course, changed over the years. As has the perception of football amongst its fan base, as McDonnell explains.
"Charles Miller was a member of the Brazilian elite. He was upper-middle class and football was an upper-middle class game. Today it's not. Today it's played by everyone," says McDonnell.
"If you go to the most out-of-the-way places in Brazil you'll see them all decked out. They're football-crazy, and it's an innocent passion. It's really moving, and I think it's easier for us who live here and speak the language to capture it than for visitors.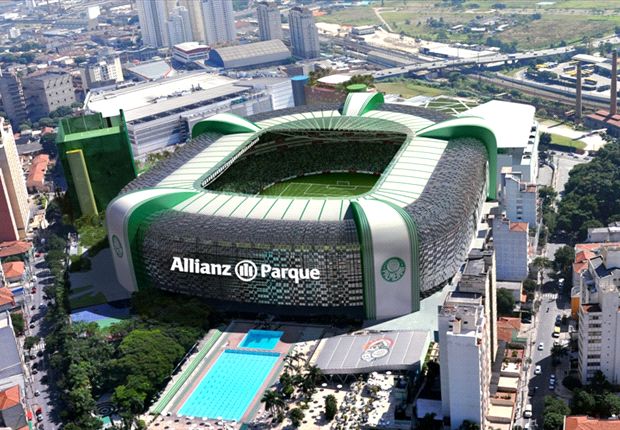 Allianz Parque | Palmeiras' new stadium will be open to the public in August
"The only thing that annoys people about the sport is what it has become in terms of a business, how it's manipulated and exploited. And we see that today obviously. There are so many people here who would like to see a game and dream of one day going to a World Cup football game but cannot because of the ticket prices."
Names such as Gerson, Rai, Careca, Rivelino, Socrates, Djalma Santos and Edmundo have graced the city of Sao Paulo for one of its three huge clubs over the years, and the passion for the game has naturally only grown as a result. The countless amateur club stadiums and unending sea of mock-up pitches on whatever patch of ground is available speak of a game that is too big even for such an enormous metropolis as this one.
And while Brazil's failure at a second home World Cup is likely to result in a huge restructuring of the game across the nation, one thing that will not change is that irrepressible thirst for football.
A month from now, Allianz Parque will join the Arena Corinthians as a brand new coliseum of football in a city full of them. In new stadiums, new stars will be born, and news fans too. Probably at a greater rate than ever before.
Football in Sao Paulo is in ruder health than ever. Not even Charles Miller himself could have realised quite what a legacy he was set to build.
Follow Kris Voakes on