By Carlo Garganese
Germany's 7-1 thrashing of Brazil on Tuesday will go down as arguably the most stunning result in World Cup history.
World Cup semi-finals are almost always very tight and tense affairs. The last time a last-four clash was won by more than one goal in 90 minutes was 28 years ago when Diego Maradona led Argentina to a 2-0 success over Belgium at Mexico '86.
Before the game, Brazil were marginal favourites – despite losing their two best players, Neymar and Thiago Silva, to injury and suspension respectively. They had not lost a competitive game at home since 1975 and with the whole country behind them it seemed that nothing could stop the Selecao in their quest for a sixth world title.
For Germany to not only beat Brazil in their own backyard, but to register one of the highest margins of victory at a World Cup finals is almost impossible to believe.
"That was football from another galaxy," gushed DFB president Wolfgang Niersbach.
But how much credit do Germany really deserve?
Granted, Joachim Low got his tactics spot on with Germany's pressing and counter-attacking picking Brazil apart time and again. Low must also be praised for swallowing his pride after the second round scare against Algeria and restoring Philipp Lahm to his rightful position at full back. The decision to drop Per Mertesacker further tightened the backline.
Germany were ruthless in the attacking third – bringing back memories of the great West German sides of the seventies and eighties when the likes of Gerd Muller, Wolfgang Overath and Karl-Heinz Rummenigge would show opponents no mercy. Thomas Muller and new World Cup record scorer Miroslav Klose certainly fall into a similar category.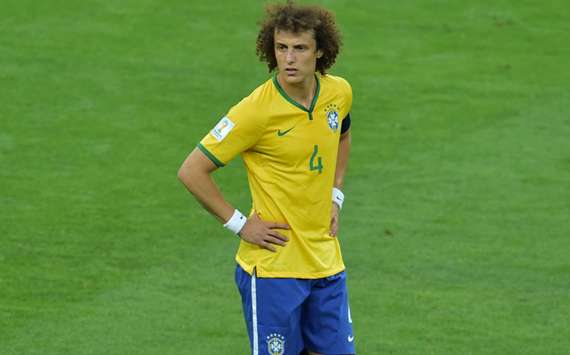 Hips don't lie | David Luiz had a nightmare in defence alongside Dante
But the hard truth is that the reason why Germany inflicted such a humiliation on their hosts was because Brazil were an utter shambles. Sunday League players would be ashamed to perform at such an abominable level.
Germany did not have to work for their goals – they were given to them. David Luiz and Dante may as well have been wearing white shirts so embarrassing was their defending on almost all of the seven strikes. Fernandinho gifted Toni Kroos his first goal straight from the restart as if it had been pre-planned.
"You have to give Germany credit, but the truth is that it was a woeful, woeful performance from Brazil. In 40 years I have never seen anything like it," Liverpool legend Alan Hansen, who played against Tele Santana's wonderful Brazil side of Zico, Socrates and Falcao at the 1982 World Cup, told the
BBC
.
Had the Europeans dismantled an outstanding opponent, then they would deserve every superlative thrown their way. But this is the most talentless Brazil team that has ever appeared at a World Cup.
A Brazil squad whose two centre-forwards are Fred and Jo. A squad whose right back, Maicon, is so past-it that he is left gasping for breath after the first five minutes. A squad with midfielders, like Ramires and Paulinho, who can't even pass the ball five yards square. A squad containing reserves from QPR, Napoli and Spurs. A squad which includes a host of sub-par players who were picked by Luiz Felipe Scolari solely for personal rather than professional reasons.
Die Mannschaft
deserve credit for such an historic result, and this golden generation of Bastian Schweinsteiger, Lahm and Klose certainly merits a trophy before they retire, but let's get real – the big story here is that Brazil were an embarrassment.
Follow Carlo Garganese on