By Ben Hayward in Belo Horizonte
Jogo Bonito. The Beautiful Game. Whichever language it's in, the expression evokes images of only one team: Brazil. While not always the champions, the Selecao were generally considered to be the great entertainers, the purest footballing side around. Often it was said that Brazil were everyone's favourite second team, while the ultimate compliment to any club side was that "it's just like watching Brazil".
In his autobiography, Pele claims to have coined the phrase 'The Beautiful Game' and whether he did or not, it seems somehow appropriate. It was he, after all, who featured in all of Brazil's first three World Cup wins in 1958, 1962 and 1970. Those teams had style and swagger, the first two featuring the genius of Garrincha, a player who ignored tactical instructions and went out with only one purpose - to entertain the crowd. The third is considered by many to be the finest footballing side to ever grace the famous yellow and green shirt.
Even in defeat, there was a glory about Brazil, with the 1982 team still holding a special place in the hearts of Brazilians, despite second-round exit to Italy. A more pragmatic approach has followed, with Dunga as an ungainly but extremely effective midfield enforcer in the 1994 side and a much more European style about the 2002 winners under Luiz Felipe Scolari.
But back then, Brazil boasted Ronaldo, Rivaldo, Ronaldinho and even a young Kaka on the bench. There was no shortage of fantasy football to pacify the purists. But not now. With Neymar out on Tuesday, this team have lost their one talent comparable to the greats of yesteryear.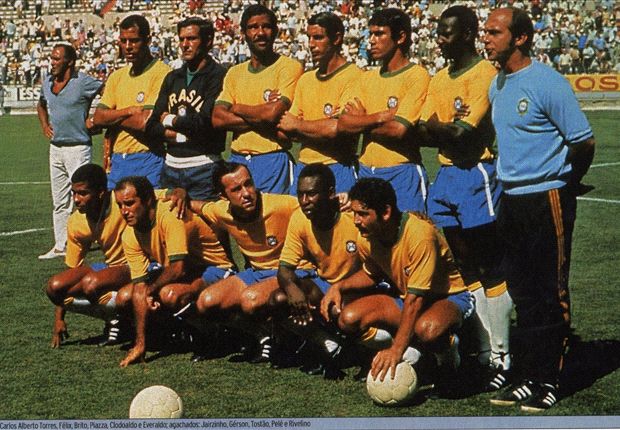 Glory days | Brazil's 1970 team are considered by some as the best ever

In a remarkable role reversal, it will be Germany with the more technical team on Tuesday, while Brazil attack on the break. The Mannschaft have placed their faith in a passing philosophy to complement a very regimented and organised system - a clear identity from their U-17 team through to the senior side. Order and Progress.

In the meantime, Brazil have no clear plan. Previously, they never needed one because their production line of talent created so many fantastic footballers. But is it drying up? The presence of tecnhically limited forwards such as Fred and Jo in this squad suggests a broader strategy may be needed.

The current side is very much in Scolari's shape, with very basic tactics and a reliance on counter-attacking football, while Neymar was injured defending on the edge of his area in the closing minutes against Colombia. It is hard to imagine something similar happening to Ronaldinho.

"It was worrying to see Thiago Silva and David Luiz hitting long balls to Neymar instead of trying to work things through the midfield," 1982 and 1986 great Zico complained after the Colombia match.

But Scolari said on Monday: "It might not always be pretty or beautiful, but we are moving forward together and taking steps towards our objective."

It's far from the Brazil of old and unlike teams from years gone by which are still revered in defeat, for the current crop, only winning will be enough. Jogo Bonito is long gone.


Follow Ben Hayward on