By Robin Bairner in Fortaleza

Brazil is currently a country bedecked almost exclusively in yellow and green. Anything that can have a flag pinned to it, from buildings to cars, is covered in the national colours, and of course the people have responded by hoovering up replica strips, many of which are unofficial, to wear for the duration of the World Cup.

While the matching colours are remarkable only by their sheer volume, the most notable aspect of all these football shirt-clad locals is that the number on the back is invariable. Almost without exception, everyone has a top bearing the name of Neymar Jnr, and those who don't seem to have strips from before the youngster's era.

The 22-year-old has the hopes of a nation on his back, while the nation has his name on its back.

It is hard to overstate the love for Neymar in Brazil. Of course fans the world over have their favourites, though no journalist here seems to have seen anything remotely on this scale of fervour for one individual.

"His marketing team is very powerful," Daniel Herculeno, a local journalist from the Tribune do Ceara explains. "His focus is not always entirely on football. Instead, he prefers to raise his profile and earn the financial rewards that that brings."

Certainly, the image of the young forward appears to be cast ubiquitously around the country, from shirts to newspapers, billboards and television, Neymar is everywhere.

Captain Thiago Silva, popular defender David Luiz and other prominent figures in the Selecao squad are all peripheral when it comes to advertising and media exposure, and they may as well be non-existent in the shadow of the precocious young forward.

Some, such as Luiz Gustavo, dubbed "one of the most important players in the national team" by his coach, like it this way. "I actually think I need this privacy," he confided to the press, no doubt pleased by the large shadow that Neymar has cast over the camp.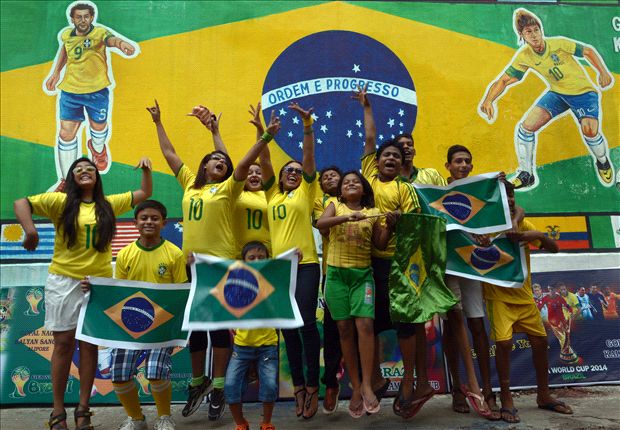 With great hype comes great expectation, and thus far the 22-year-old has handled the pressure with immense maturity. Brazil's opening victory over Croatia may have been shrouded in controversy the world over, though the host nation was immune to this, preferring instead to focus on the scoring exploits on the one superstar forward they boast in an otherwise misfiring front four.

And when it came to taking the decisive penalty in the last-16 shootout against Chile? No problems for Neymar, who coolly strolled forward and dispatched his kick to the opposite direction of future club-mate Claudio Bravo.

"He handles the pressure very well," Herculano explained. "He is very mature."

But while Neymar is regarded highly, there is still a belief that he is not quite on a par with stars like Lionel Messi and Cristiano Ronaldo just yet.

"Neymar is a very good player - not a top, top player," Herculano said. "He still has a level to go to get up to Messi or Ronaldo."

But the dispute is a fierce one, with two journalists in CF Fortaleza's press room almost coming to blows over which Barcelona player – Neymar or Messi – is currently superior.

Regardless of his status in world football's hierarchy, for many casual fans in Brazil – if there even is such a thing in the football-mad nation – there is no debate.

While he has often been referred to as 'the next Pele', a better comparison on the field might be to Garrincha, who was nicknamed 'the Joy of the People'. Pele, it is said, was revered in Brazil, but Garrincha was loved – and there is no doubt that Neymar is adored along much the same lines.

Both encapsulate the Brazilian dream of a thrilling attacker willing to use all his guile and technique to beat several opponents on a single dribble, enlivening the game and bringing the crowd to its feet.

Off the field, however, there is a dramatic difference between the two giants of the game. The great Achilles heel of the two-time World Cup winner was his laid-back nature and fondness of cachaca, the local spirit that ultimately killed him.

Instead, Neymar is far more reminiscent of Pele, who adopted what was at the time a very modern, business-based outlook that has allowed him to retain a high public profile even 40 years after he retired from the national side. It is that same gift that has allowed the popularity of Neymar to flourish.

He has fostered his image cleverly, taking advantage of circumstances to the fullest. While Messi was compelled to move to Barcelona at a very young age to receive medical treatment, Neymar remained in Brazil, where he became a superstar with Santos thanks to his exciting playing style before finally making a money-spinning move to Spain.

Interestingly, his move to La Liga also saw many Brazilians backing La Roja during their ill-fated group stage campaign.

Simply the need for a Brazilian superstar at this showpiece event is not sufficient to explain his staggering boom in popularity, though it has certainly helped, as he has provided a rallying figure for which Brazilians of all backgrounds can root for.

Follow Robin Bairner on