By Peter Staunton in Cuiaba
It didn't take long for Fiorentina to complete the full signing of Juan Guillermo Cuadrado once his World Cup campaign got under way. The Colombia winger was on a co-ownership deal with Udinese after originally signing on loan in 2012. Fiorentina have now exercised their option to take full control of his playing rights.
"At this time I am concentrated on the World Cup and I hope to get the most with my national team," he said earlier in the week. "But, I am very happy and it is a source of pride for me to be fully owned by Fiorentina."
With the player under contract under 2017, Fiorentina are in a strong bargaining position, under no obligation to sell and the current situation can be read in two ways. Either Fiorentina hope that Cuadrado can now settle for a long stay at the Artemio Franchi or else they are intent on cashing in on him this summer.
He is not going to be cheap and his stock has never been higher. It is suggested that Fiorentina paid €15 million to complete his permanent signing and they will be looking to double that at least should they let him go.
Fiorentina are in Europe next season but they do not boast Champions League football. They have been regarded as somewhat of a selling club in the past but have always at least commanded a big price for their star players. Cuadrado could well join that path which was laid out by the departures of Rui Costa, Luca Toni, Stevan Jovetic and others.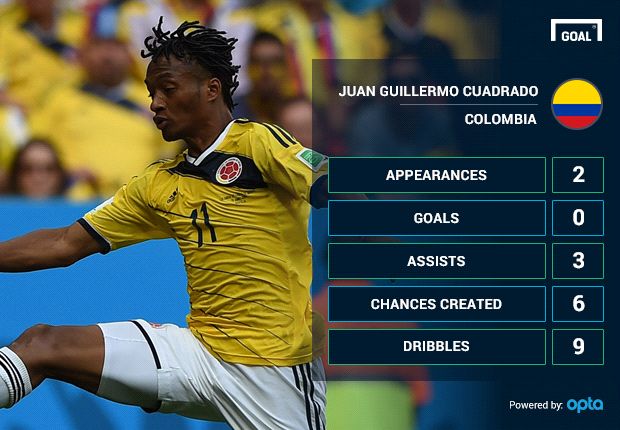 His strengths lie in dribbling and creativity. He has provided three assists at the World Cup in two matches and has just come off his most successful goalscoring season to date with 11 in Serie A for the Florence side. His rampaging displays against Greece and Cote d'Ivoire have perhaps earned him the honour of being the best player of these finals so far. Already there would appear to be queues outside Andrea Della Valle's office looking for Cuadrado's signature.
The Fiorentina president maintains that he will not be sold. La Viola have already issued a statement to the effect that Cuadrado is not the subject of a transfer bid from Roma but the chatter is relentless. Colombia coach Jose Pekerman said in his press conference last week that the 26-year-old is ready to step up to a major club.
"He's a player with great physical conditioning who achieved great things with his club, just as he has done with his country, and he is ready to go to a great club, regardless of how well he does at the World Cup," Pekerman said. "It's satisfying to have him with Colombia and for sure he will go on to grace the most important pitches in football, and more if he goes to a great club like Barca."
Barcelona, as well as Bayern Munich, have been linked with his signing. Daniel Alves was questioned about Cuadrado earlier in the tournament and his response was that he'd welcome the challenge.
"If they can recruit him, then I encourage them to do it," Alves said. "It doesn't bother me. On the contrary, he is an excellent player, young, has had excellent performances with his club and with the Colombian side. You see that your club seeks quality to be able to complete. For me it's a motivation."
Cuadrado would likely provide competition for Alves if not direct replacement straight away. He played in the right-back position at the beginning of his career albeit always with an attacking outlook. Once he moved to Italy with Udinese he was converted full time to the wing. Nonetheless he has played at right back on certain occasions with Colombia too.
With a summer campaign of renewal under way at Camp Nou, the man lauded as a similar type of player to Ronaldinho by Fiorentina fans could be the one summer signing to get the Barcelona faithful off their seats. Alexis Sanchez could yet be sold while there are no guarantees on Pedro Rodriguez either. Cesc Fabregas has departed meaning Luis Enrique could do with adding a few options at that end of the field. He is guaranteed an impact by Cuadrado.
Bayern, where Philipp Lahm has moved to the midfield, would also welcome him to that position or further forward. Pep Guardiola could replace Rafinha with Cuadrado like for like or add quality further up the pitch. There is already a wide-array of attacking talent at the Allianz Arena but they lacked for a game-changer at times in the Champions League last season.
That is the stage on which Cuadrado belongs after being named in Italy's team of the season and taking the World Cup by storm. He has reached that level even if Fiorentina have not.