EXCLUSIVE
By Robin Bairner

Australia goalkeeper Mathew Ryan may be able to lay claim to being the busiest man at World Cup 2014 by the time the competition finishes.
The unfancied Socceroos have been handed arguably the toughest draw, grouped with 2010 finalists Spain and Netherlands, as well as a Chile side tipped as darkhorses.
Following a formidable debut season in Europe with Club Brugge, the 22-year-old will, however, provide a stern last line of defence for Australia's highly-rated opponents to overcome, having seemingly claimed the No.1 spot after Mark Schwarzer retired from international duty in 2013.
Such has been the strength of Ryan's performances in Belgium's top flight he has reportedly attracted the interest of several top clubs, with rumours circulating that European champions Real Madrid were watching him towards the end of the season.
Even Ryan would admit he was somewhat surprised by such speculation, even if it was rather modestly welcomed.
"I had just woken up here in Belgium and I looked on my phone and I thought: 'What's going on here?'," he told Goal.

"I hadn't heard anything about it. It turns out it was just my old coach from Australia said that he had spoken to some agent who had mentioned it. I tried not to pay too much attention to it, I think it was the media back home who had released it, but from my point of view, it was just business as usual.
"If I'm playing well, that sort of stuff will look after itself but if it is true, I'm always flattered to have that interest. But you can't always believe what you read."
At a relatively tender age for a player in such a vital position, where experience tends to count for a great deal, Ryan cuts a mature figure, while he has credited the league in Belgium for toughening him up.
"I've got to make sure that mentally and physically I'm the best I can be so that come the first game against Chile it's me between the sticks," he indicated. "I've a full season under my belt now in Europe and played some big games.
"The way the Belgian league's structured with the play-off system, in the last 10 games there's a big match every week with big crowds and I try to learn as much as I can to better me for the next time. I'm just making sure that I'm composed enough to do my job and that's the main thing."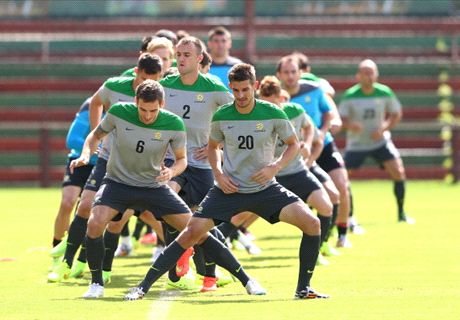 Hard at it | Australia put in the hard yards ahead of their World Cup opener
Blessed with impressive reflexes, a strong frame and a confident yet humble personality, the goalkeeper has the ideal temperament to shine in Brazil.
But, while he would admit that the chance to play on such a stage represents a fine opportunity to showcase his talents, he will remain focused on each moment as it arrives.
"It's hard not to think that if you have a good World Cup there will be a lot of scouts watching the games," he said. "That's all a part of it, I think.
"At the pinnacle of the game – and in the group we're in we're going to be playing some class sides with class players – if you can stand up and perform well, I'm sure it'll go a long way to something happening in the future. But I always believe that if you perform on the field everything else will look after itself, so I'm trying to take the approach where it's business as usual."
After helping Brugge to a third-placed finish in Belgium, the Sydney-born player believes making such a dramatic leap from the A-League last summer has paid rich dividends.
"[The move] has definitely influenced my game. I feel like I've progressed this season since coming from Australia," he said.
"Belgium is a market for a lot of bigger clubs in the bigger leagues. You often talk about how many of the big players in the big teams around the world used to play in Belgium, the likes of Yaya Toure, and [Thibault] Courtois is the most recent keeper, and [Simon] Mignolet.
"For me personally, it's hard not to hope that I might be the next one to move on to a bigger club.
"The coaching philosophy here is that it's a business. They know that bigger clubs like to come in and buy players, so they're more than willing to give young guys a go to help develop them and hopefully turn that into a bit of a transfer fee in the future.
"They've no hesitation in throwing in the young guy, and I'm a bit of an example of that, having just come across.
"I'm really enjoying my time here, I feel I'm in a good place. I love the club. Hopefully we [Bruges] can learn from this year and go a bit better again."
Ryan is not the only young Aussie making headway in Europe, and despite the tough draw, he is hopeful that some of his peers will be able to raise their game for the biggest stage.
"We've got a lot of new faces and a lot of young boys, so it's an opportunity for a lot of them to stand up. It's hard to pin-point who [the outstanding young player for Australia] is going to be. The likes of Tom Rogic, Mathew Leckie, Tommy Oar – those young guys have been in Europe a couple of seasons now and will probably be looking to their experiences to play a vital role for us.
"It's up to the individual how they perform during the World Cup. You have to wait for it to play out and see who's stood up and might have done a bit better. There's a lot of quality in the squad and hopefully for us there's a number of players who'll stand up and be recognised."
There is a quiet confidence about the goalkeeper that apparently mirrors that of the squad as a whole. Even if progression in Brazil is something only the bravest of pundits would predict, with players like Ryan coming through, the Socceroos can realistically build for future tournaments with a sense of optimism.
And by the time that Russia rolls around in 2018, Ryan may not be such an unknown quantity to the wider world.

Follow Robin Bairner on