COMMENT
By Kris Voakes | International Football Correspondent
This is hardly the first time Italy have been overlooked as World Cup hopefuls.
In 1982, the aftermath of the Totonero scandal was believed to be too big a distraction for Paolo Rossi and his team-mates as they prepared for the finals in Spain. Yet weeks later they lifted the trophy for a third time, with the striker scoring six goals shortly after his return from a two-year ban.
The same occurred in 2006 during the turmoil of the Calciopoli episode which tore apart the country's football landscape, with five Italy players collecting winners' medals less than a week before their Juventus side was demoted to Serie B.
And while there may not be betting syndicates or referee delegators on the front pages of the newspapers in the peninsula this summer, there is a similar air around Cesare Prandelli's side as they head to Brazil.
The Azzurri are not considered to be among the favourites, especially on the back of Wednesday's humiliating 1-1 friendly draw with Luxemburg which extended their winless run to nine months. Many are tipping holders Spain to continue their dominance, while Brazil, Argentina and Germany are also being widely backed.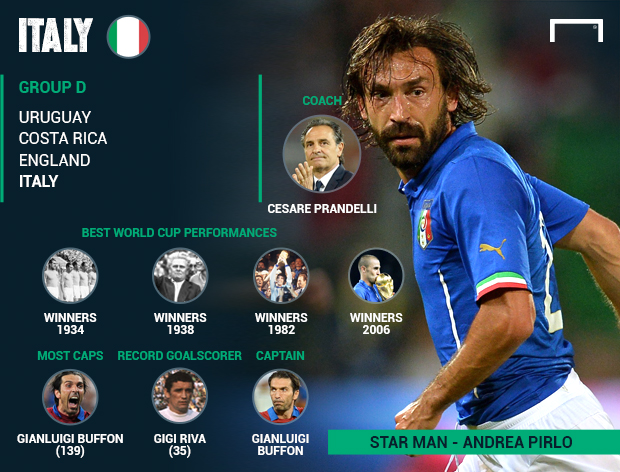 And while there are those who mention the Italians in passing along with Uruguay, Belgium and France as darkhorses, few genuinely believe that Prandelli will lead his squad to a fifth world crown on July 13.
But that was also true in 2012, when Italy overcame the odds to reach the final of the European Championship. And were it not for a short turnaround after beating Germany in the last four, as well as a huge list of injury issues which saw them finish the final with 10 men, they could well have added Spain to their list of casualties.
That 4-0 loss to Vicente Del Bosque's outfit remains the only competitive defeat of Prandelli's national reign (Italy also lost to Brazil at the Confederations Cup), and the ex-Fiorentina coach looks set to take with him to Brazil the same plans and principles which have seen the team recover from the embarrassing failure that was their 2010 World Cup campaign under Marcello Lippi.
Far from sticking to one tactical plan, the commissario tecnico has been intent on seeking flexibility in his ranks in the bid to succeed.
"Being able to change is a great resource, so we will work on two or three formations - the 4-3-1-2, the 4-5-1 and the 3-5-2," Prandelli told reporters recently.
"To play three at the back is not a conservative option - it can become too defeatist if you do it with three pure centre-backs and defensive full-backs rather than wingers. But our wingers are offensive and one of the centre-backs [Leonardo Bonucci] is different in that he can play the ball."
That push for more than one option means that this Italy group could well end up looking a lot like their 2006 contemporaries, with Lippi's triumphant campaign having included playing time for all 20 outfield squad members.
"I have not thought of the starting 11," Prandelli admits. "This will not be a World Cup of 11. We will need 23 resources, 23 players who think they are among the first 11, concentrating only on the team."
The 56-year-old has also been bold enough to nail his intentions to the mast. Far from spouting rhetoric about facing a tough group stage, he is clear as to his side's objectives.
"I am not looking at the group table, It is clear that we have to progress into the knockout stages, and from there we have to work out how to get to the final," he said.
"I want to get to the final. Then we will see what happens."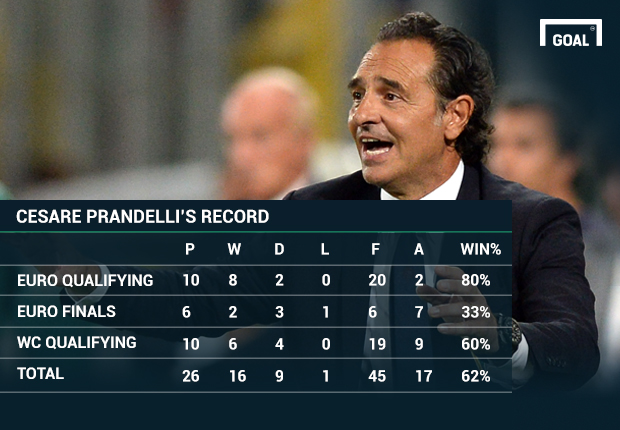 Mario Balotelli has backed his coach up with further fighting talk, telling Group D rivals England that he doesn't consider them to be on the same level as the Azzurri.
"I am not saying that Italy are favourites, but we have the mentality and experienced players to surprise people. I don't think England have that," said the Milan striker. "We have players who have won the World Cup. I don't think England have a player who knows what it is like to play beyond the quarter-final. "
The controversial front man, of course, is key to Italy's hopes, proving in the Euro 2012 semi-final win over Germany that he could be the difference on the big occasion. But Andrea Pirlo insists he can deliver again with the help of his team-mates.
"Do we depend on Mario Balotelli? Partly yes, but we are all important to the cause," claims the Juventus midfielder. "Mario is old enough now, so he doesn't need advice any more. He just needs to focus on finding his form in the summer, concentrate on the football and leave the rest alone."
Prandelli believes Pirlo is among the small band of lieutenants he can always rely on having already had his hands on the ultimate prize.
"Gianluigi Buffon, Pirlo and Daniele De Rossi are the three key players of this side, they are the hinges," says Prandelli. "And that, beyond their technical skills, is vital. They are world champions and yet always show the enthusiasm of a rookie. That best represents the spirit we should have at all times."
That winning spirit could well take Italy much further than people expect.


Follow Kris Voakes on