This was widely seen as the PSG midfielder's last chance to impress before the final 23 is named and his display should have convinced Prandelli to take him to Brazil
COMMENT
By Peter Staunton at Craven Cottage
When one door closes, another opens. That is the message to be taken by Italy following this penultimate World Cup tune-up against Ireland. Riccardo Montolivo, captain for the night and trusted lieutenant of Cesare Prandelli, lasted only eight minutes of this entertaining 0-0 draw before a heavy challenge by Alex Pearce left his World Cup dreams shattered. Alberto Aquilani didn't fare much better but his subsequent substitution - by way of concussion - was precautionary.
Instead, Montolivo's injury will push Marco Verratti up the pecking order and will help subtract a few digits from that 30 he is currently sporting on his back. The PSG man, highly regarded though he is, was no sure bet to go to Brazil with the Azzurri but Montolivo's injury may well have painted Prandelli into a corner. What might have been seen a luxury will now be considered a necessity. Italy are light on numbers as a result of the AC Milan man's injury and Verratti proved himself to be the ideal understudy for Andrea Pirlo.
Prandelli has been unusually reluctant to use the 21-year-old but his performance against Ireland was probably as well as he has played for the senior side. There were occasions on which he and his midfield colleagues, including the vastly more experienced Claudio Marchisio and Thiago Motta, were overrun by a wholly-committed Irish team and in those moments Verratti could not stem the tide. Motta, and Gabriel Paletta, were guilty of surrendering possession in dangerous areas at the start of the second half and had Shane Long been more clinical then Ireland would have taken the lead.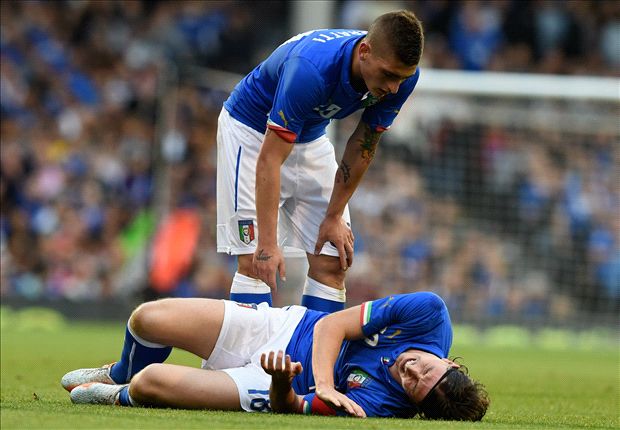 CHANGING OF THE GUARD?
Verratti stands over the stricken Montolivo
Jeff Hendrick and David Meyler in particular demonstrated that the lithe midfielder has plenty of growing to do with their steaming charges past him towards goal. Nonetheless, with the ball at his feet or with a team-mate looking for an out-ball, Verratti was unsurpassed in blue. He is calm in possession; he never fails to trust his technique to conjure a method of escape from a tight spot. The Ireland midfield and defence, in the first half in particular, was well organised and so chances for the Italians were tough to come by. But it was Verratti who sought the runs of Ciro Immobile over the top.
On the subject of the soon-to-be Borussia Dortmund forward, he must learn to vary his game before the World Cup kicks off if he is to stand any chance of dislodging Mario Balotelli from the starting line-up. On this evidence, he is a long way away. Too often, Immobile was content to have the ball played over the heads of the Irish defence and test himself in a foot race against the centre-backs and the goalkeeper. It did not come off. He did have the ball in the net at one stage before his early departure but he was flagged offside following Matteo Darmian's cross-cum-shot. With Giuseppe Rossi dropping into the gaps behind the front line, Italy need more intelligent movement and better options to make the ball stick.
If this encounter can be seen as a sparring match for the England game in Manaus on June 14 then Italy will have learned plenty. Ireland play a style under Martin O'Neill which is not a million miles from that of Roy Hodgson and Prandelli will be concerned at the incursions made up the flanks by the Irish. That said, Darmian gave as good as he got. Seamus Coleman and even Stephen Ward left their midfield markers trailing to double up on the Italian defence and put balls into the box. If Ireland had more capable finishers then it might not have been scoreless.
Issues at centre-back for the Azzurri, too, are unresolved. Paletta was ill at ease at times, giving up needless chances with lax play, while Leonardo Bonucci was given an uncomfortable physical examination by the bullish Shane Long. Prandelli will be glad to have Giorgio Chiellini and Andrea Barzagli to call upon because the jury is still out on the Argentine-born Parma man. Daniele De Rossi was sprung into action too to allow the coach to flirt with a three-man backline with Ignazio Abate at right wing-back.
All in all this will have given Prandelli plenty of food for thought. One thing should be clear in his mind, however, and that is that Verratti is worthy of his call-up. As an out-and-out replacement for Montolivo, he is unsuitable for that duty but in the searing heat, he can do enough to grant Pirlo a break without dropping Italian quality on the ball.