ANALYSIS
By Enis Koylu
Almost exactly one year ago, Borussia Dortmund were preparing for the Champions League final. They had announced themselves on the European stage and had gone about increasing their profile. It seemed back then that Germany had two superclubs, some long-term competition for Bayern Munich.
They lost Mario Gotze, their crown jewel, to the Bavarians that summer but underlined their ambition by signing Henrikh Mkhitaryan and Pierre-Emerick Aubameyang for big transfer fees. The ploy backfired, though, and BVB were, once again, unable to prevent the Bavarians from claiming a domestic double.
There can be no masking that this has been a disappointing season for Dortmund. Circumstances have conspired agaist them, as they have struggled under the weight of injuries and expectations. They may have finished second and reached the DFB-Pokal final but the campaign had seemed to much more promising when they started the season in blistering form.
Robert Lewandowski will follow Gotze to the Allianz Arena this summer - on a free transfer - and Dortmund will have a gaping hole in their front line. They may well have signed Adrian Ramos and, potentially, Ciro Immobile, but the Pole's performances in the last few months show just how vital he has become to BVB's style of play.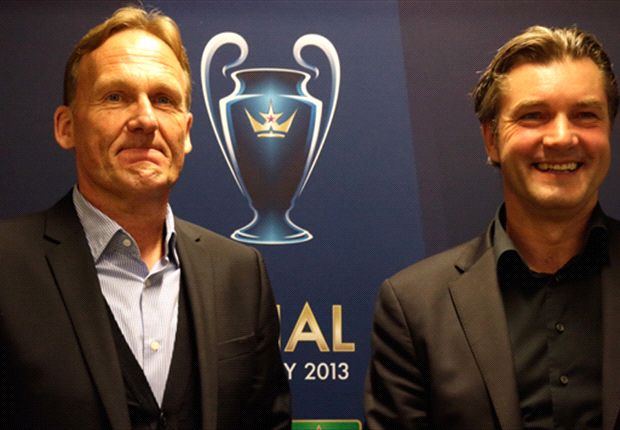 Council of Heads | Watzke and Zorc will work with Klopp to rebuild the squad
So, can they remain a force in both Germany and Europe? The only remaining player with a Gotze-style buyout clause is Marco Reus, but BVB have offered the Germany forward a hefty payrise to remove it from his contract. In any case, the clause does not become active until the summer of 2015.
Rumours circulate each week of richer clubs coming in for their players, but CEO Hans-Joachim Watzke has insisted, "We absolutely do not see the need to sell anyone who has an existing contract." Crucially, many of Dortmund's stars have years to run on their deals and even Ilkay Gundogan, who seemed destined for a summer exit just a few months ago, has added another season to his stay at the Westfalenstadion.
THE CORE
BVB's key players for the future

Name
Position
Contract
Age
Piszcek
Defender
2017
28
Hummels
Defender
2017
25
Schmelzer
Defender
2017
26
Bender
Midfielder
2017
24
Kuba
Midfielder
2017
28
Reus
Forward
2017
24
Mats Hummels, Lukasz Piszczek, Reus and Marcel Schmelzer are tied down until 2017, and must form the core of the team for years to come.
But, as this season has proved, they need more than a select group of players at their disposal. The contingency plan of having Kevin Grosskreutz fill in for any unavailable member of the starting XI has taken its toll and BVB must use the funds they have at their disposal to bolster their paper-thin squad. In the emphatic 3-0 Champions League quarter-final first-leg defeat to Madrid at the Bernabeu, Klopp was only able to field four of the XI who started last year's Champions League final - a heavy loss was inevitable.
Despite the disappointment they have suffered on the pitch, Dortmund have made progress off it. The run to the last eight of the Champions League will provide another financial boost and, crucially, assure them of a place in pot two of the competition next term, making another appearance in the 'Group of Death' slightly less likely.
Their place in the final last season saw their profile - as well as their bank balance - swell to new levels. Their self-made, self-sustaining model was a breath of fresh air when compared to the money-fuelled teams they beat en route to Wembley. It seems hard to imagine Zlatan Ibrahimovic offering to play for BVB for free five or six years ago.
Within the Bundesliga, the PR battle with Bayern rages on and it seems inevitable that BVB will win. The tax evasion scandal of former
Roten
president Uli Hoeness was a blow to the Bavarians' image and Dortmund have successfully portrayed themselves as the plucky underdogs, capable of challenging the old establishment.
Indeed, when Klopp launched into a personal attack on Bayern sporting director Matthias Sammer, other Bundesliga figures backed the former Mainz boss, with Hamburg sporting director Oliver Kreuzer saying: "Congratulations to him. I think he has a lot of support in the entire league."
Klopp is under contract until 2018 and has vowed not to leave before his deal expires, despite the overtures of Manchester United. The promise of working with such a coach will be key to enticing new blood to the club, as will Signal Iduna Park's famous 'Yellow Wall' - the Sudtribune.
The management team who helped restore them to success after almost a decade in the wilderness will also remain intact. Michael Zorc renewed his deal as sporting director until 2019 back in February and delivered a rallying cry.
"After our recent years of success I think it's our common goal to establish Borussia Dortmund as a top club in Germany on a long-term basis and continue our development as a constant part of the Champions League."
The road to establishing a club as a European superpower is long and arudous. There may be a few more years of heartbreak ahead as Dortmund position themselves to compete financially but, with continued Champions League qualification and a stable backroom staff in place, do not expect BVB to fall away. Despite the defeat against Real Madrid and Saturday's loss to Bayern, they will be back.