ANALYSIS
By Enis Koylu
Bayern Munich's 5-0 thrashing over two legs by Real Madrid in the Champions League semi-finals sent shockwaves through German football.
Last season's treble-winners were the favourites for the competition throughout the season but an untimely slip in form, together with some questionable tactical decisions from Pep Guardiola, saw them fail to reach a fourth final in five years.
Had they overcome Carlo Ancelotti's side, no matter how, everyone would have been more than satisfied with a campaign which saw them wrap up the Bundesliga in record time.
But their humiliating Champions League exit has put extra focus on the DFB-Pokal final against Borussia Dortmund on Saturday. Should Bayern fail to complete the double, Pep will find himself under pressure the likes of which he has never experienced during his coaching career.
Guardiola used his unveiling last June to promise not to change the winning formula set out by Jupp Heynckes during the previous seasons. "Barcelona players have different qualities to those of Bayern. I need to adjust to the players, not the other way around," he said all those months ago.
MOMENTUM
Bayern & BVB's form since BuLi was won
BAYERN
Hoffenheim (h) 3-3
Augsburg (a) 0-1
Dortmund (h) 0-3
Braunschweig (a) 2-0
Bremen (h) 5-2
Hamburg (a) 4-1
Stuttgart (h) 1-0
DORTMUND
Stuttgart (a) 3-2
Wolfsburg (h) 2-1
Bayern (a) 3-0
Mainz (h) 4-2
Leverkusen (a) 2-2
Hoffenheim (h) 3-2
Hertha (a) 4-0
Pep enjoyed incredible, perhaps unprecedented success during his time at Camp Nou but seemed to recognise that the squad he inherited from Heynckes had a different skillset. They had beaten the Barca that Guardiola had moulded 7-0 on aggregate just weeks before, yet Guardiola has attracted criticism for playing
his
game rather than
theirs
.
"In the end, we'll be unwatchable like Barca," Franz Beckenbauer complained after a 1-1 draw with Arsenal.
"They'll be passing it backwards on the goal-line."
His view was echoed by fellow legend Lothar Matthaus, who warned: "You cannot get them to play Catalan here. There were too many changes. The ship may not have begun to go off course."
At the back, Bayern have looked more exposed than they had ever been under Heynckes, defending with a high line which was brutally exposed by elite opposition like Madrid and Borussia Dortmund.
Guardiola's team selection has also come under scrutiny. Philipp Lahm has long been the best full-back in the world with few competitors but has been deployed in midfield since the Spaniard's arrival.
Lahm has impressed in his new role, but Bayern have paid the price for his absence in his natural position. At right back Pep has persisted with playing Rafinha, on the verge of leaving the club prior to the new coach's arrival, and the Brazilian was at fault for the goal in the 1-0 loss at the Santiago Bernabeu in the first leg of the Champions League exit.
Thomas Muller and Mario Gotze have been used in a variety of roles this term – from orthodox midfielder to unorthodox striker via stints on the flank - and their form has suffered as a result. Beckenbauer even went as far as saying that the latter - a €37 million buy from Dortmund - was being "wasted" as a false No.9.
Toni Kroos was a vital member of Henyckes' team but Thiago Alcantara was brought in on higher wages. When Kroos understandably asked for a new contract with wage parity with the Spaniard, he was dropped. His form after his reintegration has dipped and he could yet leave the club this summer - a situation which should never have arisen.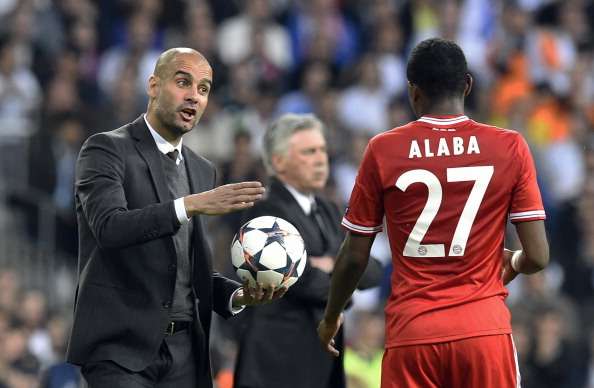 Pep talk| Guardiola's tactics were criticised after Bayern's defeat to Real Madrid
Guardiola's treatment of Mario Mandzukic has also led to criticism. The Croat has scored 48 goals in two seasons and was instrumental in winning the Champions League last season. He broke the deadlock in the final and felt let down when he learned that Robert Lewandowski would be joining the club in the summer. Mandzukic was then excluded from the first team shortly after the transfer was announced, a decision widely panned in the German media as childish.
Javi Martinez is another vital member of the treble winning to have suffered, being played in defence, where he looks less at home than in his old and preferred berth of midfield. Rumours have since surfaced that the most expensive player in Bundesliga history is unhappy at the club and has complained about his situation.
The attitude of Pep's players has also been scrutinised. Lahm said after the 1-0 first-leg loss at Madrid that he had never seen a Bayern team "dominate" at the Bernabeu like his team-mates had. Matthaus slammed this brashness. "They were not self-critical enough," he noted. "If Bayern lose to Dortmund, there will be serious talks on Sabener Strasse."
And there is every reason to fear for the double. Dortmund finished the Bundesliga season in far better form than their arch-rivals and even beat them 3-0 when they last met in April.
The Bavarians have lost the fear factor they possessed in abundance last year and teams are more willing to challenge them. "This year they're less dangerous," Arsene Wenger said between Arsenal's two meetings with Bayern. "I think we saw that in London. They didn't really create an awful lot."
And Dortmund, despite the gap between the two sides in the Bundesliga, have long been a thorn in Bayern's side. If they beat them on Saturday, the knives will be out for Guardiola.
The club have been steadfast in their backing of the man they fought so hard to bring to the Allianz Arena. "He is a great coach and a wonderful man," Karl-Heinz Rummenigge said after the Champions League exit. "We count ourselves fortunate that he opted for Bayern."
But despite this internal support, externally the pressure is piling on the Spaniard. This pressure will reach unbearable levels should Bayern fail against Dortmund. It is simply a must win game for Guardiola.