COMMENT
By Enis Koylu
When Bayern Munich travelled to Dortmund last year for a late-season Bundesliga meeting, the home fans hung up a sign insulting Mario Gotze, their young playmaker, who had just announced his move to Bavaria.
This year, they will see another of their stars ditch them for Bayern in Robert Lewandowski, but unlike his former team-mate the Polish forward will always be remembered fondly at the Westfalenstadion.
It has been almost inevitable that Lewandowski would move to the Allianz Arena for two seasons now. The transfer may have only been confirmed in January but the whole world had long since known that he would be off to Munich.
The 25-year-old arrived at Dortmund four years ago from Lech Poznan as a completely unknown quantity. There was obvious talent but he was nowhere near the player who will be leaving for Bayern.
Since then, he has grown and grown, becoming a symbol of Jurgen Klopp's team after removing Lucas Barrios from the starting XI in 2011-12.
It was Lewandowski who scored a hat-trick in the 5-2 DFB-Pokal final demolition of Bayern, Lewandowski who netted all four goals in the famous 4-1 victory over Real Madrid in last season's Champions League - two of the undoubted highlights of the club's rise to prominence.
On Saturday, he will play his final game for the club before his long-awaited move to Bavaria – against, interestingly, Bayern – and will be hoping to provide one last happy memory.
There have been moments of trouble, of course. His public spat with the club's hierarchy when they refused to sell him last summer left many questioning whether their decision to hold him to his contract was to pay dividends.
Indeed, as the season wore on, Lewandowski found himself missing several chances, not least in a chastening 3-0 defeat against Bayern when the score was locked at 0-0.
His form since the turn of the year has been excellent, though.
He was the star of the show against Zenit St Petersburg, becoming the club's all-time top scorer in European competition with two goals in a 4-2 win in the Champions League. His reaction was one of defiance, insisting that he did not want to wallow in the plaudits but keep fighting.
"Of course I'm very happy with my performance, with the result and my two goals. But the last word has not been spoken. That was not my last goal. We are still competing in the Champions League and I hope to score a few more."
Ultimately, it did prove to be his last goal in Europe, but that didn't diminish the fans' gratitude.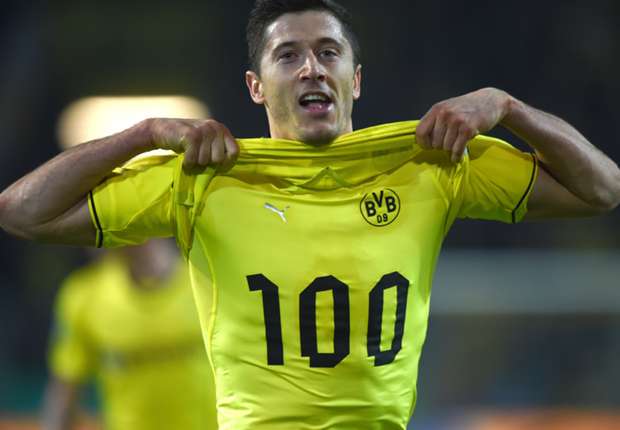 100 not out | Lewandowski reached a century of BVB goals against Wolfsburg in April
In the final home game of the season, he failed to score against Hoffenheim. But he was presented with a montage of some of his finest moments in black and yellow before kick-off and was fighting back the tears in his eyes.
When he was substituted in second-half stoppage time, he received a standing ovation from all corners of the stadium. He approached the fans after full-time to show his appreciation to them and they to him – a far cry from the vitriol of the banners against Gotze a year before.
Lewandowski conceded that he was overawed by the ovation. "The emotions today were very, very high. I can only thank everyone for this support. This is a very, very emotional moment for me. What the supporters did before, during and after the game was incredible. Thank you for this wonderful treatment."
So, when Lewandowski dons the BVB shirt for the last time at the Oympiastadion on Saturday for the DFB-Pokal final, he knows that he will always be appreciated at Signal Iduna Park, even if it will be difficult for them to see him in a Bayern shirt.
After all, they'll always have his hat-trick in the final against Bayern in 2012 and the four goals against Real Madrid last year to look back upon fondly.