COMMENT
By Ben Hayward | Spanish Football Writer
"The biggest risk we can take is to not take risks," Pep Guardiola once said. Barcelona took a chance on the Catalan coach back in 2008 and it paid off handsomely. Six years on and the Blaugrana have now done something similar by appointing Luis Enrique to replace Gerardo Martino this summer. But is it the right risk?
Martino missed out on La Liga on Saturday and announced his departure straight afterwards, having claimed only the Spanish Supercopa this season. The Argentine had already said he didn't deserve a second chance following some lacklustre results in all competitions in 2013-14. The 51-year-old also grew tired of constant criticism concerning the club's playing style over the course of the season. "If the coach isn't in-house or Dutch, then there's more debate," Martino claimed earlier on this term. But as he the season drew to a disappointing end, still it seemed the South American wasn't entirely in tune with the Catalan club.
That could never be said of Guardiola, who came through at La Masia and spent the majority of his career as a player at Camp Nou. Luis Enrique took a different route, starting out at Sporting Gijon and even playing for Real Madrid, but the midfielder's finest years were spent at Barcelona and he always said he felt much more identified with the Blaugrana blueprint.

"I was always a Barca fan," he once said. "Sporting [Gijon] first and then Barca. I like my teams to be very attacking. Perhaps because I always played in attack. There's a lot of politics in that respect, but it's all a lie - the merit of a coach is to adapt to the players he has available."

After retirement, Luis Enrique followed the footsteps of his former team-mate Guardiola by coaching Barca B successfully in the lower leagues, but his first big job ended in disappointment as he lasted a sole season at Roma. However, he wasn't given the players or the time to truly instill his philosophy in the Italian capital. It was supposed to be a long-term project, but after an indifferent debut campaign which brought an overhaul in the playing style and took time to impress on the players, he wasn't given the backing he had been promised and decided to move on.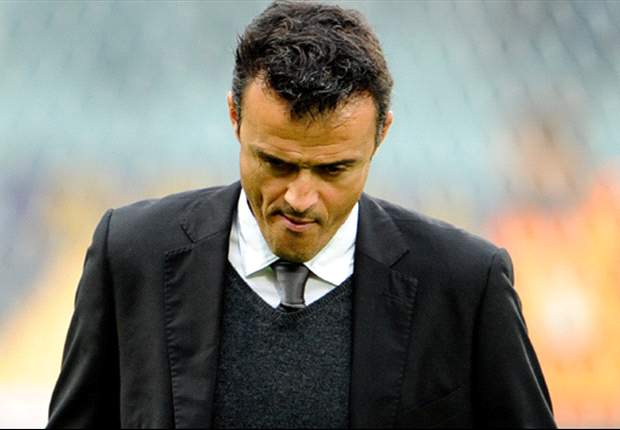 Troubled times | Luis Enrique saw his time at Roma prematurely ended amid an ambitious project
"Being at Roma with Luis Enrique was a unique experience," said former Argentina defender Nicolas Burdisso recently. "We were surprised by everything we learned from him. He is a coach prepared for any kind of challenge."
Challenges don't come much bigger than Barcelona, especially after the spectacular success of the Blaugrana in recent years, but his former team-mate and assistant Ivan de la Pena insists he is ready.
"Luis Enrique is the ideal coach for Barca," he said. "He's the best possible candidate. Knowing a team like Barca helps so much in a job like this one. It's not just any club; you need to know where you are and what is expected of you. And Luis Enrique knows the club better than anyone."
The former Spain midfielder spent eight seasons at Camp Nou, scoring 109 goals in 300 official games. In five years at Madrid prior to that, he had netted only 18 in 213 appearances and left on a free transfer to become one of the Blaugrana's most important players.
"One of Barca's strengths is their style," he said while at the club's B team. "The idea for years has been the same and that's having the ball. When you don't have it and you're chasing others, you tire."

Luis Enrique's ideas are similar to Guardiola's in that respect, with a big emphasis on fitness and conditioning, while both men are renowned for their attention to detail in every single aspect of the job.
IN NUMBERS
Luis Enrique and Barcelona
6
He played under six coaches at Camp Nou, including Booby Robson, Louis van Gaal and Frank Rijkaard
7
The Asturian won seven trophies for the Catalan club as a player, including two Liga titles
62
He won 62 Spain caps and an Olympic gold at the Barcelona Games in 1992
118
Luis Enrique coached 118 matches for Barca B, winning 57 of those in his three-year spell
300
The midfielder played 300 times for the club between 1996 an 2004, scoring 109 goals
"He is a coach who pushes you a lot; he is very demanding," said Sabadell's former Barca B midfielder Antonio Longas. And De La Pena added: "He's an extremely meticulous coach in terms of planning. He leaves nothing to chance and gives special attention to physical conditioning, but also other vital elements. He loves to study the individual development of the players to see how they can give more as the weeks go by."
At Roma, those demands initally brought problems with star striker Francesco Totti, while his latest project at Celta took time to get going and a slow start saw him questioned again earlier this season. But the Galician club's remarkable rise in recent weeks with an attractive brand of attacking football has caught the imagination of the club's fans and impressed the Barca board as well.
With a style slightly more direct than Pep's passing philosophy and a greater emphasis on fitness, the 44-year-old will want his players in tip-top condition now his move has been confirmed, just a couple of weeks after a meeting with Barca sporting director Andoni Zubizarreta at his house in Gava to discuss a summer move from Vigo to Camp Nou.
"The stronger you are, the less chance of getting injured and the more chance of having a good season," Luis Enrique explained prior to taking over at Barca B.
It sounds straightforward, yet at Barcelona this season, even the simple things have been complicated. However, with his no-nonsense, back-to-basics and very Barca blueprint, Luis Enrique looks like ticking almost all of the boxes for the Catalan club.
"Fasten your seatbelts," Guardiola told the press at his first press conference. "Because we are going for a ride." With Luis Enrique, Barca can expect something similar. He knows the club, he has played for the first team, he buys into the footballing philosophy and his demands meet those of the board and the fans. It's surely the right risk to take.
Follow Ben Hayward on