Not since 1958-59 has there been a European football campaign without at least one club from Milan involved. Continental competition without both Inter and AC Milan simply hasn't existed for 56 years. It remains a possibility that that trend will be bucked next season.
Victory for Inter in Sunday's derby would ensure that particular run continues, but Milan have their own hopes resting on a positive end to the season. The Europa League contest remains fierce, but it is a long way removed from the level of competition the two sides of the city are used to.
Only 11 years ago, Milan was the capital of football, with the Nerazzurri and Rossoneri colliding in a memorable Champions League semi-final. Even by the standards of the Derby della Madonnina, it was a magical, emotional, exhausting occasion.
It feels as if light years have passed since those two nights at San Siro, though, and while Madrid gears up for the derby to end all derbies in Lisbon on May 24, Milan's big date is so much less to shout about in comparison. While both sides of the Spanish capital continue to dream of a domestic and European double, the Lombardy giants are paying the price for a season of rank underachievement, left with a late scramble to join teams such as Hull City, Estoril and Twente in the lesser continental competition.
While the rival coaches have done their best to talk up the fixture as a key moment in their clubs' season, both Walter Mazzarri and Clarence Seedorf know that they have critical summers coming up with or without Europa League qualification.
The Dutchman must contend with a power battle behind the scenes at Milan, with Adriano Galliani and Barbara Berlusconi at loggerheads over the future direction of the club. His relationship with his star player, Mario Balotelli, has deteriorated quickly, and all the while he must choose whether his long-term vision for the Rossoneri should be built around the No.45 or based on the proceeds of his sale.
Throw in doubts over his own future thanks to Silvio Berlusconi's insistence on a change in style, plus Galliani's request for increased playing time for the likes of Ignazio Abate and Mattia De Sciglio, and Seedorf is going to spend the close season juggling a hot potato.
While Milan added Adel Taarabt, Keisuke Honda and Adil Rami during the winter transfer window, only Balotelli and Kaka really carry the quality expected of a club purporting to be among Europe's finest. Without Champions League money to spend, and with Galliani and Barbara Berlusconi seemingly wanting different things for the club, Seedorf will have his work cut out to reduce the gap between the Diavolo and Juventus during the summer.
There's disquiet on the cards around Inter, too, with a third successive failure to qualify for the Champions League stunting their growth under Mazzarri ahead of the club's first summer market under Indonesian ownership.
Attempts to add to the January moves for Anderson Hernanes and Danilo D'Ambrosio could also be affected by the findings of Uefa's panel looking into Financial Fair Play (FFP), though. While there has been no confirmation yet regarding the clubs who have fallen foul of FFP guidelines, several early reports suggest that the Nezazzurri have not met the compliance figure.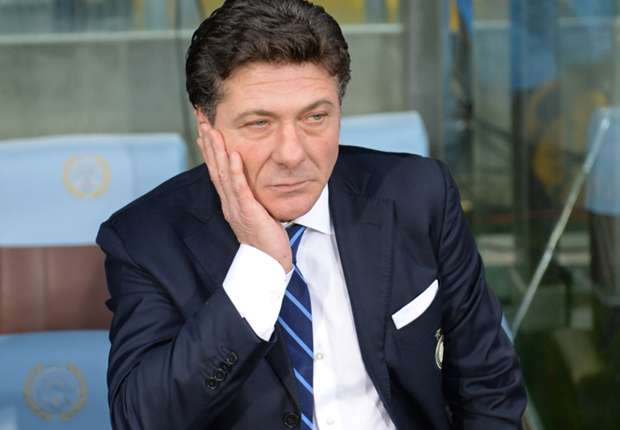 Mazzarri | Has plenty to contend with in the summer ahead
Not only would such a breach draw a significant fine, but it would also require new owner Erick Thohir to tighten the club's financial belt substantially at a time when they would normally be looking to speculate on the market.
The potential Europa League spot is not at risk, but a squad that requires a greater depth of quality may not get all of the resources it needs. Nemanja Vidic is already an assured addition, but the Serbia international is one of a miniscule number of real bargains on this year's transfer merry-go-round.
Mazzarri's job, then, will be to do what he can with a largely similar squad, drawing greater continuity from a team that has had notable dips this term and making them real challengers for the top three spots. It is a thankless task.
What unites Milan and Inter is the need to return to the top as soon as possible, but that is not easy feat given the current positions of the cugini. The Madrid showdown in the Champions League final does at least show that a side with a lack of money but sharpened wits can succeed.
Atletico are not the pioneers either. Borussia Dortmund's recent rise owes much to German football's ability to work hard on tight budgets and produce results off the back of it. The precedents are there.
The 2016 Champions League final will take place at San Siro, with a Milan derby in their city remaining the dream of many. For now, a desperate scramble for European football of any description will have to do.